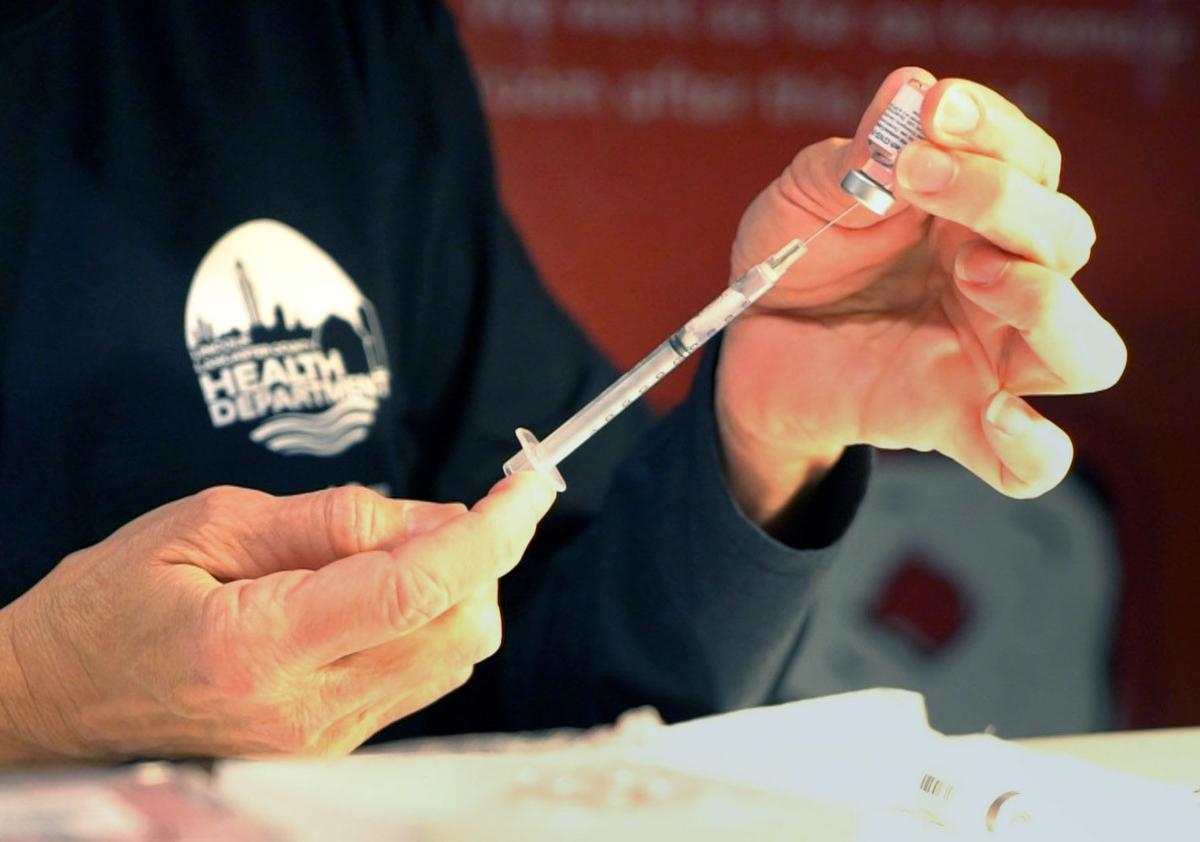 Lancaster County is squarely in the middle among the state's health districts when it comes to the percentage of its residents fully vaccinated against COVID-19.
According to a new map published on the Nebraska Department of Health and Human Services' COVID-19 vaccination website, 10.17% of the county's nearly 246,000 residents over the age of 16 were fully vaccinated as of Wednesday.
That ranked ninth out of the state's 19 health districts but slightly behind the overall state rate of 10.8%.
Setting the pace is Two Rivers Public Health Department, which covers Buffalo, Dawson, Franklin, Gosper, Harlan, Kearney and Phelps counties in south-central Nebraska. As of Wednesday, it had fully vaccinated 13.24% of its more than 76,000 residents 16 and older.
Dakota County Health Department is off to a slow start, with only about 7% of its 15,000 16-and-older population having received full vaccinations. That could be due in part to high case numbers of the coronavirus in South Sioux City and surrounding areas.
Health experts have recommended waiting 90 days after a COVID-19 diagnosis to get the vaccine.
Among the larger health districts in Nebraska, Douglas County is in the lead, with just over 11% of its 427,000 16-plus residents having been fully vaccinated.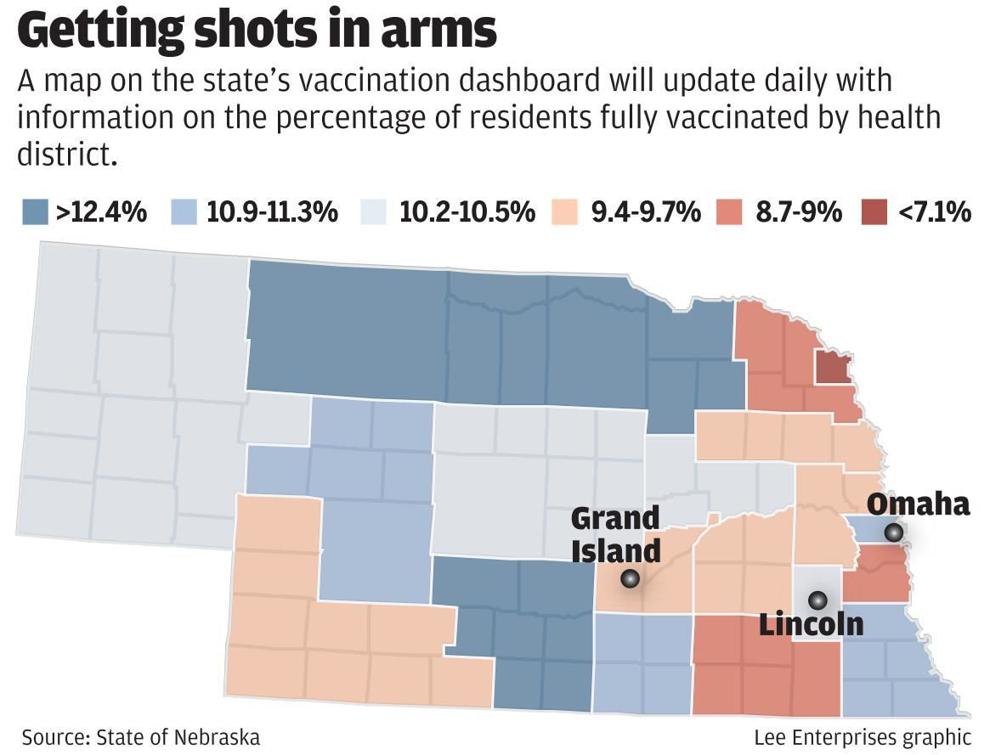 The neighboring Sarpy/Cass Department of Health has not fared nearly as well, vaccinating only 8.74% of its 154,000 residents 16 and older so far.
Lancaster County as of Thursday afternoon listed a slightly higher vaccine total than the state's figures, which update each morning. The local Health Department's dashboard listed 30,353 second doses administered, which would be about 12.34% of all residents 16 and older.
The Lincoln-Lancaster County Health Department on Wednesday administered about 2,200 first doses of the vaccine to people 70 and older and was giving second doses to people 75 and older Thursday and Friday.
"We're pleased with the progress we've made in our vaccination efforts and we continue to provide vaccine to Lancaster County residents at a steady pace," Health Director Pat Lopez said. "We also know we have more work ahead of us. We remain committed to administering doses received as soon as possible and moving through the priority groups as quickly as supply allows. We know every dose helps protect people in our community and we will not stop our efforts until everyone who wants a vaccine can receive one."
Lancaster County is working through Phase 1B of the state's vaccination plan, which includes people 65 and over and essential workers in a number of professions, including teachers.
There is a first-dose clinic scheduled Saturday in Lincoln for educators age 52 and over as well as school staff who work with mask-exempt students.
On Thursday, Health Department officials lowered the age for Saturday's clinic from 61 and over, according to an email to LPS staff.
Educators are also eligible to get the vaccine through the Federal Pharmacy Program that this week added Hy-Vee locations in Lincoln and Omaha.
Statewide, nearly 160,000 people have been fully vaccinated by receiving shots either from their local health department or the Federal Pharmacy Program.
According to the Centers for Disease Control and Prevention, Nebraska ranks just outside the top 10 states in percentage of adults fully vaccinated.
Alaska, New Mexico, South Dakota and West Virginia lead the way with nearly 15% or more of the adults fully vaccinated.
Iowa, meanwhile, ranks last at 8.5%.
So far, all shots recorded in Nebraska have been the two-dose versions of either Moderna or Pfizer, but the state this week received about 15,500 doses of the new Johnson & Johnson one-shot vaccine.
Khalilah LeGrand, director of communications for the state's Department of Health and Human Services, said those doses were allocated to the individual health departments "to utilize as they see appropriate for their jurisdiction."
LeGrand said those shots will be accounted for in vaccine statistics as both a first dose and a full vaccination.
Douglas county COVID-19 deaths
Douglas county COVID-19 cases
Nebraska ICU capacity, by county
Nebraska hospital capacity, by county
Nebraska COVID-19 vaccine distribution
COVID-19 vaccination rates: How Nebraska compares
Nebraska COVID-19 hospitalizations and ICU usage
Lancaster county COVID-19 cases
Lancaster county COVID-19 deaths
Nebraska COVID-19 testing