Could the heat be to blame for this buckled section?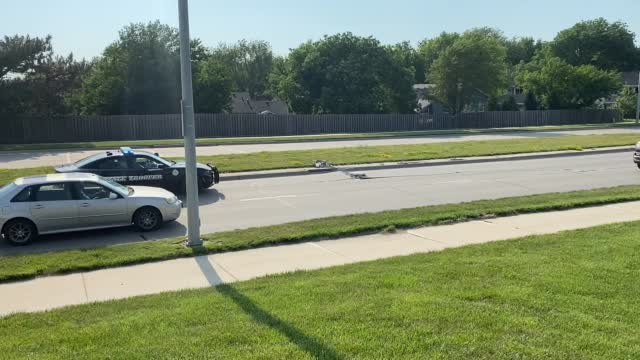 LINCOLN, Neb. (KLKN) – A small portion of a road buckled in Lincoln near 84th and Pioneers right in the middle of a heatwave, a time when the Nebraska Department of Transportation says the roads in our state can be prone to "blow-ups".
Police were checking out the damage and keeping cars from driving over the damaged portion of the road.
NDOT explained in general, "These occur when thermal expansion forces the pavement to buckle and shatter. The Nebraska Department of Transportation urges motorists to be aware of the increased potential for pavement blow-ups, particularly during the summer months."
We're also more likely to get "blow-ups" during afternoons where the temperature gets above 90-degrees, according to NDOT. Wednesday much of the area was above 100 degrees.
"Some blow-ups on roadways with asphalt overlay will start pushing the asphalt first and create a bump, which we will cut off or grind down. On concrete pavement, the blow-ups can range from a few inches to over a foot, depending on how old the concrete is. The older the concrete, the more blow-ups we can expect. Also, if we have a wet spring, followed by very hot temperatures, we will have more blow-ups," District 1 Operations and Maintenance Manager Roger Kalkwarf Kalkwarf noted in 2016.
If you see a buckled road, please call law enforcement so they can block the road off until repairs can be made.