Officials say the coal and gasoline carried on the train is what caused the fire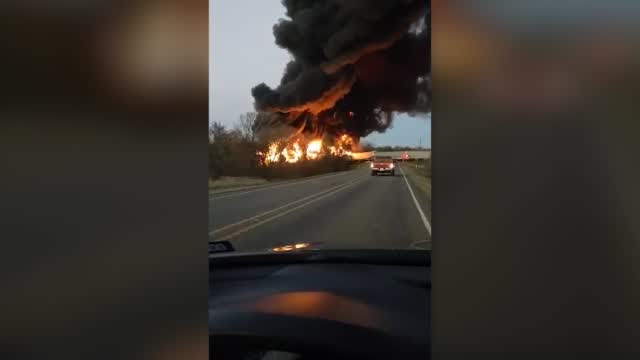 LINCOLN, Neb. (KLKN)- A train and a semi-truck collided in Texas Tuesday morning, causing the fiery explosion you can see above.
About a dozen of the train's cars overturned, some of them carrying coal and gasoline.
Homes in the area were evacuated as a precaution. The semi-driver was not hurt.
Milam County Judge, Steve Young, told KBTX, a TV station, that the truck hit the train and caused 14 train cars to derail.
Milam County Sheriff, Chris White, said the coal and gasoline the train was carrying is to blame for the fire. He said the back of the train contained hazardous material but it did not spill.
SEE ALSO: UPDATE: NDEE monitoring 4.5 mile waste spill from Mead ethanol plant