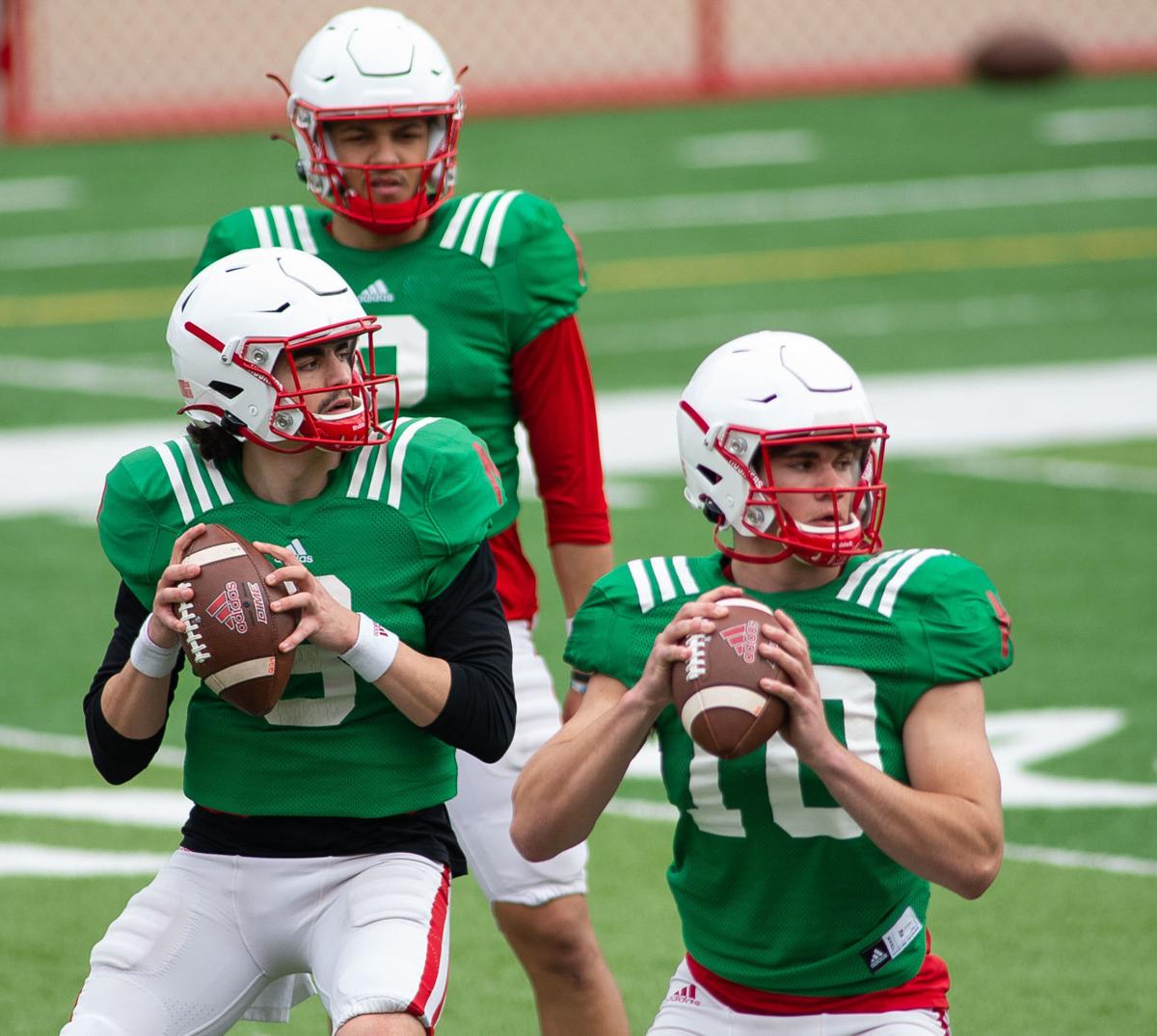 The Red-White Spring Game returns Saturday following a one-year absence due to COVID-19.
Here's a quick guide to what to watch offensively.
1. Adrian Martinez, junior QB: This one is pretty simple. The reviews on Nebraska's captain and starting quarterback this spring have been impressive and it will be interesting to see — even in a first half that won't feature any live tackling — if Martinez gets the chance to push the ball down the field and also get out and run.
2. Austin Allen, junior TE: The Aurora native has steadily improved over the course of his career and should be one of the unit's best players. He's gunning for captaincy and pairs with Travis Vokolek to make a physically imposing pair at tight end.
3. Cameron Jurgens, sophomore C: Suddenly, Jurgens is the most experienced player on Nebraska's offensive line and is expected to be a leader. He still has to prove his snapping issues are in the past, but Jurgens remains intriguing because of his athleticism and extensive upside if the details click for him.
Three fresh faces to watch
1. Gabe Ervin and Sevion Morrison, freshman RBs: OK, we're cheating already. There are several fresh faces to watch in the backfield — walk-on Jaquez Yant is in this conversation, too — but these two are the ones who have yet to take a snap for the Huskers. Both have Big Ten-type size. Neither have collegiate experience.
2. Samori Toure, senior WR: A fresh face and a veteran all at once, the graduate transfer from Montana has done nothing but impress since arriving on campus in January. He'll be a major factor on offense this fall and fans will get a good look in the first half Saturday.
3. Turner Corcoran, freshman OT: NU got a sneak peek at Corcoran last year against Rutgers, but he's entrenched himself as the Huskers' left tackle going into 2021.
On the sideline with injuries
Running backs Markese Stepp (left foot) and Rahmir Johnson (undisclosed), tight end Thomas Fidone (knee), wide receiver Alante Brown (left arm).
Position Cliff Notes (ranked in order of intrigue)
1. Running backs: We've got multiple shades of intrigue in this list, and for the running backs it's, "Well, we don't really know what's going to happen here at all." The USC transfer Stepp is out until the summer, according to head coach Scott Frost, after left foot surgery. Nearly all the other scholarship backs are young and have missed at least a little time in recent weeks, though only Johnson has missed the entire spring. Ronald Thompkins began 2020 as the No. 2 back. Marvin Scott more or less finished 2020 in that spot. Morrison missed the whole year. Ervin is the newcomer. Yant has sizable intrigue, literally, at 6-foot-2 and 245 pounds.
2. Wide receivers: The intrigue here is more about how big of a jump the group can make in 2021. Broad brush, this is a bunch that featured mostly first-year players in 2020 and will be much more experienced this fall. Several players have flashed at times this spring. Toure is going to play mostly from the slot, and NU likes Will Nixon and the injured Brown there, too. The perimeter cast of Zavier Betts, Oliver Martin, Omar Manning, Wyatt Liewer and others has to be much better than last year, but coaches and players have been complimentary of the strides made.
3. Quarterback: There's no quarterback competition, but it's an intriguing group still. Can Martinez take the next step? And does NU have enough behind him in walk-on Matt Masker and freshmen Logan Smothers and Heinrich Haarberg? Masker is steady, Frost says Smothers has improved throughout spring and Haarberg is raw but the talent is easy to see. Eventually, NU will have to settle a pecking order behind Martinez.
4. Offensive line: This group deserves to be higher on the list, but with four starters essentially in place, most of the competition is to round out the two-deep. Not at right guard, though, where senior Matt Sichterman's rise is one of the surprising storylines of spring. He'll compete with Brant Banks there, while others like Nouredin Nouili and Trent Hixson position themselves to be key reserves.
5. Tight end: NU has veteran depth in Allen and Vokolek, but the depth chart behind them will look different after Fidone was lost until midseason (at the earliest) with a knee injury that required surgery. This looks like the best opportunity yet for Chris Hickman to earn a substantial role. He's a willing blocker but has been a package player so far over his first two seasons. Freshman James Carnie was limited to start spring after shoulder surgery, but will be interesting to track going forward with his size/speed combination.
Photos: What a Husker football practice (with fans!) looks like