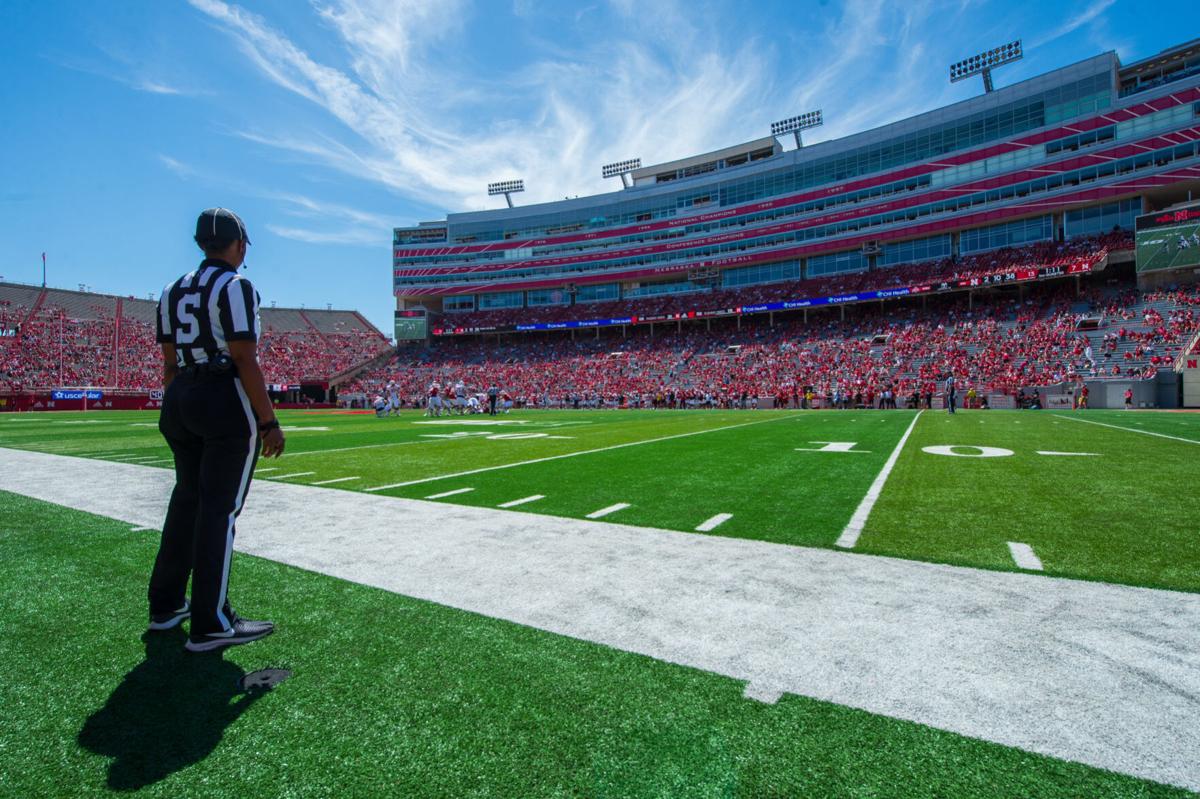 "Welcome to Memorial Stadium. Enjoy the game. Thanks for coming."
Those words, from public address announcer Nate Rohr, welcomed many fans as they entered the stadium on a spectacular Saturday afternoon for the Red-White Spring Game.
And, man, that had to feel good, with most of the fans making it inside the stadium for the first time since the 2019 season.
Outside the stadium before the game it was a joyful, but not raucous, scene. There were a few small groups of people tailgating near their cars, but nothing like the huge setups and parties during a normal season.
Many fans posed for photos by the statue that honors the five national championship teams on the east side of the stadium.
At North Stadium, where the players enter the stadium each day, a grandmother had a big smile as she took a photo of her grandson, who was wearing a Frost jersey.
In the stadium, the 36,406 spectators were spread out in all four sections and inside many of the luxury boxes.
About 45 members of the Cornhusker Marching Band were there, standing near the student section to play the national anthem and some of the traditional pregame tunes.
"It's football Saturday in Memorial Stadium, and there is no place like Nebraska," said Rohr in a familiar line, and there had to have been fans who had goosebumps hearing that again.
The cheerleaders and dance teams were back, but performed behind the team benches, instead of on the sideline like normal. The student section was full.
Once the game began, they played music over the stadium speakers, just like during practice.
There were still balloons let loose from the fans after the first score. Many fans let go of their balloons early, thinking Adrian Martinez had scored on a long run because he stepped in the end zone. The fans were not yet used to this two-hand touch version of football used for the first half — Martinez had been ruled down at the 10-yard line.
After the game, Martinez signed autographs for a few fans who had tossed footballs or hats down to the field level from the stands for him to sign.
Coach Scott Frost clapped for the fans as he jogged off the field.
Nebraska center Cameron Jurgens said it was good to have a nice crowd back in Memorial Stadium, including at least one fan who arrived four hours before kickoff.
"Husker fans are crazy," Jurgens said. "I showed up at like 9 this morning. There was a guy on the front steps over there. He was like, 'Hey, good morning, Cam, good luck today.' I'm like 'All right, appreciate it.'
"They were excited to be out here, and we wanted to put on a show for them. It's kind of nice seeing things open up a little bit."
Recruits soak up scene
Current NCAA recruiting rules still prevent recruits from having official visits on campus, but about 20 prospects still made the trip to Lincoln to take in the spring game scene.
They included MJ Morris, a quarterback from Atlanta. He posted a video from his seat about halfway up in South Stadium.
Also in Lincoln was Chris McClellan, a defensive lineman from Owasso, Oklahoma. He's a top-100 recruit in the 2022 class, and in the past month picked up offers from Ohio State, Oklahoma and LSU.
Latrell Neville, a wide receiver from Fresno, Texas, who signed with the Huskers and will join the team for workouts in about a month, also attended the game. He even posted on social media where he was seated (section 402, row 2), and invited fans to come say hello.
Going deep
* Among the current and former football players honored for their upcoming graduation from UNL was Lavonte David, who played for the Huskers from 2010-11. David won a Super Bowl with Tampa Bay last season.
* Also honored were people with Nebraska football ties who have passed away since the last spring game in 2019. They included Larry Frost, former assistant coach John Blake and Andy Hoffman, who formed a close relationship with the program through his son, Jack, and worked with the football players and coaches to raise money for pediatric brain cancer research.
Photos: All of the sights from the return of the Red-White Spring Game at Memorial Stadium