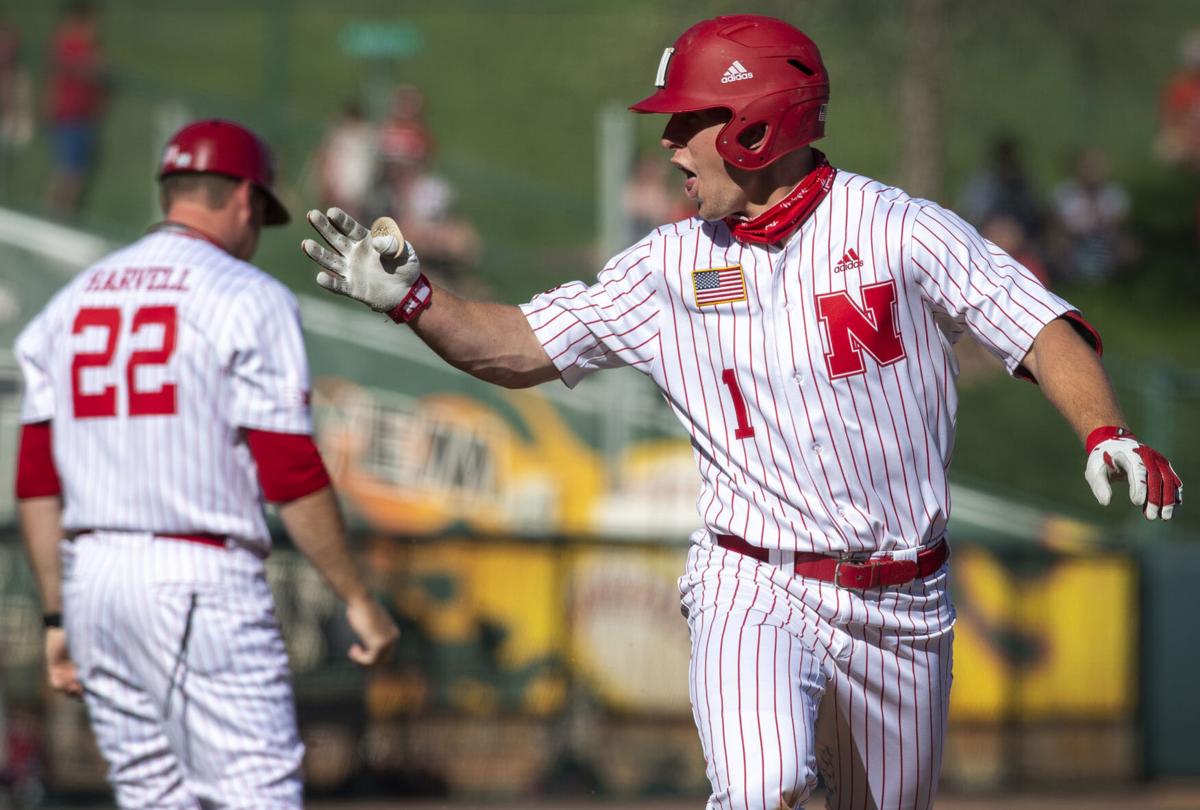 College baseball coaches and players don't put as much stock into preseason polls as they do sunflower seeds and bubble gum.
To no one's surprise, Will Bolt, Nebraska's very down-to-business coach, doesn't care for them much.
But when the Big Ten released its top-six preseason poll, and Nebraska wasn't on it, the Huskers noticed. At least one national publication had NU eighth in a Big Ten preseason release.
"They may have leaned on that a little bit," Bolt said Sunday just hours after the Huskers defeated Ohio State 9-0 to capture the Big Ten championship with three games to spare.
It motivated the NU players enough to save screenshots of the preseason Big Ten poll, which had Michigan at the top, followed by Indiana, Ohio State, Iowa, Maryland and Illinois. Shortstop Spencer Schwellenbach was one of a handful of players to tweet the screenshot — with a #nocomment hashtag — following Sunday's game.
"It was certainly something that we addressed before the year started," said Bolt, who acknowledged that rankings and polls are not talked about much at Haymarket Park.
But, "(we), just said, 'Hey, this is where people think we're at,' and just reminding everybody on a daily basis how razor-thin the line is being in first place and being in sixth, seventh or eighth place.
"They've used some of that motivation where people maybe thought that we weren't going to do it or weren't capable of doing it."
Bolt said the Huskers (29-11) had a quiet confidence about themselves. They knew they had what it takes to navigate through a 44-league game grinder that started March 5 in Round Rock, Texas.
Nebraska did so with more quality depth and the leadership of its super seniors, including Joe Acker and Luke Roskam, who were on the 2017 Big Ten championship team. Freshmen Max Anderson and Brice Matthews emerged in a big way, Schwellenbach became a two-way weapon, and Cade Povich and Chance Hroch have anchored the pitching rotation.
Bolt and the Huskers knew they had the makings of a championship-caliber team, so there was no need to talk about preseason polls.
Nebraska talked about something else.
"We just talk about trying to be the toughest team in the country, quite honestly," Bolt said. "We feel like if we do that, we've got a chance to play for a while."
The tougher teams are more focused, Bolt says, and more dedicated to playing team baseball. They can put aside distractions. Simply, they go out and compete.
The Huskers have lived up to that mantra.
* After being outscored 6-1 in two straight losses to Iowa, Nebraska responded with 10-8 and 13-8 victories against the Hawkeyes in Iowa City.
* After being swept by Rutgers at home, they won nine of their next 10 games.
* Michigan State reliever Sam Benschoter struck out 17 Huskers before NU dug in and won 9-6 in 12 innings on April 25. Schwellenbach pitched a career-high four scoreless innings.
* NU grinded out a 7-6, 13-inning win against Rutgers on May 10 that had just a little bit of everything.
* After trailing 9-2 to Ohio State on Saturday, Nebraska scored nine unanswered runs over the final three innings to win 11-9.
* The Huskers are 9-3 in Sunday games, the majority of those being series finales.
* NU ranks first in the league in batting, first in sacrifice bunts, second in stolen bases and first in fewest walks allowed.
"We always talk about it, the tougher team wins just about every time on any given day," Bolt said.
Bolt will seek a similar mindset when the Huskers host Michigan for three games beginning at noon Friday at Haymarket Park. NU is already in the NCAA Tournament, but Bolt doesn't expect his team to let up and coast into NCAA regional play.
"We'll play like we've got something on the line, which we do," the second-year head coach said. "I'm not going to have any trouble motivating this group of guys."