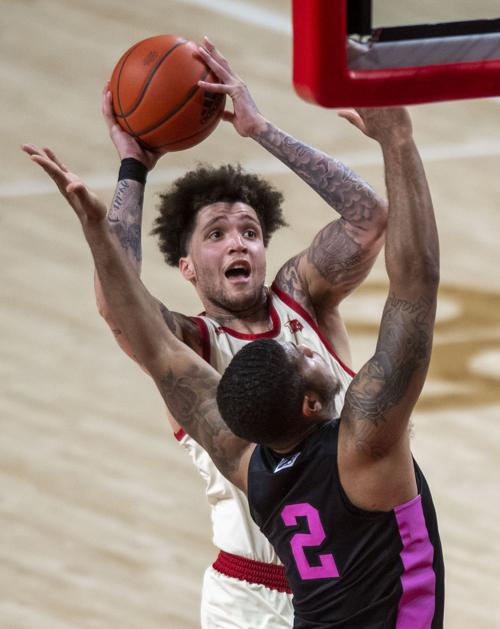 The Nebraska men's basketball team announced Monday morning that leading scorer Teddy Allen is leaving the program.
Allen will stay at Nebraska through the spring semester to work toward graduation, but will no longer be with the team he said, as he prepares for his future in basketball.
"After a lot of thought over the last few days, I have made the decision to focus on getting fully healthy in preparation for the next step in my basketball journey," Allen said in a news release. "I will continue to stay at Nebraska for the spring semester and work toward graduation. I am looking forward to what the future holds, as I explore my options."
"I would like to thank coach Hoiberg and his coaching staff for allowing me to come back to Nebraska and have the opportunity to play basketball in the best conference in the country" Allen said. "I appreciate the support I've received from everyone in the program. I am thankful for the love I have received from my teammates and the relationships we have built over the last year. I also want to give a special thank you to the Husker fans for their encouragement and support."
It was during that Penn State game that Allen aggravated a nagging injury on his right (shooting) wrist while playing 38 minutes. Two days later, at Illinois, he scored seven points in 20 minutes. Saturday, in Nebraska's win over Minnesota, Allen played 10 minutes and didn't score.
"I thought that other group that was out there was really giving us great minutes and playing with great rhythm," Hoiberg said after the game of Allen's limited playing time. "Wasn't anything more than that."
Monday's announcement is the latest chapter in a star-crossed basketball career and life for Allen.
After a deeply troubled childhood in Arizona, one in which he and his mother were abused by an alcoholic father, Allen came to Boys Town in 2015. There, he got the help he needed to deal with the ADHD, bipolar disorder, and depression he had been diagnosed with as an adolescent, and blossomed into one of the top prep basketball in the state. He averaged more than 31 points per game as a senior.
But shortly after committing to West Virginia his mother, Elise, died of cancer. Allen finished out his senior year at Boys Town, enrolled at West Virginia, and became a contributor for a team that made the Sweet 16 his freshman season.
Allen left West Virginia for Wichita State following the season, after he and Mountaineers coach Bob Huggins butted heads during the year. He landed at Wichita State, where he had to sit out the 2018-19 season after the NCAA did not grant him a waiver. While at Wichita, he was arrested and charged with a pair misdemeanors after an incident at a female's home.
He was dismissed by Wichita State shortly after that, and ended up at Western Nebraska Community College in Scottsbluff.
Allen put up video game numbers in the panhandle, leading the nation in scoring at 31.4 points per game on 51% shooting from the field, and eventually committed to Nebraska.
"It's just exciting. Just something great to look forward to; something that motivates me during my workouts," Allen told the Journal Star in April. "A lot of people around me are talking about the excitement about next year and what could happen, and what could be, and everything like that.
"I would say the one word to sum it up would be 'excitement.'"
Allen appeared to be on his way to fulfilling his promise at NU.
At the time of his departure, he led the Huskers in scoring, and was second on the team in rebounding and steals (1.3). Among Nebraska's regulars, Allen led the way in three-point shooting percentage (37.6%) and was third in field goal percentage (45%) behind forwards Derrick Walker and Eduardo Andre.
But, Allen also did not play in Nebraska's road game at Minnesota Feb. 8. He was benched as a coach's decision, Hoiberg said after the game.
Now, he will have to decide on the next step in his journey. He could transfer, and try to play at his fifth college. Or, he could try to make a go of it as a professional, either in North America or overseas.
Check back for updates to this story.