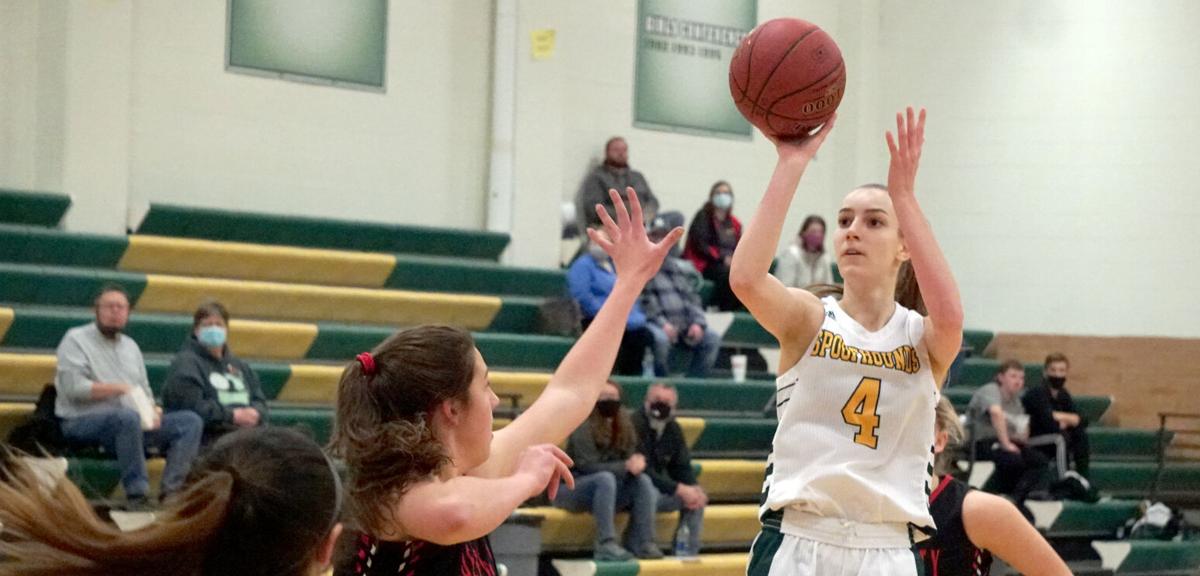 MARYVILLE, Mo. — When the games are the biggest, it always helps to have the best player on the court in crutch time. Maryville has that advantage over every team in the state of Missouri as long as Serena Sundell is wearing the green and gold.
Jefferson City (18-2), the third-ranked team in Class 6, came into Saturday's contest fresh off a 44-25 domination of Class 6 No. 4 Rock Bridge and with most of the big-name firepower as Missouri signee Sarah Linthacum and Drake signee Hannah Nilges each got nominated to the McDonald's All-American Game, an honor Sundell missed out on. The Jays also have Linthacum's younger sister Hannah Linthacum, a 6-foot-3 forward who is widely considered one of the best prospects in Missouri's 2023 class.
But the Spoofhounds (20-1) have the 'Kid.'
Sundell, who teammate Emily Cassavaugh has nicknamed 'Kid,' scored 43 of the team's 64 points in a 64-63 victory on Saturday afternoon in the Hound Pound.
"They have a lot of talent on that team, but it was exciting and motivation for us," Sundell said. "That is just going to help us down the road. They are also my good friends, Sarah and Hannah (Linthacum), so it was fun to play against them."
The future Kansas State Wildcat had 22 points in the first half as Maryville's lead became 39-36 with sophomore Rylee Vierthaler scoring to open the third quarter. Vierthaler was a dominant rebounder through the game as the 5-foot-10 forward had to deal with the Jays front line of 6-foot-3, 6-foot-2 and 6-foot.
"That was one of our goals to not let them get too many offensive boards," Vierthaler said.
The Jays' size seemed to finally wear down the Spoofhounds in the third quarter as senior Kara Daly took over the game. Daly only isn't part of the Division-I basketball signees list because the standout softball player has signed with Missouri softball.
Daly had seven points during a 14-0 Jefferson City run throughout the third quarter which only ended when Sundell closed the quarter with a basket to cut the Spoofhound deficit from 11 to nine.
Albrecht implored his team on the huddle between quarters. The Hounds had gone cold in the third quarter — even including Sundell who had a couple uncharacteristic misses around the rim.
"That was so much fun to play in," Sundell said. "Obviously there were times when we were down, but we just kept thinking about what Coach (Quentin Albrecht) said before the game that 'nothing really good and nothing really bad is going to last forever.' We just tried to stick to that — knowing that our runs are going to come soon."
Jefferson City has very physical with Sundell in the third quarter using the length of Hannah Linthacum to bother the Spoofhound star. Sundell picked up a scrape on her forehead that sophomore guard Anastyn Pettlon thought was bleeding at one point. Fortunately it wasn't as Sundell never left the floor in the contest.
"Personally for me, I got into a little rut," Sundell said. "But I give credit to my teammates and my coaches. They help me keep my head up and Emily Cassavaugh was just telling me, 'Keep shooting, keep shooting Kid. She calls me 'Kid,' I don't know why."
Sundell opened the fourth quarter with a pair of free throws, but Nilges answered with a 3-pointer on the other end.
The Spoofhounds kept chipping away with Pettlon connecting on a 3-pointer and Sundell hitting two more free throws to trim the margin to 53-48. The teams traded points until another Pettlon 3-pointer got the Hounds within 56-53.
A pair of Jefferson City free throws extended the margin back to five with just under three minutes to play. Sundell grabbed a steal and took it the other way to get back within three and on the next trip, hit a 3-pointer to knot the game at 58-58.
Sarah Linthicum converted a pair of free throws to regain the lead on the other end, and Sundell only made 1-of-2 on the return trip. Nilges made two more free throws to increase the lead to three points with 50 seconds left.
On the next possession, Pettlon was able to draw the defense and swing the ball to Sundell for her best look from 3-point range of the day. The shot tied the game with 35 seconds left.
The free throws continued on the other end as Emmarie Graham went to the line and converted 1-of-2 with 18 seconds left.
Sundell was fouled coming up the floor and went to the line with 13 seconds left. The entire gymnasium seemed to know the outcome before the shots left her hand as both shots only touched the net on their way through the net and gave Maryville the 64-63 lead.
"We love her," Vierthaler said. "You can always count on her when we need her in tight games."
Jefferson City called a timeout, but Vierthaler intercepted the entry pass. She tried to feed the ball back to Sundell, but was fouled before she could.
Both of her free throw attempts hit off the rim and missed, but all Jefferson City was left with was a running jumper by Nilges over Sundell, which missed as the buzzer sounded.
Sundell scored Maryville's final 11 and the 43 points were the catalyst, but Pettlon knocked down a trio of 3-pointers for nine points, and Cassavaugh had eight in the first half to build the lead. Vierthaler added four points in addition to her stellar rebounding.
"I'm not going to say a whole lot about Serena, because I don't think Serena would want me to say a whole lot about her," Maryville coach Quentin Albrecht said. "I think Serena takes more pride in getting a win over a very good basketball team. She scored a lot of points tonight, she poured her heart into it, but she didn't pour any more of her heart into this game than Lauren Cullin or Ava Dumke or Emily Cassavaugh or Rylee Vierthaler or Anastyn Pettlon.
"She had 43 points and that might have been the greatest game that she has ever played, but collectively, it was the greatest game I've ever seen since I've been here."
Daly led Jefferson City with 24 points while Nilges finished with 11, Sarah Linthacum had nine, Grafton Craighead had eight, Hannah Linthacum had seven and Graham had four.
The Spoofhounds will play their regular-season finale at home on Thursday against Chillicothe. A win would give the team a perfect MEC season and sole possession of the conference championship.
Before anything else though, the Spoofhounds are going to celebrate the greatest regular-season win in program history the best way they know how — cookies with Vierthaler's grandparents.
"Back in the day when me and Rylee were in middle school, we had this streak of winning, and each game we won, we got cookies from Rylee's grandparents," Pettlon explained. "There was one game that we lost and they brought the cookies, but we didn't get the cookies and she brought the cookies home."
"But we get cookies today?" Sundell interjected.
"Yeah, we'll get cookies today," Pettlon answered.