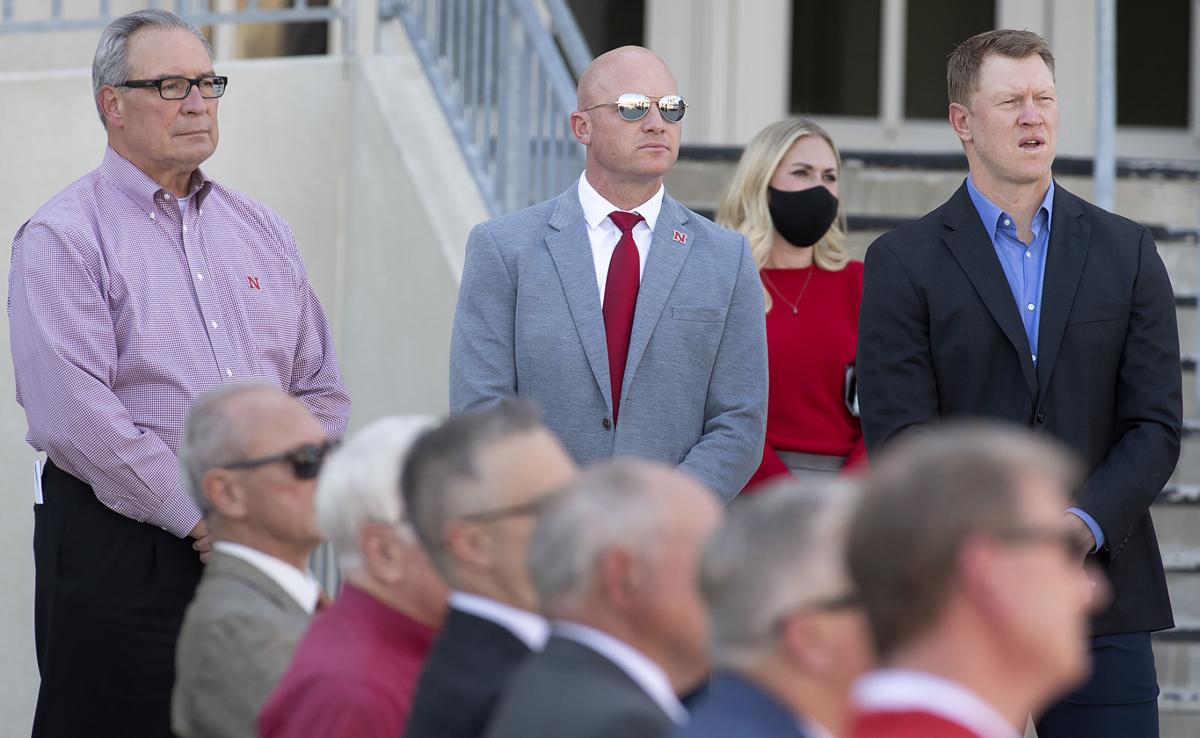 Various forms of heavy equipment are getting ready to roll to the construction site.
Bill Moos genuinely loves this stuff.
Just to the northeast of Memorial Stadium, workers have been in the infant stages of building a $155 million athletic training facility for Nebraska athletes, most notably the football team.
Seems like a good time for my favorite Moos story, one that captures his essence as well as any other.
"You really want to hear it?" says the fourth-year Nebraska athletic director, recalling his first year as Oregon AD in 1995.
"The whole football program needed an overhaul, a massive overhaul, everything from facilities to branding to marketing," he said. "It needed something that differentiated us from the pack."
In these moments, one can almost see the wheels turning in the 70-year-old's head. He's a big thinker. A bold thinker. A dreamer. He is now and was back then.
What could separate Oregon from the pack?
Nowadays, as it applies to Nebraska, the question is more like: What can help the Huskers catch up with the lead pack?
Yes, that mega-structure being built just west of the NU Coliseum could help matters. It doesn't guarantee anything, but it's an absolute necessity.
There's at least one parallel between Moos' time at Oregon and his time at Nebraska: The football programs' overall talent was/is insufficient, particularly as it applies to competing for national championships.
Oregon in the 1990s needed a bolt of energy. It needed to give talented prospects in Southern California a reason to head up to Eugene, Oregon. You know what they say about Oregon: It rains all the time. Doesn't matter that it's not true.
The wheels in Moos' noggin began churning. He became determined to build an indoor practice facility in Eugene. He felt it could be a game-changer. Trouble was, the Oregon Athletic Department was in poor financial shape, to say the least. So there were zero plans in place — other than in Moos' head.
This is where the story begins to get interesting.
"I'm going to give you the full monty here," he said.
The 1995 college football season was underway. Bear in mind, Autzen Stadium wasn't exactly the rowdy place to play that it is today. Nebraska got a big dose of it in 2017. What a memorable scene. The place gets rocking, for sure.
In contrast, during the 1990s, "All around Autzen Stadium was parking," Moos said. "I don't know why we had so much parking because we were only drawing 14,000 people to games."
Oregon was set to play the Civil War game against rival Oregon State. Keep in mind, Oregon's Athletic Department was broke, or close to broke.
"We had no money. None," Moos said. "The budget was $18.5 million, and we were getting $3.5 million from the university, so the faculty was complaining. We weren't drawing well, even though we were starting to get pretty good on the football field."
All the while, Moos was thinking big. He was looking to maybe jump-start the facility project — and mess with Oregon State's heads at the same time. He dialed up a friend, Jim, a contractor who moved dirt for a living.
"I asked him, 'Could you bring a couple of belly dumpers with three or four loads of gravel and dump them in the south parking lot (near the stadium)?'" Moos recalled. "He never even asked me why."
Moos called up another friend, Randy, a major Oregon donor who could lend Moos a front-loader and a bulldozer and any other heavy equipment.
The AD directed Randy to set the heavy stuff on, that's right, the south parking lot.
"He never asked why," Moos said. "So, a few days later, in come the trucks and I'm out there positioning them. …"
He then called a friend who's an artist with these instructions: "If you could do for me a rendering, on a piece of plywood, about 4 by 8, and I'll kind of sketch it out. It'll be a building. It'll look like a big warehouse."
You probably can guess where this is going.
"I had my grounds guys put some fence posts in," Moos said. "I had the rendering bolted on a fence, and there it said: 'Site of the future indoor practice facility of the University of Oregon.' It had our logo. It was perfect. It was just the way I drew it. Then, I went to our events manager and said, 'Steve, I want to change a little something for the Civil War. Instead of bringing in Oregon State's team buses from the east side, I'd like to bring them in from the west and have them walk to the locker room through the south parking lot.
"They had to walk by the piles of dirt and gravel, the front loader and the dozer, and the rendering."
Moos, of course, made sure he witnessed the Beavers' arrival from afar.
He wanted those guys to wonder what the heck Oregon had up its sleeve.
Keep in mind, there were no official plans in place for an indoor facility. None at all. It hadn't even been discussed.
There was just an AD with big plans in his head, no fear and a wild imagination.
Oregon defeated Oregon State 12-10 on that mid-November day, but Colorado hammered the Ducks 38-6 in the Cotton Bowl.
"That night, we're sitting around the Wyndham Anatole Hotel (in Dallas), and I'm visiting with (mega-Oregon booster) Phil Knight, and he goes, 'Bill, so what do we have to do to make sure that never happens again?'" Moos said. "I told him we have to build an indoor practice facility."
He essentially was a step ahead of the game. Long story short, Oregon soon built the first indoor practice facility in the Northwest.
Fast forward to April 30, 2021, the day top Nebraska officials formally broke ground for its athletic facility. Matt Davison, NU's associate athletic director for football, is widely credited for spearheading the university's fundraising campaign for the project. But a project of this magnitude requires a team effort. And most any team can use a bold thinker, someone who always dreams big, not to mention someone who retains a sense of humor through difficult times, and keeps the positive energy flowing.
Moos is that sort of guy.
Bring on the heavy equipment.
Photos: The shovels are out as Nebraska breaks ground on 'Go Big' facilities project