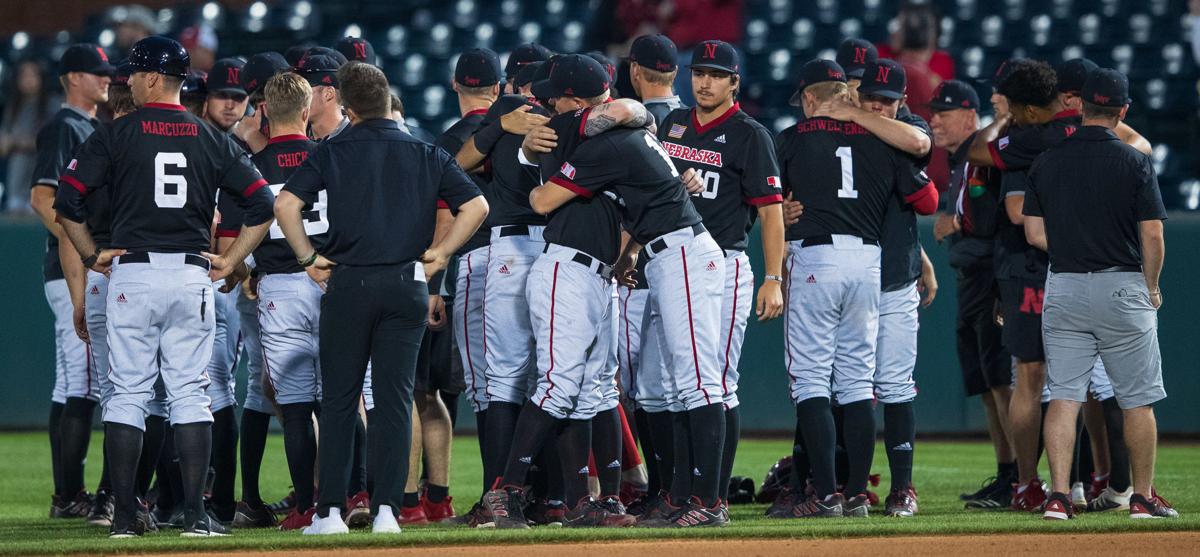 We perhaps should have seen all this coming.
I'm not talking about Nebraska's loss Monday night. I'm not talking about the bullpen failing late.
I'm talking about the rise.
Arkansas baseball coach Dave Van Horn looked painfully nervous in the dugout against his former school. Maybe he knew Nebraska would be an absolute bear to subdue.
"I don't like playing Nebraska," he told reporters. "I don't even want to schedule them."
But did Van Horn really envision NU pushing his top-ranked Arkansas outfit to the limit in front of all those wobbly folks doing the hog call and whatever else they do in Baum Stadium in Fayetteville, Arkansas?
I mean, did you really think it would get this serious? After all, Arkansas, king of the SEC, found itself in a 2-2 deadlock in the eighth inning. Having lost to Nebraska on Sunday night, it stared in the face of elimination in the NCAA Tournament before getting breathing room with a run via a wild pitch and then essentially sealing the deal on pinch-hitter Charlie Welch's three-run home run to prevail 6-2.
Sure, Nebraska's sudden fall was heartbreaking. But if you're a Husker fan, keep your thoughts on the rise, for it was something to behold.
The fact Nebraska played a Big Ten Conference-only schedule this season maybe made you wonder exactly what this team was all about. Then, once the Huskers ventured into SEC country, serious SEC country, we learned that we better be careful underestimating them — both now and in the future.
Truth be told, I got an inkling this was all possible May 31. That's when the NCAA Tournament announced its 64-team field. Nebraska's players and coaches gathered at Haymarket Park. Before the selection show began, I made small talk with Curtis Ledbetter, the program's director of operations. Ledbetter was an All-Big 12 designated hitter/first baseman on the 2005 Husker team that won the program's first College World Series game.
He said something that caught my attention. It was something that coursed through my cranium as Nebraska kept winning in the Fayetteville Regional.
"This is a tough team," he said without me asking anything about it. "It's for real."
When a veteran baseball man with Ledbetter's background volunteers such an assessment, however simplistic, it captures your imagination.
This Nebraska team captured our imagination.
Hell, it captured college baseball's imagination.
Yeah, we perhaps should've seen this postseason rise coming.
Rewind to May 31. When Nebraska's NCAA Tournament assignment flashed up on the big screen at Haymarket Park, there were media members who were literally aghast. The Huskers got robbed, they growled. Husker fans quickly sounded off on social media, angered by the notion of the Big Ten champion being sent to play the top overall seed.
I kept looking over at Nebraska's players. Their reaction was memorable in that there wasn't much of a reaction at all. All you saw was quiet confidence.
You often hear that a team takes on the personality of its head coach. That appeared to be the case with this bunch. It was the case May 31. Nebraska second-year coach Will Bolt's reaction to his team's tournament assignment was akin to that of a dad learning where his kid's next soccer game would be held. There wasn't much reaction. Send us wherever, we just want to play. That was the vibe. He knew he had a team that could make noise — against anyone.
"They came in here and were a little bit comfortable — more comfortable than I wanted them to be," Van Horn said.
As Nebraska pushed through the season, winning 11 of its last 13 regular-season games before storming Fayetteville, you could come up with several takeaways from the proceedings, but a couple stand out.
For one, coaching matters. It matters a lot. When you find an excellent one, hold on to him or her with all your might (and resources). In tight situations, when there's adversity and noise and tension and hog calls or whatever, players literally look to coaches for answers.
Some coaches simply don't have them.
Bolt clearly does. He has both answers and presence. You wonder why his players are so confident? Well, having a tough-minded and astute leader is simultaneously calming and galvanizing.
Nebraska has a real coach, amigos, and it might be really hard to keep him in Lincoln. Get used to that conversation. If Husker fans are lucky, we'll be having it for many years to come.
Another takeaway from this memorable season hit home Sunday night as Spencer Schwellenbach shut down Arkansas with 4 2/3 innings of sterling relief. We talk a lot around here about what needs to happen for Nebraska men's teams to get over the top in close games. Well, here's the news: Having first-round talent is a big part of it. It's the biggest part, arguably.
Having just one or two big-time, elite dudes can be the difference in crunch time.
I don't have to tell you about Kevin Kopps. Wow. He may have been even better than advertised.
For Nebraska, Schwellenbach was that dude. There's talk of him going in the first round of the MLB Draft. You saw why.
Thank Darin Erstad for landing the Michigan native in Lincoln.
In fact, thank Erstad for leaving the program in solid shape.
But credit Bolt for pushing it to a higher level and giving Nebraska fans something real to celebrate. In that regard, it's been a while since the premier Husker men's sports have had much to offer. Then came a Bolt of lightning.
Maybe we should've seen it coming.
But there's something even more intriguing to ponder.
How far might this program go in time?
This Bolt of lightning seems to have some serious energy behind it.
Photos: Game 7 in Fayetteville — Huskers and Razorbacks battle for trip to Super Regionals