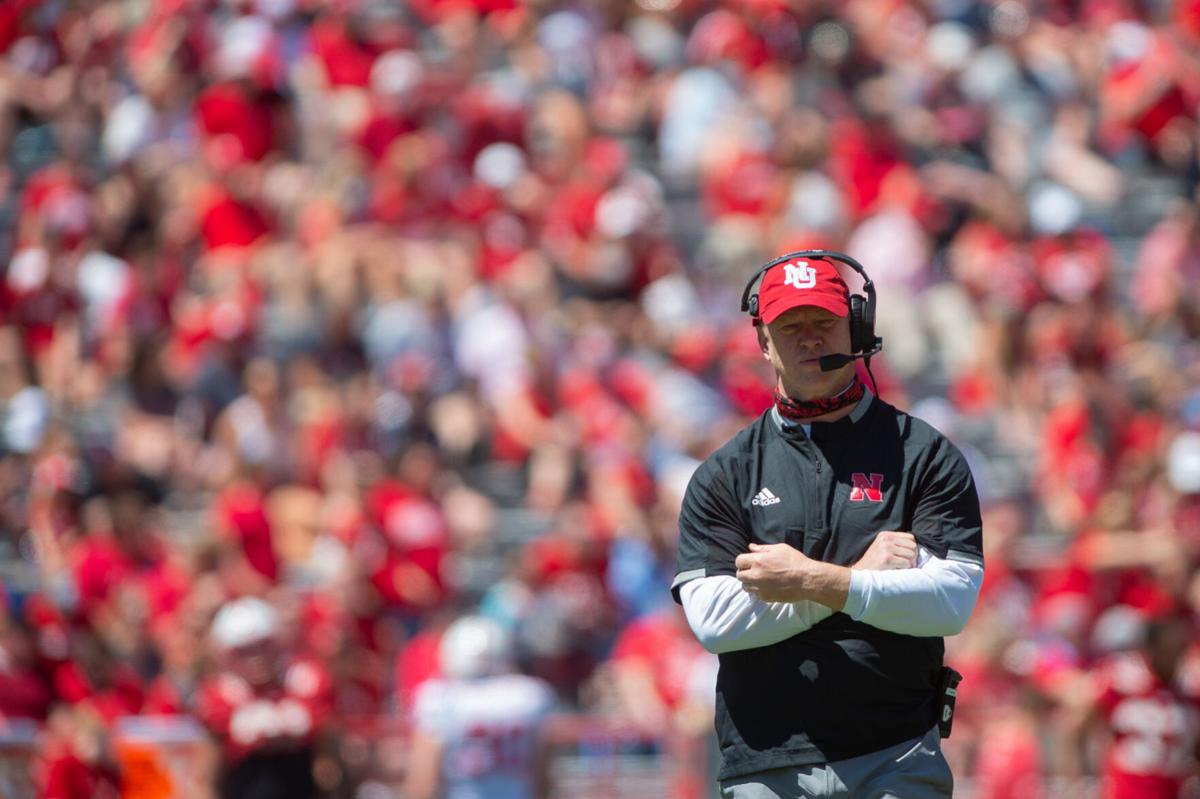 You perhaps hear the analysts' offseason conversations and see the prognostications.
If you're a Nebraska football fan, maybe you don't pay attention. I do. I want to bank everything in my cranium if only because someday I'll perhaps write the "Do you remember when?" pieces.
Last week provided some interesting material for Nebraska fans. It's the sort of material that lets them know beyond a shadow of a doubt where the Huskers stand in the college football world.
Bottom line, Nebraska's faded into the pack. We already know that much. Will the Huskers eventually climb out of it? How soon might it happen?
Embrace the discomfort. Part of the fun of competition is nothing's guaranteed.
In the meantime, consider:
* Oddsmakers last week released win totals for every FBS team, with DraftKings setting Nebraska's at six. Would you go over or under? I'll take the over. The Huskers, in Scott Frost's fourth season in charge, now have enough talent and experience to exceed six wins and, with ample luck, get to eight or even nine.
For the sake of conversation, I'm more interested in which teams are in Nebraska's neighborhood, so to speak.
Big Red obviously has fallen in status. No more gated community. They won't even allow Nebraska in the neighborhood where Alabama (11½) and Clemson (11½) built mansions.
Even Missouri, set at seven wins, has a yard that looks a bit healthier than Nebraska's. We're talking about an SEC team. Woody Widenhofer is long gone from Columbia. And, please, don't come at me with noise about the Huskers' schedule being so much tougher than the Tigers' slate. The SEC remains king.
Boston College also sits at seven. Let that soak in, Nebraska fans. At least you're ahead of Arkansas, Kansas State and Baylor (each is at 5½), but you just might run into them while you're picking up the mail.
Washington State, Virginia, Tennessee and North Carolina State sit at six. Wave as you take out the trash.
Former Nebraska quarterback Luke McCaffrey evidently shifted to a similar neighborhood, as Louisville sits at 6½.
The "veterans" among Nebraska fans will shake their heads when they notice Iowa State was given a 9½ total. But I won't buy the Matt Campbell-is-a-genius rhetoric until he beats Iowa. He's 0-4 against the Hawkeyes.
Nebraska fans also may shake their heads when they see North Carolina at 10. Larry Fedora ran the program into the ground, as the Tar Heels finished 2-9 in 2018. Mack Brown since has gone 7-6 and 8-4 and now bigger things are expected.
Tell me I'm wrong in saying Nebraska has taken on the feel of, say, West Virginia (6½). The Mountaineers have averaged 6.9 wins since joining the Big 12 in 2012, while the Huskers have averaged 6.8 wins since joining the Big Ten.
By the way, Nebraska's win total is fifth-highest in the Big Ten West. Makes sense, right? NU trails Wisconsin (9½), Iowa (8½), Minnesota (seven) and Northwestern (6½), while Purdue (five) and Illinois (three) bring up the rear.
* Speaking of Northwestern, it's twice beaten Frost in Evanston, Illinois, which is something Nebraska athletic director Bill Moos noted last week in discussing reasons why moving the teams' 2022 contest to Ireland made sense for the Huskers.
"Now we take that Northwestern home game and we make that a Nebraska home game because I just know we will outnumber their fans over there (in Ireland) and that stadium will be red, and that plays in our favor," Moos said.
Cue the Frost skeptics: A reason for Nebraska playing Northwestern in Ireland is because of concern about winning in Evanston? Really?
I don't think we envisioned such conversations in 2011, when Nebraska entered the Big Ten fray.
A green-beer toast to better times, Husker fans.
* Berry Tramel, a 60-year-old columnist for The Oklahoman, contributed to the conversation in our realm last week, telling the "Early Break" (93.7 FM) audience that anger has been building in Sooner country for a decade over OU frequently having to begin games at 11 a.m.
In other words, Nebraska's struggles aren't necessarily the reason why the Sept. 18 game will kick off at 11 a.m. on Fox as opposed to a more traditional time.
As Tramel pointed out, Fox is trying to carve a niche in a sport dominated by ESPN/ABC, while CBS still boasts the SEC and NBC has Notre Dame.
Fox's competitive answer is what it calls the Big Noon Kickoff, 11 a.m. Central time, following a pregame show with the same name, designed to compete against ESPN's "GameDay." For its Big Noon slot, Fox seeks a marquee team, preferably against another marquee team.
"Fox seems to think there's a window there they can own — 11 a.m.," Tramel said.
With Ohio State, Oklahoma ranks as the biggest name in Fox's arsenal. Remember, Fox's contract doesn't include the SEC or ACC. So, in the case of Nebraska-Oklahoma, the 11 a.m. kickoff is more about OU's shiny brand than NU's faded one.
* Yes, Tramel also addressed news from earlier this spring that Nebraska considered trying to back out of playing storied rival Oklahoma with hopes of playing an extra home game.
"Disbelief," he said. "When I first heard the story, I thought, 'What!? That's nonsense.' Turns out, on some level it was true."
Tramel noted Nebraska successfully backing out of the game would've left Oklahoma in a heck of a scheduling fix. As one can imagine, many Sooner fans were perturbed.
"To be blunt about it, it ignited a lot of talk about how far Nebraska football has fallen, and what a state of affairs that it must be for them to consider that decision," Tramel said.
Ouch. Not much more to say.
* It's been a few days since Paul Finebaum of the SEC Network last put Frost on the hot seat with on-air comments. My read is Nebraska would have to experience an utter disaster of a 2021 season for NU's administration to strongly consider making a move. Frost has ample support at the highest levels. Finebaum, though, knows a fervent fan base when he sees one and doesn't hesitate to try to rile it up.
Hey, at least someone is talking about you, Nebraska. When there's silence, you know you're in trouble.
Meet Nebraska football's 2021 recruiting class