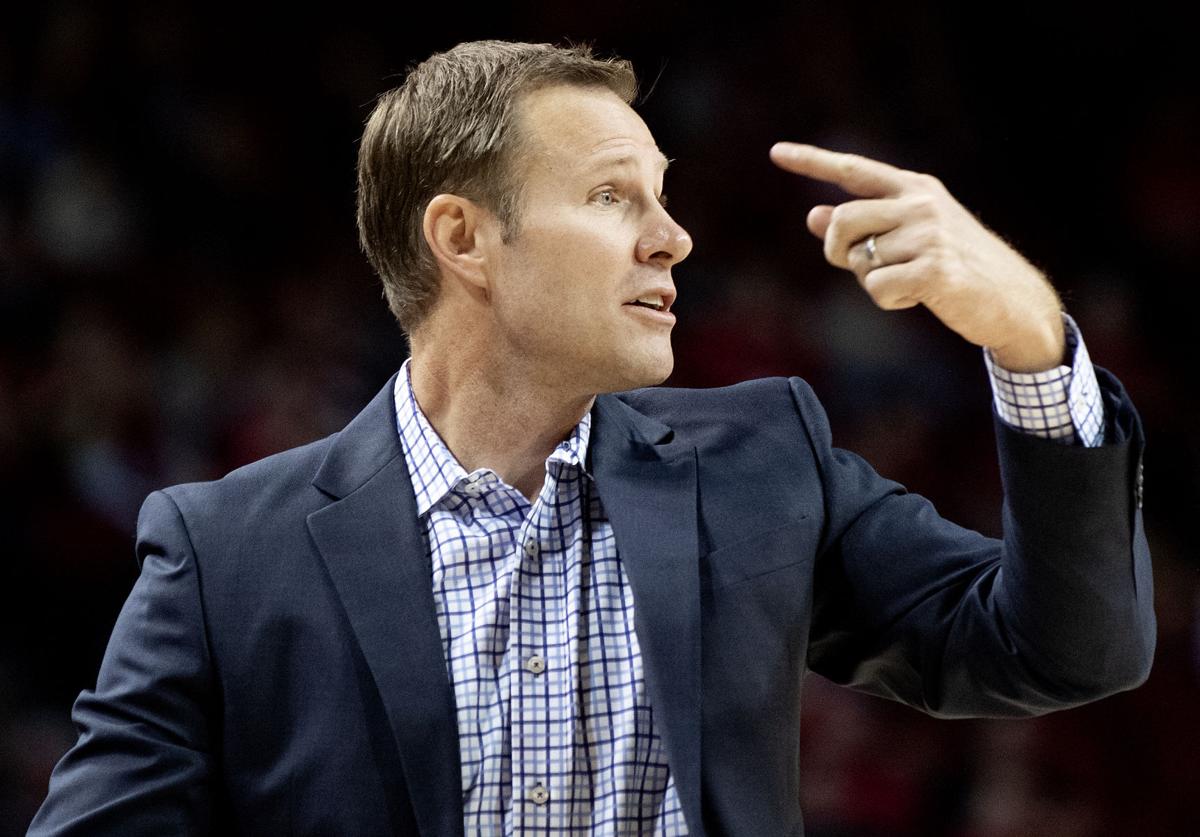 Fred Hoiberg's most identifiable nickname is "The Mayor," which originated during his playing days at Iowa State.
Perhaps we should start referring to the Nebraska men's basketball coach as "The Magician."
An interesting situation has been playing out this season on Big Ten stages. Pay close attention.
You see Nebraska's record (6-17 overall, 2-14 Big Ten). You see Hoiberg's two-season record at NU (13-42, 4-32 Big Ten). Yes, four and 32!
You see Nebraska's free-throw percentage dip to 62.8 (327th nationally). You see its field-goal percentage hover at 41.71 (283rd).
You see Nebraska's assist-to-turnover ratio in Big Ten play — 174 to 206 — and almost want to look away.
You don't see a point guard, and you too often see selfish play.
But then you hear the drum roll, see the smoke and — poof! — you somehow feel strangely optimistic about the future of Hoiberg's program.
Yeah, the guy's a magician in that his record at Nebraska is miserable but it's still fairly easy to find reasons for optimism, reasons to believe.
Coaches generally go light on criticism of fellow coaches, but BTN analyst John Beilein's optimistic assessment of Nebraska's program following its 78-74 win Saturday against Minnesota seemed genuine enough. The former Michigan coach told viewers he sees a program making strides.
"The last seven (losses), four of them were inside 10 points," he said. "Now they get the win today. So keep doing what you're doing. Work hard. Love these kids up because they've been through a heck of a year, and then get ready for next year."
It's a bad year to try to build momentum with a revamped roster, said Beilein, referring to the uneven nature of the season (and offseason) as a result of COVID-19. Bottom line, Hoiberg is trying to build a program in the nation's strongest conference during a godawful pandemic.
What's more, he's trying to win without a true point guard. He needs to be a magician to pull that off.
That's on him, by the way. That's simply poor roster management.
Beilein points out that COVID-19 made its way through Hoiberg's core rotation of players. Nebraska missed three weeks of practice and has played 11 games in 22 days. In such a scenario, there's scant time to practice, which perhaps helps explain the Huskers' paltry shooting numbers.
In these extreme and unprecedented circumstances, conversations become odd. If Nebraska loses a game nowadays, ardent Hoiberg defenders tell you the players are tired and shouldn't be expected to win. If the Huskers do manage to win, it's because the coach has fostered character and resilience.
In other words, there's plenty of cover for the head coach, which essentially speaks to his popularity. Media adore the guy, and it's easy to understand why. He's even-keel and almost unfailingly pleasant.
In addition, his excellent coaching acumen on offense has become evident to even a layman like myself, the bad shooting stats notwithstanding. When Nebraska players are cutting and making the extra pass, the Huskers look salty. You saw it against Minnesota as NU shot 55% from the field. Fred's crew was tough to guard, when it wasn't turning over the ball (18 times versus 19 assists).
You saw something else that was interesting against Minnesota. Nebraska's leading scorer, Teddy Allen, played only 10 minutes and didn't score. That would be the Teddy Allen who scored 41 in a loss to Penn State earlier in the week. The 6-foot-6, 220-pound Allen is one of the most intriguing Huskers I've witnessed in 40 years of following the program. He makes up for his lack of explosiveness with a wide array of ways to get the ball in the basket. He's truly a magician at times.
Sometimes, however, the ball sticks to him a bit, and it stifles the offense's flow. Hoiberg liked the rhythm without Allen. It was that simple. Fred made it clear. Straight-edge Fred, that's what I like to call him. He plays the players who give Nebraska the best chance to win, period.
His players seem to respect his style. Even with all the losing, they're still playing hard the vast majority of the time. Doc Sadler's defense is limiting teams to 31.1% shooting from three-point territory, best in the Big Ten. That's a strong indicator of excellent effort.
Nebraska's getting strong play from its big men, Derrick Walker and freshman Eduardo Andre, who's been a bit of a revelation. The Huskers' record is bleak, but the future isn't. They'll give Rutgers all it can handle Monday night in downtown Lincoln.
Fred's grew is still grinding away. Through the COVID haze, you see reasons to believe.