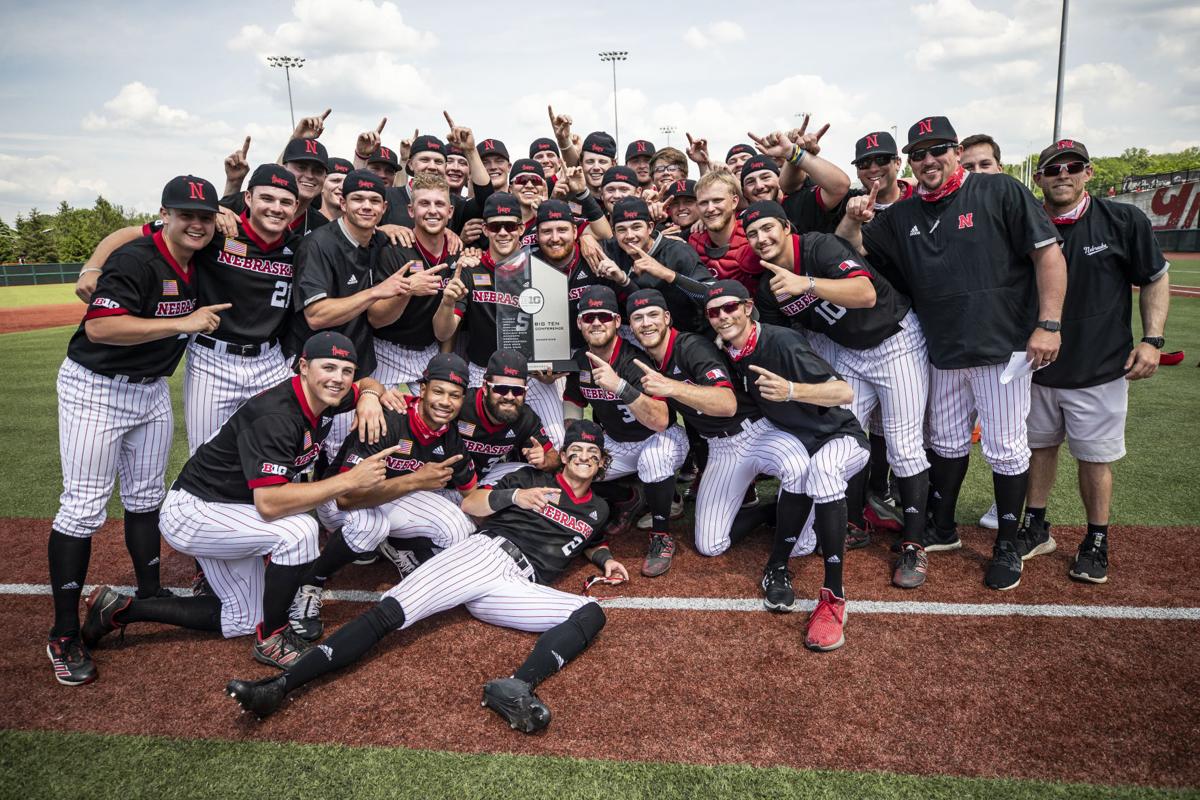 Things I know, and things I think I know:
Watching the College World Series this summer might just have gotten a bit more meaningful for Nebraska baseball fans.
No, I'm not predicting Nebraska, the 2021 Big Ten champion, will make the field this year.
On the other hand, it doesn't necessarily seem farfetched — after all, Nebraska has won nine of 10 games since being swept by Rutgers in Lincoln — and it's actually gotten pretty easy to imagine the Huskers making the CWS cut sometime during the next few years.
The main reason, of course, is Will Bolt, the program's second-year head coach.
"These guys are one of the most selfless groups I've been around," Bolt said Sunday shortly after Nebraska's 9-0 win against Ohio State clinched the Big Ten crown. "That's a pretty common theme with championship teams."
You better have the right skipper, too. Evidence is mounting quickly that Nebraska athletic director Bill Moos found the right guy.
Remember, though, Moos in June 2019 initially preferred that Darin Erstad's successor would have previous DI head coaching experience, ideally in the Power Five. Moos obviously reconsidered, or maybe was turned down a few times before turning to Bolt. Whatever the case, there's a lesson in here somewhere.
If you feel you have the right guy, if you feel it in your gut, don't worry about a lack of prior head-coaching experience. Tom Osborne didn't have that experience, either.
Keep in mind, Kevin O'Sullivan, the veteran Florida head coach who guided the Gators to the 2017 CWS championship, had no prior head coaching experience. Nor did Tim Corbin, the Vanderbilt head coach who guided the Commodores to the 2014 national crown, nor Brian O'Connor at Virginia (2015).
When it came to Bolt, his lack of head-coaching experience didn't concern me all that much for a simple reason. I say it all the time: He reminds me a lot of Dave Van Horn, the diamond whiz whose incredible five-year tenure as Nebraska's head coach (1998-2002) produced two CWS appearances and four NCAA Tournaments total. You wonder if Van Horn's run at NU will ever be topped or matched. It far and away exceeded anything the program had accomplished to that point.
Suddenly, your imagination runs wild. Bolt and his squad are having that effect. As a result, the comparison of Bolt's early success here to Van Horn's is inevitable, particularly since Bolt was a key player on Van Horn's Husker teams — in fact, he was part of Van Horn's first recruiting class, in 1998.
"Dave is a winner," Bolt said when asked how he feels about the discussion. "I mean, Dave is one of the best college baseball coaches of all time. So, I have a long way to go to even be considered to be in the same category as him as a coach."
Bolt noted Van Horn in 1998 inherited a Nebraska program that had made just three NCAA Tournament appearances in its history and none during the previous 12 years. In Van Horn's second season, the Huskers shocked us all by winning the Big 12 title. Then they won a game in the NCAA Tournament. The train was rolling.
Van Horn, who now guides powerhouse Arkansas, is a no-nonsense, hard-nosed coach. So was Erstad, who led Nebraska to the 2017 Big Ten crown. But back in June 2019, when Moos hired Bolt, I had a distinct feeling Bolt's recruiting acumen would be more in line with Van Horn's than Erstad's. We're seeing that already. NU's 2021 signing class looks salty, anchored by eight in-state signees. A pair of 2020 true freshmen, Max Anderson and Brice Matthews, look like stars in the making.
Bolt emphasized he took over a program with a strong culture. It was one that had been making semi-regular NCAA Tournament appearances, but not winning in the Dance nearly enough. Bottom line, Erstad wouldn't have retired from coaching if he thought the program was on shaky ground.
"We just continue to put our stamp on it," Bolt said. "I lean very heavily on the veterans on this team."
Nebraska — now 29-11 this season after going 7-8 in the 2020 pandemic-shortened season — has three "Super" Seniors in Joe Acker, Luke Roskam and Mojo Hagge. All three were in the lineup Sunday. Acker, in fact, addressed the team earlier this week, telling teammates how fulfilling it was to experience winning the conference crown in 2017.
Going back to fall ball, Bolt said, he felt his 2021 team possessed a quiet confidence. The chemistry is strong; a good mix of veterans and newcomers. The resolve is there. There's plenty of talent and depth, too. In a 44-game conference grind, depth is critical.
"We just talk about trying to be the toughest team in the country, quite honestly," Bolt said.
Sounds like something Van Horn might say.
* Come to think of it, Rob Childress might say the same thing.
My hunch is Bjork will look for a more high-profile hire, someone with postseason success. A&M pours a lot of resources and energy into baseball, yet hasn't won a CWS game since 1993. Childress twice made it to Omaha (in 2011 and 2017).
His 16 seasons at the school included a run of 13 consecutive NCAA Tournament appearances (2007-19). But fans wanted more. There was pressure entering this season, and then in the final year of his contract, A&M finished 9-21 in the SEC.
Bolt will get looks from a lot of ADs — get used to it, Husker fans — but I wouldn't worry about this situation.
* If you're like me and look for ways to age gracefully, you might want to read up on this guy they call "Lefty." Nerves of steel, that dude. Yeah, handling the wild PGA Championship crowds was one thing, but how about that bunker shot on No. 5?
He's an absolute wizard in the sand.