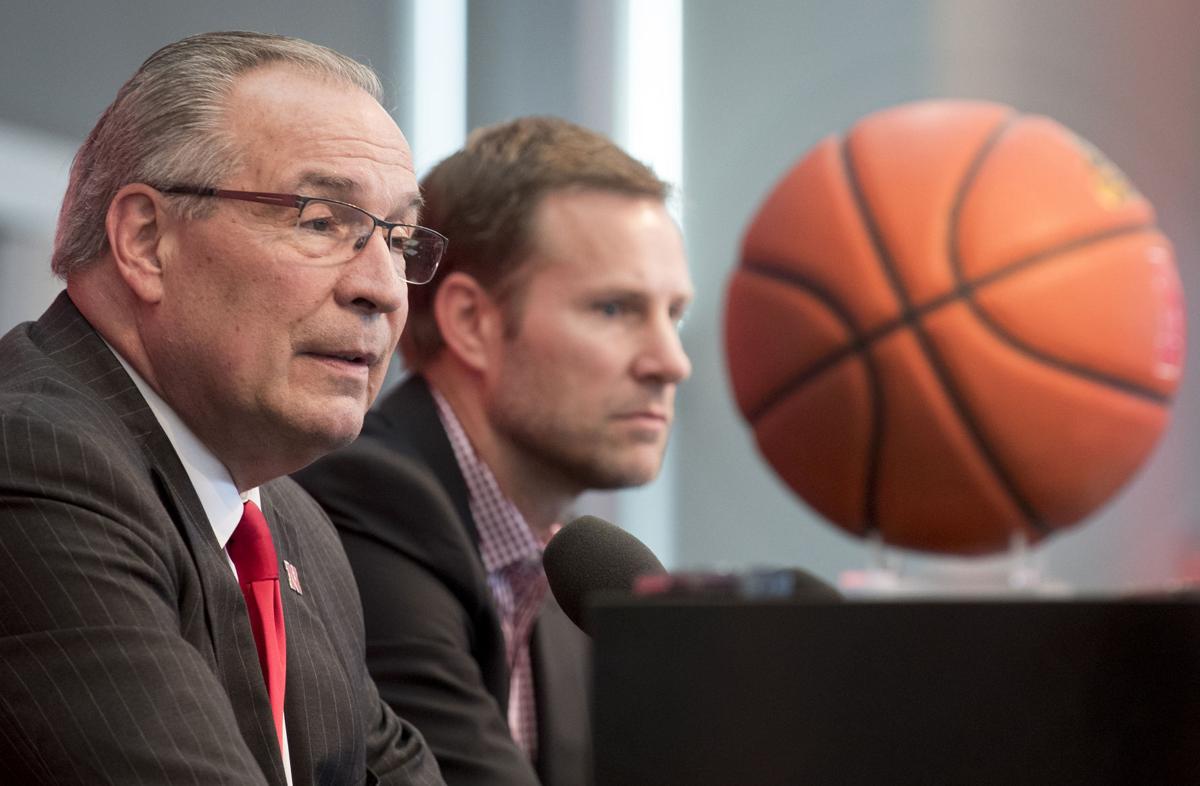 Nebraska athletic director Bill Moos chuckles as he recalls a certain bumper sticker that appeared during the early 1970s when he played college football for moribund Washington State.
The sticker exclaimed in bold letters, "Win Cougars!"
Underneath the two words, it said, "Please?"
"How do you think it felt going to practice and seeing about 12 of those in the parking lot?" Moos said Friday. "Oh, Lord."
"You've got to be a little crazy to keep from going insane," he added.
Here's hoping Nebraska men's basketball coach Fred Hoiberg has a good sense of humor. A really good one. I think he does. But it's being tested. The Huskers are 4-12 this season (0-9 Big Ten), and you've probably heard by now they've lost 26 straight conference games dating to last season.
Moos predictably expresses confidence in Hoiberg, although he's 11-37 (2-16 Big Ten) in his second season at Nebraska. When Moos hired Hoiberg, it was widely regarded as a slam dunk, especially for a program that's never won an NCAA Tournament game. It felt to me like NU was overachieving in a big way. Which is why the extreme nature of its struggles under Hoiberg is a bit perplexing.
"It's going to be one of those deals in men's basketball where it's boom, and we're at .500 next year," said Moos, a self-described eternal optimist. "And then, boom, we're at .600."
"I have all the confidence in the world in Fred because he's done it," said Moos, alluding to Hoiberg's .673 winning percentage at Iowa State. "Iowa State isn't Duke. It isn't Kentucky. And he had some great teams there. His total package is just what we need. It's just going to take some time."
Moos spoke to the Journal Star hours before Nebraska pushed sixth-ranked Illinois into overtime before falling 77-72 in Lincoln. The Huskers were a bit more deliberate offensively than usual. They played hard on defense, as is often the case. Curiously, they didn't look all that inferior against arguably the best team in the nation's best conference. Maybe Moos is on to something when he expresses such high hopes for next season.
Others are more skeptical. How could they not be skeptical? Former Nebraska sharp-shooter Cary Cochran (1999-2002) endured losing streaks while playing for both Danny Nee and Barry Collier. But it was nothing like he's watching now.
"I remember as a player vividly thinking, 'What are the coaches going to try to coax out of us? What are they trying to change?'" Cochran said Friday during "Early Break" on 93.7 FM with yours truly and Jake Sorensen. "You're always waiting for the next thing they're going to try."
Hoiberg's players deserve solutions, although they obviously can play better than they have this season. There's plenty of blame to go around here. I mean, they completely botched the play that Hoiberg drew up Friday at the end of regulation. Hoiberg threw down his face mask in anger. But let's be real: The players didn't create this roster. That's ultimately on Fred's tab.
And let's be real clear on this: With Fred's system, the No. 1 quality he needs in players is they better be able to shoot the heck out of the ball. So, how does it happen that he has a roster without nearly enough high-level shooters? Nebraska is shooting 40.6% from the field, which ranks 308th out of 340 Division I teams. More damning is the fact NU is shooting 63.4% from the foul line (322nd nationally). Last season, the Huskers shot 60.3% from the stripe. Such futility is mind-boggling when one considers Hoiberg shot 85.4% from the line in 10 NBA seasons.
There's no excuse for such poor shooting, said Cochran, who finished his playing days as Nebraska's career, single-season and single-game leader for three-pointers. He was 147-for-164 on free throws (89.6%).
"It's a matter of discipline," he said of free-throw shooting. "At the end of the day, you have to have guts."
No doubt, a strong mental makeup is helpful at the line. You can't cheat the game at the line. It's just you and the basket.
Hoiberg obviously was a tough competitor, but his teams at Nebraska haven't necessarily reflected that.
"Anybody who wants to sugarcoat it, they're fooling themselves," Cochran said of the bad free throw shooting. "They don't even believe what they're saying. At the end of the day, it comes down to they don't have any guts."
Cochran doesn't just fire off comments without thinking about it. He's a coach's son and a former college coach himself. And know this: He thinks highly of Hoiberg and loved the hire. But Cary is clearly uncomfortable with what he's seeing.
It isn't just the poor shooting. Hoiberg's teams at Iowa State typically took good care of the ball. But Nebraska ranks 203rd nationally in assist/turnover ratio with 205 assists versus 217 turnovers.
"This really does look like," Cochran said before pausing because it seemed like he didn't really want to say what he was thinking.
"This looks like open gym," he said. "It looks like it's, 'Roll out the ball and go play.'"
To be fair, the offense looked more organized against Illinois. Maybe Hoiberg figured out something last week, a solution he can carry forward.
Bottom line, Hoiberg's trying to build a program in the toughest hoops conference in the nation.
"This is the league we chose to be in," Moos said. "This is our home. We've got to work to be a contender in it. Nobody said it was going to be easy."
You better have a good sense of humor.