OMAHA — Brandon Baustert from Lincoln East has wrestled Archer Heelan from Kearney so many times that it's a different feeling than most opponents.
They're both juniors, and during the past three years, they've wrestled 15 times during high school tournaments and duals.
"I'd consider him a training partner, just because we wrestle so much," Baustert said.
Of course, they wrestled again on Thursday, in the biggest match yet, the Class A state championship match at 113 pounds.
Baustert beat his closest competitor one more time, and in doing so became a state champion for the first time.
Heelan got a rare takedown on Baustert to start the match, but Baustert rallied to win the match 7-2.
That gave Baustert his first state championship after finishing second last year and fourth as a freshman.
The difference from second to first is pretty close, but it didn't feel that way to Baustert after completing the final step up to the top of the medal stand.
"I got happy tears, man," Baustert said. "It feels amazing. I know I made a lot of people proud."
Baustert gave the city of Lincoln its only state champion in Class A this season.
In each of the previous three years, there were at least three champions combined from the Lincoln schools. East alone had three champs last season.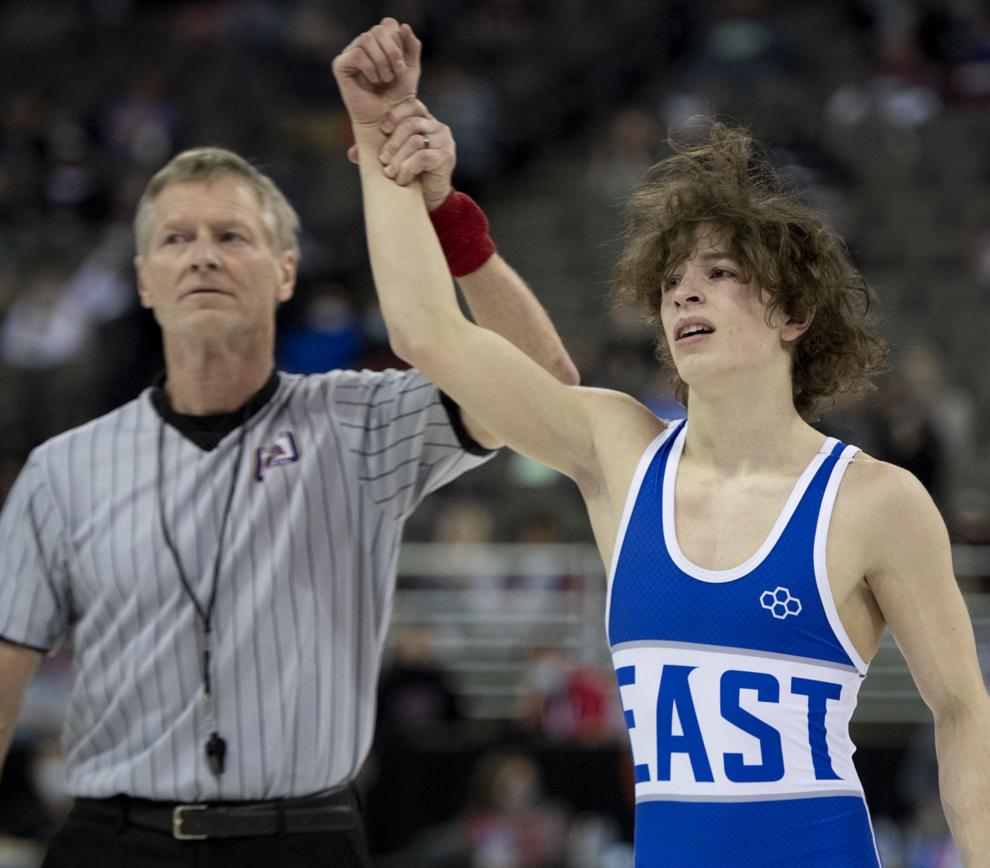 After Baustert won, he sat on the mat for a few moments. Then he pointed to the crowd, where signs had been made to celebrate his 100th career victory, which happened in the title match. He's only lost 13 matches.
Baustert had already beaten Heelan four times this season. And before those 15 matches in high school, they went against each other in youth wrestling.
"We're good friends off the mat," Baustert said. "You kind of have to be if you're going to be wrestling somebody that much."
Baustert finished with a perfect 20-0 record. That's not many matches for a state champion. First, the start of the season was delayed for Lincoln Public Schools due to COVID-19, and then Baustert missed about 10 matches as he worked to get in the best weight class for him in the Spartans' lineup.
Baustert was thrilled to get to wrestle any matches.
"I'm just glad we're here to wrestle, especially this year with COVID and everything going on," he said. "I didn't really think that we were going to have a season. It's nice to be out here competing, anything we could get, and we got the best possible outcome."
After losing in the championship match last year, East co-coach Jeff Rutledge watched as Baustert attacked offseason wrestling, and became a more skilled competitor.
"It's a dream come true for Brandon," Rutledge said. "He's worked extremely hard. He's really dedicated his life to the sport for moments like these."
East was the only Lincoln school to put wrestlers in the finals. The Spartans' other finalist, freshman Gabe Turman, lost 2-1 in the finals to Norfolk freshman Jesse Lewis.
Turman finished the season 31-4.
"Gabe had a phenomenal tournament," Rutledge said. "That weight class was full of really talented wrestlers. For him to pull out second, I know he's disappointed because it was a match he could have potentially won, but I'm super-proud of his effort and the run that he made through this tournament."
East had five medalists overall and finished seventh in the Class A team standings. Keith Smith placed third at 120, Case Jurgens was fourth at 126, and Nic Swift was fifth at 138.