A mural at the entrance of the Missouri History Museum's "St. Louis Sound" offers a sampling of all the musicians featured in the exhibit. To the left, a phonograph and an etched piece of foil carrying one of the earliest phonograph recordings  are displayed, kicking off a section about the history of recorded sound. | photo by Ursula Ruhl
After a long break due to the pandemic, the Missouri History Museum is back with a brand new beat.
Open now, "St. Louis Sound" is a celebration of the Gateway City's music scene from internationally-acclaimed stars to local legends. This carefully-curated exhibit features nearly 200 artifacts from music stars and historically significant venues, tracing St. Louis' musical influence from the dawn of recorded sound to modern day.
Public Historian Andrew Wanko, who served as content lead on "St. Louis Sound," described the exhibit as a well-crafted album.
"We didn't want to have a St. Louis Hall of Fame with hard lines drawn between in and out," said Wanko. "It's got some greatest hits, some deeper cuts, some novelties — a little bit of everything that gives you a full flavor of the music that has been made here."
"St. Louis Sound" begins with an audio clip of one of the earliest phonograph recordings, believed to be the voice of local journalist Thomas Mason, who in 1878, bought one of the first 10 phonographs in existence. From there, the exhibit traces the history of recorded sound, from wax cylinders and records to CDs and iPods. 
This portion of the exhibit, said Wanko, is meant to spark multigenerational conversations. A modern day record player closes out the section, inviting guests to ponder on the future of sound.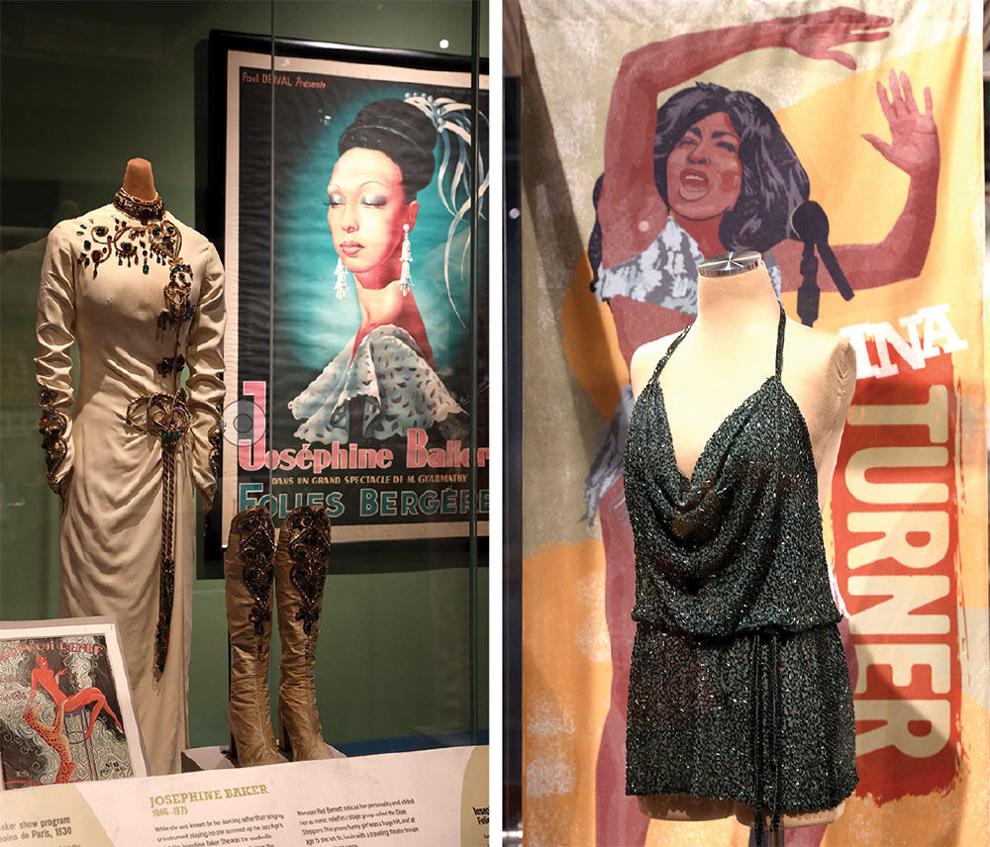 Clothing from Josephine Baker (left) and Tina Turner are displayed in "St. Louis Sound," a new exhibit at the Missouri History Museum, open until Jan. 22, 2023. | photos by Ursula Ruhl
"With the advent of streaming, music is essentially invisible today. It's files that are sort of floating through the air," said Wanko. "The vinyl resurgence hints that maybe some of these musical mediums of the past aren't so dead after all. We really don't know what's coming next."
The next part of "St. Louis Sound" is broken into eras, tracing important St. Louis music figures and movements from the late 1800s to modern day. Wander through to see artifacts from ragtime hero Scott Joplin's unknown opera, marvel at dresses from Josephine Baker and Tina Turner, read the history of all-female punk band The Welders or check out the piano of Henry Townsend, a local star with a nine-decade-long recording career. 
For those seeking a deeper dive, an interactive display houses the biographies of 50 different blues and jazz musicians.
"St. Louis Sound" also covers important music events, including the most famous rock riot in St. Louis history — a 1991 Guns n' Roses concert at the newly-opened Riverport Amphitheater.
"Axel Rose saw someone in the crowd taking pictures of him, decided he didn't like it, and jumped out and started pummeling the guy," said Wanko. "It turned into a giant riot that caused more than $200,000 worth of damage. Axel Rose swore they would never play St. Louis again. He wore a 'St. Louis Sucks' T-shirt for the rest of their tour dates."
Guns n' Roses did end up playing St. Louis again in 2017. But for those who prefer to dwell on the past, there's a piece of a seat stolen during the riot, as well as an "I Survived the Jungle" T-shirt once sold by the amphitheater to commemorate the event.
Toward the end of the exhibit, the "Deeper Cuts" section houses the story of Mississippi Nights, one of the most legendary music venues in the city. Open from 1970-2007, Mississippi Nights put on hundreds of shows for thousands of music lovers. A display wall bears the names of 300 musical acts who performed there.
"We have a memory book here for people to leave their memories of Mississippi Nights," said Wanko. "We want this to be a place where you can stand and reminisce and end up talking to a stranger who was at the same show as you."
"St. Louis Sound" rounds out with a trivia game for guests to test their knowledge of the St. Louis music scene. Though Wanko admits there's plenty more St. Louis music history that didn't make it into the exhibit, he hopes guests will "come get a crash course" and explore more on their own.
"We are very excited to fill the museum with life again," said Wanko. "This is a great way to reintroduce the public to St. Louis."
"St. Louis Sound" is on display until Jan. 22, 2023. The Missouri History Museum is located at 5700 Lindell Blvd. in Forest Park and is free to the public. Museum hours are 10 a.m. to 5 p.m. Tuesday through Sunday. The museum is closed on Mondays.
Twilight Thursdays Concert Series
To celebrate St. Louis' musical influence, the Missouri History Museum's north lawn will play host to the Twilight Thursdays Concert Series. All events are hosted from 6-8 p.m. Dogs permitted on leashes. Guests may bring chairs, blankets, snacks, soft drinks and alcohol. No glass bottles. Visit mohistory.org/twilight-thursdays for more information.
•  Sept 16: Dennis Edwards and The Temptations Tribute, with Master's Touch and lead vocalist Marvin Rice
•  Sept 23: Chuck Berry Tribute, with the Chuck Berry Band, featuring Chuck Berry III on guitar
•  Sept. 30: Tina Turner Tribute, with Seviin Li
###[ad_2]
Originally Appeared Here