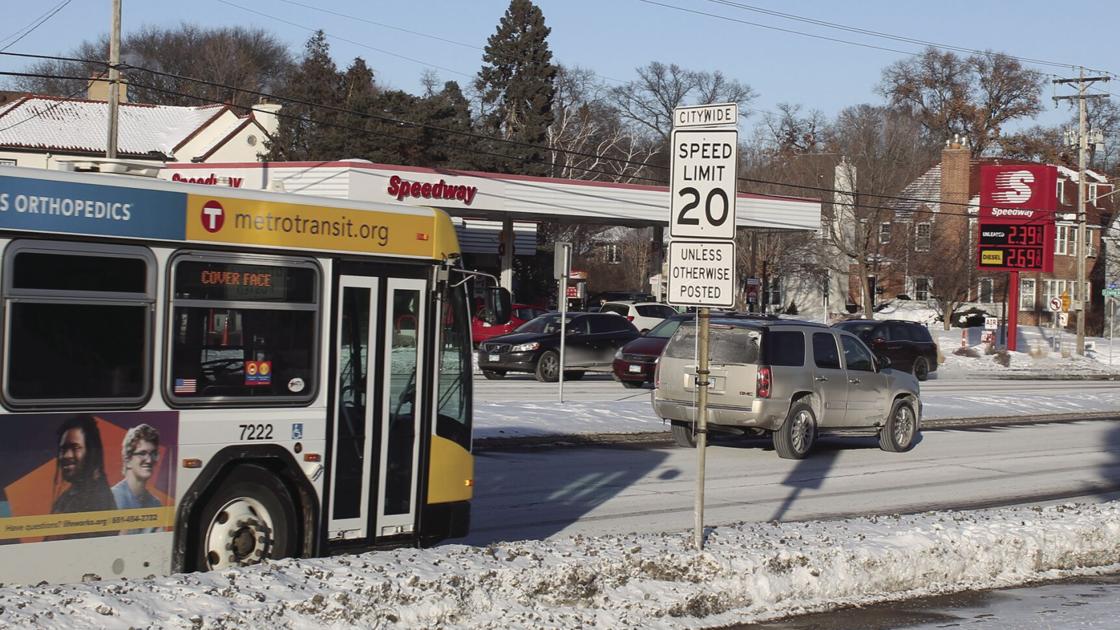 Speed limits would be reduced throughout St. Louis Park to as little as 20 mph under a city proposal.
Currently, most streets in the city have a limit of 30 mph, with a 25-mph limit in the Westwood Hills area, a 35-mph limit on Cedar Lake Road and a 40-mph limit on the Highway 100 frontage road by Benilde-St. Margaret's.
Officials began studying lower speed limits for city streets last year after a new state law gave municipalities the power to do so in 2019.
Between 2017 and 2019, St. Louis Park had significantly lower rates of serious and fatal crashes than neighboring Minneapolis, which has already lowered speed limits to 20 mph except where marked as higher. However, St. Louis Park's rate of serious and fatal crashes came in higher than Edina and Golden Valley in those years.
A Minneapolis study found that a pedestrian has a 40% chance of dying or sustaining a serious injury if hit by a vehicle traveling 30 mph, according to a St. Louis Park city staff report. The pedestrian has a 25% chance of dying if the vehicle is traveling 25 mph and a 13% chance of dying if struck at 20 mph, the analysis continued.
"We are setting speed limits to increase safety as well as meet the expectations of all road users," the St. Louis Park report says. "We aim to set speed limits within 5 mph of the average or median speed, where drivers are already comfortable driving. These speeds are most often lower than our current posted limits."
However, the report warns that drivers may not believe the speed limits are justified if set unreasonably low and thus may not follow the limits.
"Low compliance and a false sense of security from other road users is a safety hazard," the report says.
State law requires cities to set speed limits in a consistent and understandable manner and based on a safety study, Transportation Engineer Ben Manibog said at a Jan. 25 study session.
While St. Louis Park is meeting or nearly meeting target crash rates for the state and region, Manibog said, "The overall desired serious injury crash rate is zero, where no one is getting seriously injured on our streets."
City staff members want to seek slower speeds in areas with high pedestrian traffic and transit use.
The staff recommendation would set the speed limit at 20 mph for local neighborhood streets, 25 mph for connecting streets, 30 mph on some major streets and 35 mph on the frontage road by Benilde-St. Margaret's. County roads would remain the same since the city does not have the authority to change limits for those roads.
Signs would state that the speed limit in the city is 20 mph unless otherwise posted. The city would re-time traffic signals to coincide with the new speeds. Implementation could begin this summer or fall.
Staff would compile a report on the impact on safety and speeds traveled in the city. Manibog anticipated lower speed limits would decrease average speeds on the city's most busy roads, although he said, "Most folks on our neighborhood local streets are already driving the speed limit or under."
Research indicates that lowering speed limits reduces the speed for people traveling the fastest, Manibog said.
"Those are the ones that are the most dangerous for other vehicles but then also especially pedestrians and bikes," he said.
Councilmember Rachel Harris questioned the proposal's intent to have a 30 mph limit near the Louisiana Avenue and Wooddale Avenue light rail stations given the level of pedestrians and bicyclists expected in the areas.
Near the Wooddale Station, 36th Street meets the characteristics in the plan for a 30 mph road, Manibog said. He noted that the actual station platform for the Louisiana Station is on Oxford Street, which would have a lower, 25 mph limit. The city would reconsider speed limits as construction projects take place, he added. Harris advocated for a quicker shift to lower speed limits near light rail stations.
"We know these stations are coming, so why wait until the construction is complete before we implement this change in speed limit?" Harris asked.
Councilmember Tim Brausen had a different objection as he said a 25 mph limit would be too low and therefore would not be practical for Cedar Lake Road.
To the questions, Engineering Director Deb Heiser said state law requires that the city set speed limits consistently throughout the city based on criteria that are unique to St. Louis Park, like crash history and roadway characteristics. A section of Louisiana Avenue that is similar to Cedar Lake Road is also marked for a 25 mph limit, she noted. However, she said city staff could specifically review streets that council members pointed out.
Councilmember Margaret Rog said she has heard concern about speed on neighborhood streets from residents.
"The City Council is listening and we are responding to people's concerns," said Rog, who also raised questions about the proposed speed limits for several streets in her ward.
The city cannot make changes based on factors that may not be defensible but staff members can study certain segments more closely, City Manager Tom Harmening said. Officially, the proposed ordinance would give the city engineer the right to establish speed limits on city streets.
"Let's just let the process play itself out here," Harmening said. "Your comments were very well-noted."