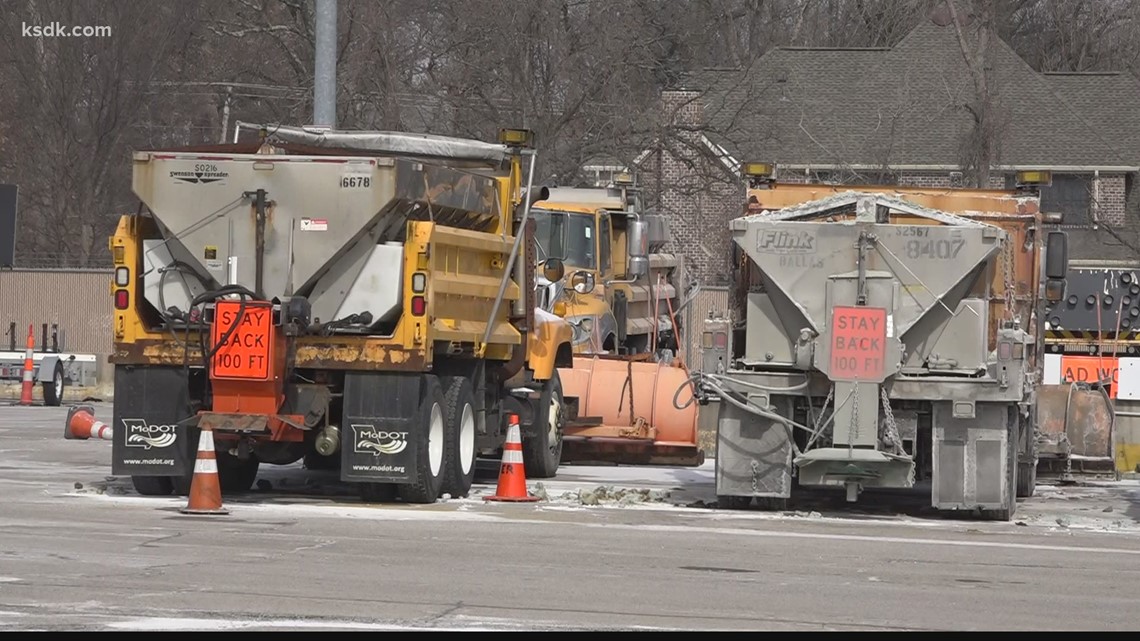 St. Louis is now accustomed to the frigid cold, but people were out Sunday getting ready for the biggest snowfall of the season
ST. LOUIS — In what could fairly be called bitter cold, people still bundled up against the elements for an opportunity to tour the Gateway Arch, Sunday morning.
Meanwhile, the parking lots of Dierbergs in Florissant, Wal-Mart in Maplewood and Schnucks in Richmond Heights were busy places, as the weather forecast blew in a storm of early shopping.
"Always ready for the weather," said one man, while loading groceries into his car. "I got a whole bunch of stuff – got flowers for the wife in the front, tulips."
It's Valentine's Day, after all.
"We might get snowed in for a couple days, so I figure I'll stock up now," another shopper said. "I just got some canned goods, some pantry staples, bread and eggs, things like that."
MoDOT officials said crews reported for duty at around noon Sunday. MoDOT will be fully staffed with 200 drivers in 200 trucks on the roads through Monday, spreading a precautionary mix of calcium chloride and beet juice mixed with salt. That's because salt alone is ineffective in temperatures below 25 degrees.
There was a Sunday morning rush at Schnarr's Hardware in Ladue, as well. Acting manager Melissa Blair described what they were selling.
"Lots of space heaters," she said, standing in front of the store in the extreme cold. "I'm sorry, my glasses are fogging up, really bad."
Schnarr's has sleds in the window and salt on the shelves.
"Plus, window insulation, window stripping," said Blair, adding to the list of things people are shopping for. "Winter is a little bit slow for us, sometimes. And then we get weather and it's just nuts in here."
A Winter Storm Warning is in effect through Monday evening across our area. The first round of accumulating snow for the metro area is moving in this evening. By early Monday morning, that batch will have pushed on to the northeast.
Our heaviest snow will be mid-morning Monday into Monday afternoon in the metro area with additional light snow continuing into Monday evening before tapering to flurries by midnight.