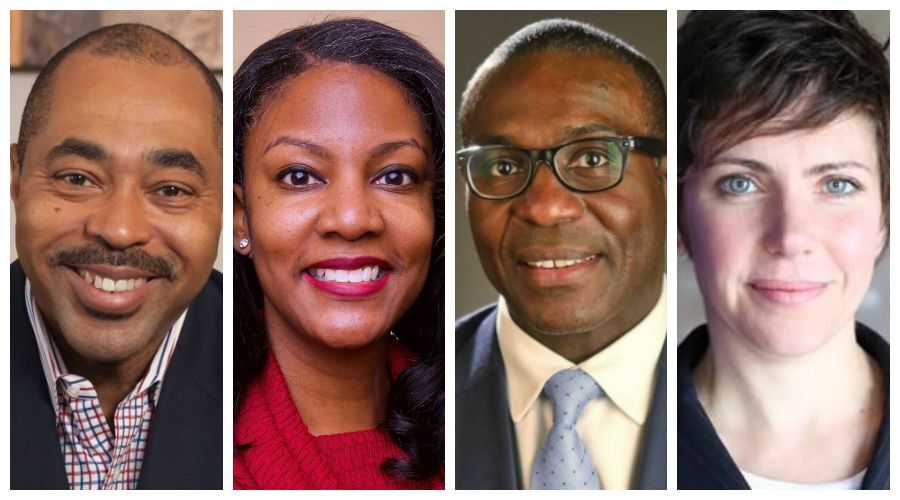 ST. LOUIS  — On a very cold day Tuesday, the St. Louis mayor's race heated up.
In an unusual move, two of St. Louis County's top elected officials — County Executive Sam Page and Prosecutor Wesley Bell — endorsed Tishaura Jones, the city treasurer, in the city's hotly contested mayoral race.
Meanwhile, two other mayoral candidates, Alderman Cara Spencer and Aldermanic President Lewis Reed, sharply criticized each other.
A new Spencer TV ad asserted that Reed has led the city in the wrong direction during his two decades in office, citing "out-of-control crime" and accusing him of cronyism and corruption.
Reed, who is Black, complained that the commercial for Spencer, who is white, amounted to "a sad old racist trope — blaming Black leaders for crime." Reed said he had worked for years to add resources to fight crime.
A Reed campaign ad, which began running Saturday, doesn't refer to other candidates, but rather focuses on his biography. It mentions the fatal 1989 shooting of his brother in Joliet, Illinois, where the candidate grew up, and Reed's on-and-off homelessness for two years while in high school there.
The stepped-up campaign activity comes with just two weeks left before the March 2 primary. Under the city's new nonpartisan election system, the top two vote-getters will advance to an April 6 general-election runoff.
Also in the primary race is Andrew Jones, a utility executive who has trailed in polls. Jones was the Republican nominee for mayor in 2017; the other three candidates are Democrats.
Tishaura Jones, in announcing the Page endorsement, said she and Page would execute a "coordinated, focused and strategic plan" to curb the spread locally of the coronavirus and help the region recover economically.
She added that they would build a public health infrastructure "suitable to face the next crisis'' but didn't elaborate.
When she kicked off her campaign in November, Jones had alleged that Mayor Lyda Krewson hadn't worked closely enough with Page — a medical doctor — on the issue. That was disputed by a spokesman for Krewson, who isn't seeking another term.
Jones had endorsed Page last summer as he fended off three opponents in the August Democratic primary. Regarding his backing for Jones, Page said "no problem ever stops" at the city-county line and "no good solution should have to."
While unusual, a cross-border endorsement here isn't unheard of. In 2014, then-Mayor Francis Slay backed Charlie Dooley's drive to get reelected as county executive but Dooley lost the Democratic primary to Steve Stenger.
Dooley did the same for Slay a year earlier when Slay won his reelection primary over Reed.
One thing Page and Jones have in common is a connection to longtime political consultant Richard Callow. Callow's firm managed Jones' unsuccessful 2017 campaign for mayor and he remains a supporter.
Callow last year helped devise Page's ad strategy for his election campaign and currently is a Page political adviser.
E. Terrence Jones, professor emeritus of political science at the University of Missouri-St. Louis, said the Page endorsement is likely to have little impact on the election outcome.
"What it does signal in a more symbolic way is she's thinking regional … that we are all in this together," added Jones, who isn't related to Tishaura Jones or Andrew Jones. "You did not see this 30 to 40 years ago" in city campaigns.
Kenneth Warren, a political science professor at St. Louis University, said it might help Jones a little, although polls he's taken over the years show that 90% or more of voters aren't swayed by endorsements.
However, Warren said if Tishaura Jones doesn't become mayor, it could cause problems for Page in working with whoever does win. Jones, the professor, had a different view, saying that elected officials typically "get over that."
Tishaura Jones also picked up backing Tuesday from County Councilwoman Lisa Clancy, who tweeted her support. Jones responded by tweeting, "Thank you Madam Chair!"
Clancy, D-5th District, is locked in a bitter political and court fight with fellow Democratic Councilwoman Rita Heard Days, D-1st District, over who is the legally elected council chair.
The new Spencer ad, in its allegation of corruption, shows a 2019 Post-Dispatch headline on an article about Reed settling a complaint filed by the state Ethics Commission.
In the settlement, he agreed to return $19,400 in campaign donations by corporations to a Reed campaign committee in violation of state law; he also was fined.
Missouri law bars direct corporate support to candidates' campaigns but such donations are allowed to political action committees, which promote candidates independently. In 2018, Reed settled a separate Ethics Commission complaint over more than $10,000 in unreported campaign contributions.
Reed's current campaign manager, Patrick Lynn, asserted that the complaints were over accounting mistakes and that calling that corruption exaggerates what happened.
Joan Bray, a Spencer campaign official, stood by the ad's wording. "At some point you've got to know what's right and wrong … you have to know the rules," Bray said.
The Spencer commercial's reference to cronyism, Bray said, relates to a bill sponsored last year by Reed on the possible privatization of St. Louis Lambert International Airport.
Bray said the term was used in the ad because the bill could have channeled an estimated $44 million from potential Lambert lease proceeds to consulting firms that worked on the city's previous two-year consideration of privatization. That study was effectively stopped by Krewson in late 2019.
Had a lease deal gone through, Grow Missouri, a nonprofit funded by retired investor Rex Sinquefield, would have been reimbursed for consulting firm expenses it paid during the city's earlier study and two other firms for their own costs.
Lynn, the Reed campaign official, said Reed had no objection to the companies being paid for their prior work on the issue if the city closed on a lease deal.
Reed's campaign commercial mixes a reference to the shooting of his brother with a pledge to work for safer neighborhoods and "better policing." He has cited the crime in previous campaigns as well.
Reed then says he knows what hopelessness feels like, noting that he was homeless while in high school and that "a tough wrestling coach refused to give up on me and I earned a college scholarship." 
"As mayor, I won't give up on a single child," Reed goes on to say, making a vague mention of economic recovery and opportunity as well as the crime issue.
Reed explained in a text message that he was homeless off and on for about two years during high school "due to family circumstances." He declined to elaborate.
Spencer in her ad said "St. Louis is in the fight of its life" and "that no matter where you live in St. Louis, I'm committed to keeping you safe."