Chloe, a 5-year-old Blue Weimaraner, takes a moment to cool down Friday June 18, 2021, while playing fetch at the University City dog park with her owner, Ken Simpson of St. Louis. Temperatures today can reach dangerously high levels topping off in the low 100s. Photo by Christian Gooden, cgooden@post-dispatch.com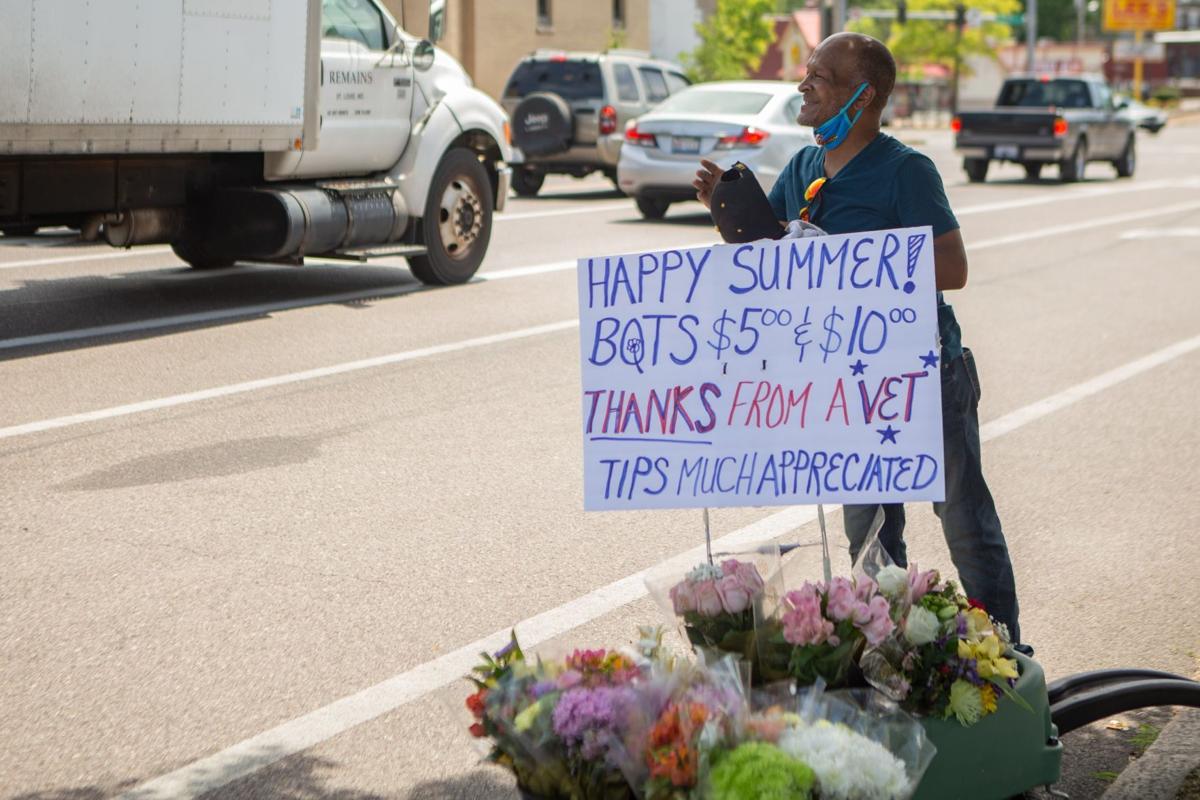 Army veteran Kirk Russell of St. Louis blows kisses to a motorist who bought a bouquet of flowers from him on Gravois Avenue in St. Louis on Monday, June 14, 2021. "It keeps a roof over my head", Russell said, "There's good days and there's bad days. You just gotta do what you gotta do to make it." The National Weather Service said the high temperature on Friday could reach 102 degrees. But forecasters predict the day's heat index could be closer to 105 to 107 degrees in some places. Photo by Daniel Shular, dshular@post-dispatch.com

From staff reports

ST. LOUIS — The heat reached record-setting levels Friday in the St. Louis area.
A temperature of 101 degrees was recorded just after 3 p.m. at St. Louis Lambert International Airport, setting a new city record for June 18, said National Weather Service meteorologist Brad Charboneau. The previous record was 100 on June 18, 1953.
NWS meteorologists predicted the day's heat index — what it feels like once humidity is factored in — would reach 105 to 107 degrees in some places.
Officials warned the combination of heat and humidity can cause heat stress for those with extended exposure or those exerting themselves outdoors, so the National Weather Service issued the heat advisory covering the St. Louis metropolitan area and a large swath of the broader region.
City officials in Troy, Missouri, were urging residents to conserve water. In a Thursday evening alert, they asked that if residents must water their yards, they do so on an alternating schedule.
Officials urged people to check on neighbors and relatives most susceptible to heat stress, including the very young, the elderly and those without air conditioning.
The Salvation Army has opened some cooling centers. To find locations, visit salvationarmystlgateway.org.
###[ad_2]
Originally Appeared Here