In response to Ricketts' 'Meat on the Menu Day', PETA is going to put up a billboard taunting Nebraska's governor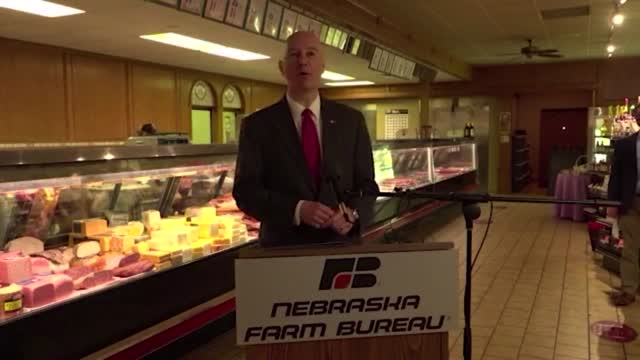 LINCOLN, Neb. (KLKN)- On Monday, from a meat shop in Omaha, Governor Pete Ricketts declared March 20th as "Meat on the Menu Day" in Nebraska in response to Colorado's "MeatOut Day".
Now, the nonprofit organization, People for the Ethical Treatment of Animals (PETA), has responded.
SEE ALSO: Nebraska declares pro-meat day on Colorado meatless day
"MeatOut Day" in Colorado is a promotion to end meat consumption, or as PETA calls it, a "laudable effort to reduce the consumption of animals, do a little something to protect the environment, and enhance public health".
In response to Governor Ricketts' pro-meat day, PETA announced on Tuesday that they will be putting up a billboard on the Colorado side of the border with Nebraska that says, "Entering Nebraska, Home of Meathead Governor Ricketts!"
In the statement PETA issued out, President Ingrid Newkirk said Ricketts is "a governor who is so afraid of the vegan future that he created a whole day to celebrate his meat-industry campaign contributors for killing animals, operating filthy slaughterhouses in which workers have been exposed to COVID-19, polluting waterways with factory-farm effluent, and turning a blind eye to meat-related maladies such as heart attacks, cancer, and diabetes."
MORE: LPD adds extra officers to patrol on St. Patrick's Day