OMAHA — Sometimes, even a droplet of doubt drives suspense.
Katie Ledecky, casually referred to as the greatest women's distance swimmer in American history, had an unordinary itinerary at the U.S. Olympic Swimming Trials on Wednesday: Race the 200-meter freestyle. Conduct interviews. Then, come back out an hour later and compete in a race almost eight times longer in length.
She's expected to win every time she jumps into the pool. But what if she doesn't? Nothing is guaranteed. After all, the top swimmers in the country are lined up on either side of her.
That's what draws unparalleled attention. The "Katie" chants. The aimed phone cameras. If there was any question who is carrying the post-Michael Phelps era torch in terms of popularity for USA Swimming, that's been answered over the past week-plus at CHI Health Center Omaha.
Ledecky flexed to dominating victories in both races, winning the 200 in 1 minute, 55.11 seconds, a full body length ahead of Allison Schmitt, who finished second. Then she wowed in the 1,500, clocking a championship record time of 15:40.50. She will be a heavy favorite in that event at the Tokyo Olympics next month, which will be the Americans' debut in the 1,500.
"It went well," Ledecky said afterwards in an epic understatement. "It was nice to have the morning off to rest up and then come out tonight and take care of business."
The men, Ledecky noted, have been swimming the 1,500 at the Olympics for over 100 years. She exuded an "about-time" mantra as the U.S. women add the event to their card.
"It's 2021, and we finally got one."
Quick strokes
* Schmitt's second-place finish in the 200 produced a touching moment on the pool deck. Phelps, who has been taking in the action this week in an arena suite, rushed down to congratulate his longtime friend, who clinched a fourth Olympic berth at age 31.
Schmitt earned second place by finishing one-hundredth of a second before Paige Madden.
"I knew it was going to be close," Schmitt said. "I didn't know how close it was until I got out of the water and saw one-hundredth on the board."
That means the last two swimmers to claim Olympic gold in the event, Ledecky (2016) and Schmitt (2012), will represent the U.S. in the 200 next month in Tokyo.
"I definitely had emotions but I am ecstatic," Schmitt said. "It's been tough I have a very supportive crew behind me and we all made it through this year."
* We have clarity in the men's 200 butterfly, one of Phelps' signature events for the past 20 years. Zach Harting won the race in :55.29 and will be joined on the Olympic team by second-place finisher Gunnar Bentz (55:30).
* The trials make for some of the most heartwarming moments in sports. Years of training reach the ultimate peak as longtime goals are achieved.
That said, there are heartbreakers. Madden, for example, in the 200. Also, Madisyn Cox missed a spot on the team by 0.02 seconds. Second-place finisher Kate Douglass touched the wall in 2:09:32 to edge Cox. Alex Walsh won the event (2:09:30).
This is expected to be Cox's last run at the Olympics before she pursues a career in medicine.
Photos: Ledecky lights up Day 4 at the US Olympic Swimming Trials in Omaha
US Swimming Olympic Trials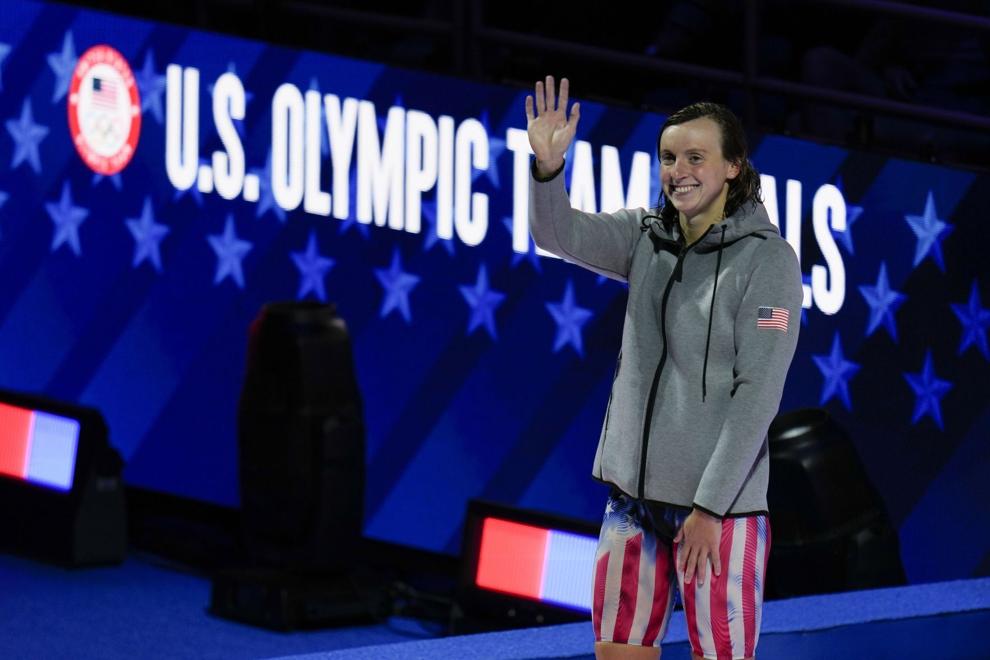 U.S. Olympic Swimming Trials, 6.16
U.S. Olympic Swimming Trials, 6.16
U.S. Olympic Swimming Trials, 6.16
U.S. Olympic Swimming Trials, 6.16
U.S. Olympic Swimming Trials, 6.16
U.S. Olympic Swimming Trials, 6.16
2 for 2: Ledecky wins her shortest, longest races at trials
U.S. Olympic Swimming Trials, 6.16
U.S. Olympic Swimming Trials, 6.16
U.S. Olympic Swimming Trials, 6.16
U.S. Olympic Swimming Trials, 6.16
U.S. Olympic Swimming Trials, 6.16
U.S. Olympic Swimming Trials, 6.16
U.S. Olympic Swimming Trials, 6.16