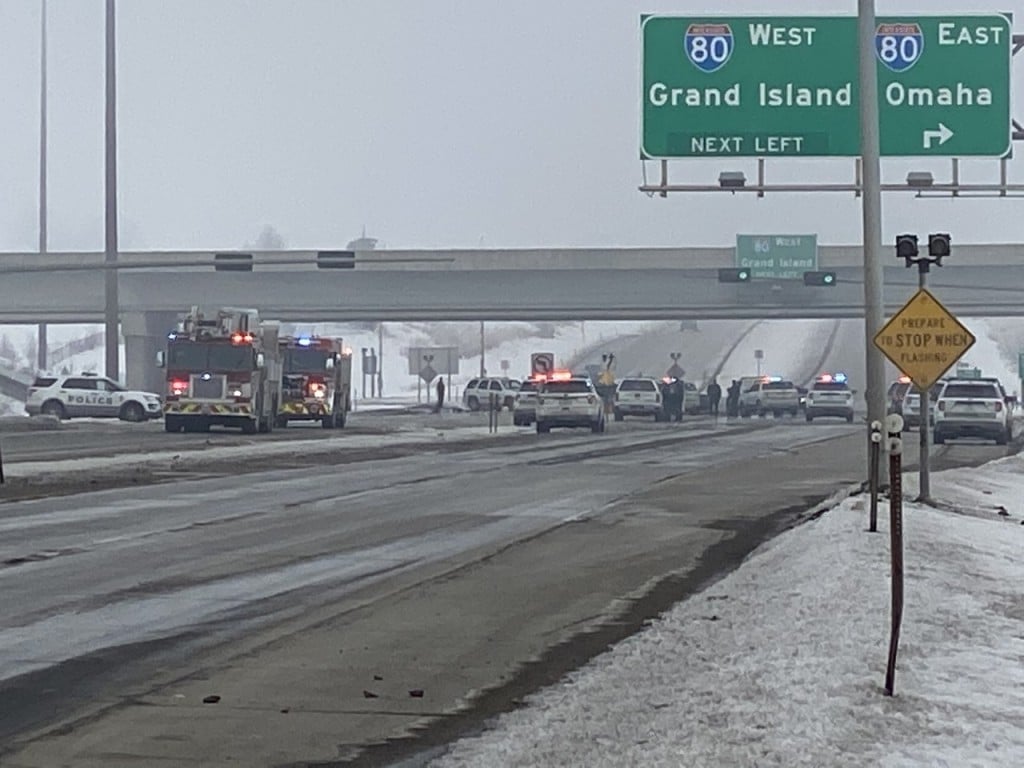 LINCOLN, Neb. (KLKN) — New details have been released on the fatal shootout that unfolded in Lincoln Saturday afternoon, leaving one dead and two hospitalized.
Both suspects have been identified as 26-year-old Christian Alexander of Evansville, Wyoming and 30-year-old Hailey Stainbrook of Casper, Wyoming.
It began when an officer with the Lincoln Police Department (LPD) responded to an armed robbery report near a Northwest Lincoln hotel around 8:30 a.m. The victim said his wallet was stolen by Alexander, who produced a handgun.
The Lancaster County Sheriff believes the victim had met with Alexander and Stainbrook the evening before.
As the officer was taking the report around 9:15 a.m., the victim received an alert that his stolen credit card had been used at a gas station in Northeast Lincoln.
A trooper with the Nebraska State Patrol (NSP) happened to be in the Northeast area and spotted suspects matching the armed robbery descriptions, a white male and female driving a 2005 white Chevy Trailblazer.
MORE: EXCLUSIVE: Cashier comes face-to-face with individuals involved in North Lincoln shooting
The trooper attempted to apprehend them, but the suspects quickly fled, leading to a car chase across the city around 9:30 a.m.
During the chase, Alexander began shooting at law enforcement from his moving vehicle.
In order to stop them, another trooper used a road intervention tact that caused the trooper's and the suspects' vehicles to crash into one another.
The collision did injure the trooper. He was taken to a local hospital but remains in good condition.
With the suspects now stopped on a bridge near 56th and Hwy 77, guns began firing.
MORE: One dead, two hospitalized after officer-involved shooting
A shootout between law enforcement and the suspects took place. Alexander was subdued but suffered multiple gunshot wounds during the standoff.
Stainbrook produced a gun and disobeyed officer commands. It is unclear whether she ever fired, but Stainbrook was fatally shot.
Both suspects were taken to a local hospital. Stainbrook underwent emergency surgery but ultimately succumbed to her injuries. Alexander is still hospitalized and is in "grave condition" according to law enforcement.
The Chevy they were driving was flagged as stolen out of Cheyenne, Wyoming. According to the report, the Chevy was swiped the Thursday before while the owner left it to warm up in a parking lot of a motel. The owner did disclose there was a 38mm revolver in the car.
Two guns were recovered from the Chevy, but neither matched the serial number of the weapon reportedly stolen with the car. Officers are currently working to clarify the situation.
The firearms are believed to be a semi-automatic pistol, that was used in the robbery, and a revolver.
According to LPD, Stainbrook also had a narcotics warrant out of Virginia.
Lanes of traffic near 56th and Arbor Rd reopened at 2 a.m. Sunday.
If you have any information about this incident, call Lincoln Police at 402-441-6000 or Lincoln Crime Stoppers at 402-475-3600.
MORE: UPDATE: Officer injured during incident in north Lincoln