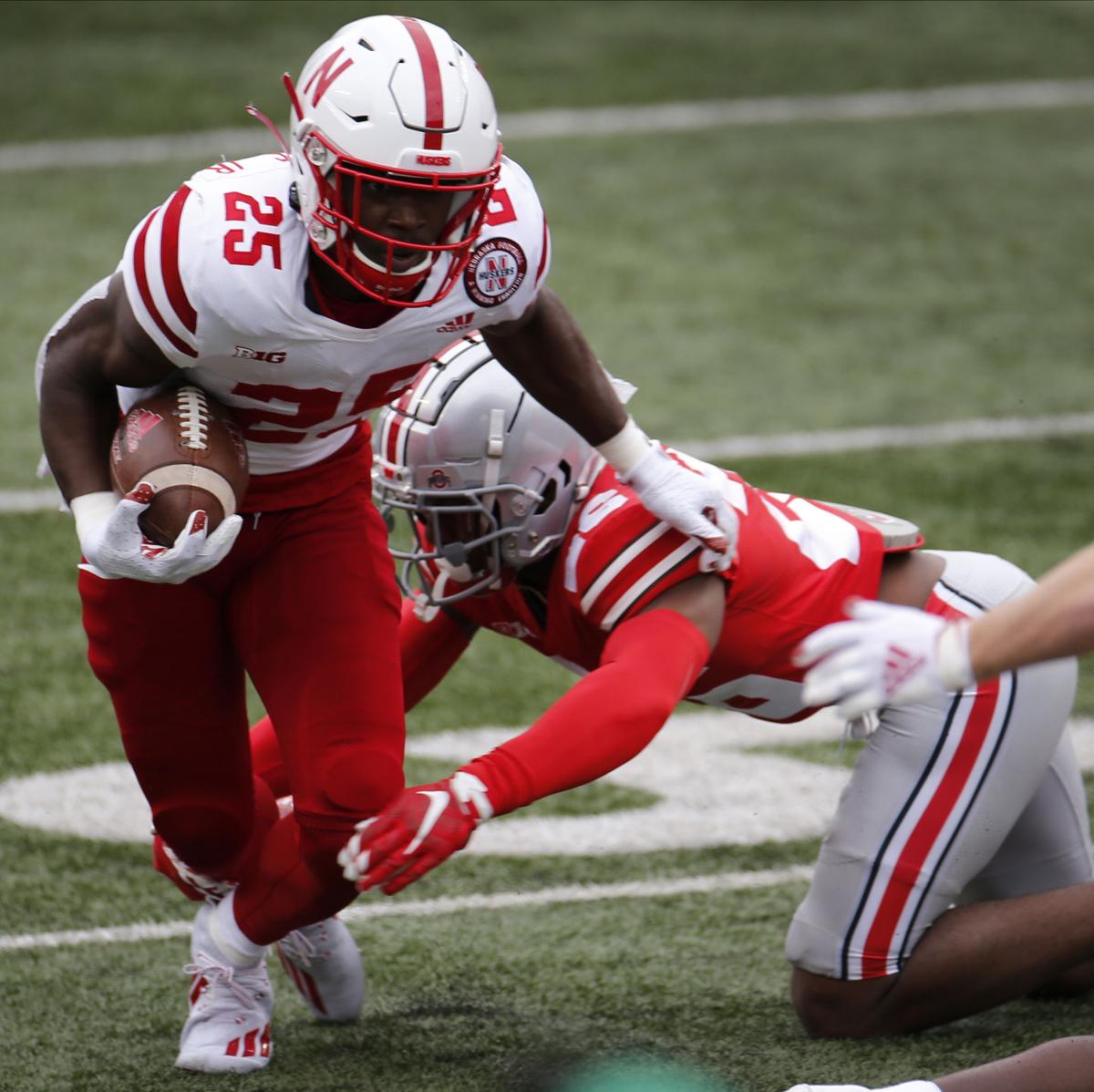 Ronald Thompkins rose to No. 2 on Nebraska's running back depth chart entering last season.
He appeared in two of the first three games, rushing five times for 24 yards, before fading into the background.
He's now out of the program.
A native of Loganville, Georgia, Thompkins has entered the transfer portal, easing a bit of a logjam of Nebraska running backs competing for playing time in 2021.
The 5-foot-11, 195-pound Thompkins battled from behind early in his time at Nebraska after suffering torn ACLs in both his junior and senior seasons at powerhouse Grayson High School near Atlanta. He spent most of the 2019 season at NU trying to get healthy after suffering yet another knee-related injury setback that year.
However, he emerged as the No. 2 option behind senior starter Dedrick Mills heading into last season's opener at Ohio State, in which Thompkins rushed four times for 22 yards while adding a 10-yard reception. He didn't make the trip to the next game, at Northwestern, before recording a two-yard carry the next week against Penn State. He then was bothered by nagging injuries, although he did make trips to Iowa and Purdue.
This spring, Thompkins appeared to slide downward in the pecking order behind the likes of 2021 freshman Gabe Ervin and 2020 freshmen Marvin Scott and Sevion Morrison. Another freshman, walk-on Jaquez Yant, also drew ample praise from coaches this spring.
Meanwhile, touted USC transfer Markese Stepp arrived on campus this past winter with a pre-existing injury that required left foot surgery and cost him most of spring. He's expected to return in time for preseason camp, which is set to begin in late July.
Another back in the mix, redshirt freshman Rahmir Johnson, missed most of the spring season as well.
Thompkins carried four times for 32 yards May 1 in the Red-White Spring Game. That turned out to be his last time in a Husker uniform.
In high school, he was regarded as a three-star prospect by 247Sports and the No. 5 all-purpose back in the country. He had offers from numerous schools, including Alabama, Auburn, Florida, Florida State, Oregon, Penn State and USC.
"He's a slasher. He's got the ability to make cuts," NU running backs coach Ryan Held said last October before the 2020 season. "He's got tremendous hands, can really catch the ball out of the backfield. He's one of the better guys on our team catching the football."
Thompkins, though, will take those talents elsewhere.
Photos: Our favorite staff images from the 2020 Nebraska football season