When Krista Gentry's mother died, the cards came flooding in from people she hardly knew.
Friends and family members offering their condolences, but also offering stories.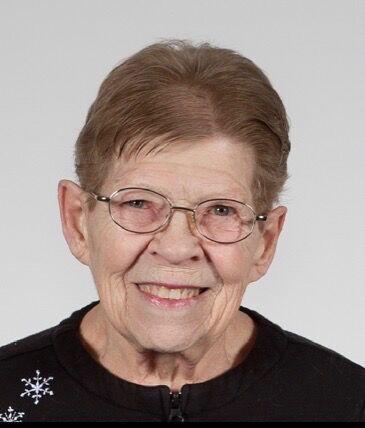 Like how her mom, Janet Ann Jodais, milked cows on the farm growing up. How a cousin used to visit Janet back when they were both kids. Anecdotes dating back 70 years.
"Mom had a much larger community of friends than I ever knew," said Krista, who lives in Minnesota. "That was one of the comforts since she passed away. It's all the stories that people share with you about your parents that you have no idea about."
Janet, a caring mother known for her love of reading, crafting and church life, died Oct. 8 of COVID-19 in Lincoln at age 83.
Krista remembers her mom as a very personable person who constantly gave of her time — to church, to the Boys Scouts, to others in the North Gate Garden Estates retirement community she called home for years.
"She was always very active throughout her life," her daughter said.
Julia Larson, a longtime friend, said Janet made many friends a president of the Condo Board at North Gate.
"She was very inclusive of everyone," Julia said. "Whenever there was new person at North Gate, she would reach out to them. She was just that kind of person — invite them over for coffee or give them a call and drop in and see them."
Janet was born in Lincoln in 1937 and graduated from Roca High School in 1955. She discovered a love for nursing at Omaha University, where she earned a bachelor's degree.
It's where she found love, too.
"While there, she met her future husband, Valdis Jodais, in speech class when she had to do a speech recommending him for dog catcher," her obituary says.
Reading was one of her favorite pastimes. She never shelved and cataloged a book in the North Gate library that she hadn't read, her daughter said.
"A lot of the times when I visited her we just sat in the evening and read books. We loved reading and mom could zoom through books," Krista said. "She was the fastest reader — she could read three books to my one."
Janet even wrote her own book, a nursing manual published in 1970.
She loved to make crafts, too — sewing, cross-stitch, crewel, ceramics — before arthritis made it too painful.
When COVID hit, Krista kept tabs on her mother and the community at Yankee Hill Village, the retirement community where Janet spent her last years. Throughout the summer, emails would land in Krista's inbox, saying another resident had tested positive. In September, Janet tested positive herself.
The virus took its toll. Because of her arthritis, breathing was more difficult. Janet also had a heart issue that made her more susceptible to serious illness.
But her mother didn't want to be put on a ventilator. As a nurse, she knew her end was close, Krista said.
On FaceTime, "she gave me what she called her air hug," Krista said. "Mom went quite peacefully."
Krista says she's "hypervigilant" about COVID. Her brother also died of the disease last April in Seattle. The week after her mother died was supposed to be his birthday. At the virtual memorial service for her son, Janet chose the reading.
"She handled that like a trooper with her faith. It gave her a lot of strength," Julia said.
Now, her daughter has the stories to remember her mother by, to help her form a picture of who she was.
"It's making a well-rounded picture of Mom," she said. "It has been nice to hear from other people about her so that there's not this void where no one cares."