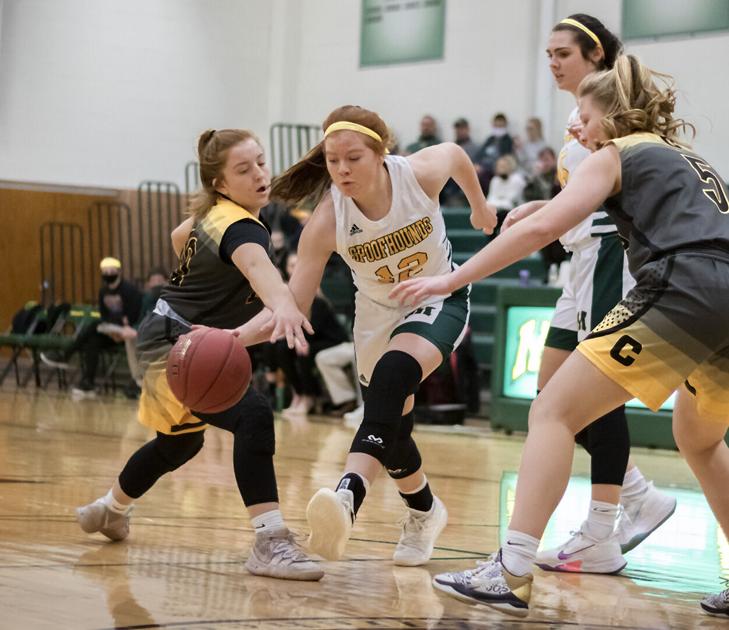 With the MSHSAA Class 4 District 16 Tournament commencing in less than a week, Chillicothe is the only team standing between Maryville girls basketball and its quest for district dominance.
After clinching at least a share of its second straight Midland Empire Conference championship, Maryville (20-1) hopes to claim the title outright with a win over Chillicothe (16-4) Feb. 25.
Maryville coach Quentin Albrecht is happy to add another year to the 'Hound Pound's conference championship banner and wants to carry that winning mentality into the districts.
"We feel like we're playing some of our best basketball of the season," Albrecht said. "With our win over a really good Jefferson City team, the girls are just excited to have a ton of confidence. They're looking forward to seeing what they can do."
Jefferson City, now in Class 6, is a team that won at least 20 games in each of its last five seasons. Jefferson City was the state runner-up in 2019, tallying 29 wins that season. It took a 43-point performance from senior guard Serena Sundell to give Maryville a 63-64 victory.
The Feb. 20 win was the smallest point margin for Maryville since its loss to Platte Valley Dec. 11. Since then, the 'Hounds have rattled off 17 consecutive wins en route to a No. 1 seed in the district tournament.
"It's pretty exciting to have the top spot," sophomore guard Anastyn Pettlon said. "There's a lot of good teams, but ours has worked pretty hard to get here. Yeah, it's pretty exciting."
"Any time you get a chance to be the one seed, it's a good way to cap off your season," Albrecht said. "It's a sign of recognition. People recognize you as the top team in that district, and it means a little extra because we're not using a single-site format."
Due to COVID-19, the highest remaining seed in the district tournament will host its games, according to Albrecht. This means if the Spoofhounds continue to win, all their district tournament games will be played in the 'Hound Pound starting March 2.
Although COVID-19 restrictions have limited the amount of fans allowed in the gym, Albrecht thinks it'll be beneficial for the girls to be able to play on their home court.
"Everybody gets tired of getting on that bus and traveling to a different location," Albrecht said. "Generally speaking, we only get a handful of home games every year. A chance to play at home, in front of your home crowd — even though it's limited — it adds a level of comfortability."
The impact of home-court advantage is almost negated by the restrictions put in place to combat the aforementioned virus. However, the Spoofhounds have won 18 of their home games without the help of a crowded fan section. Pettlon says factors of the game will be more important to focus on than the lowered fan count.
"Honestly, as a team, we play pretty well because everyone on the team knows their role," Pettlon said. "Right now, we're working on our defense and having the right mindset going into games. I think having the right chemistry and playing our game, we'll be pretty good."
Pettlon said that boxing out and getting more rebounds will be vital to her team's success in the upcoming tournament as well.
In District 16, Richmond will be the only team Maryville hasn't faced this season. As the No. 6 seed, Richmond would have to defeat the No. 2 and No. 3 seeds, Benton and Chillicothe, respectively, in order to have the chance to face the 'Hounds.
As far as the rest of the competition, Maryville has managed to beat each team twice this season and has the chance to beat Chillicothe a third time.
Despite winning against these familiar opponents, Albrecht doesn't want the girls' confidence to get the better of them.
"I think we need to keep the confidence up, but at the same time, we don't want that to turn into arrogance," Albrecht said. "There's a really fine line there. I think we need to make sure we're coming to practice realizing that we got to the top spot with a chance to win our district through hard work. This wasn't given to us."
Maryville will host its first district competition March 2 against the winner of the Feb. 27 matchup between Cameron and Savannah. The 'Hounds are aiming to not only put away teams for the third and final time this season but to repeat as district champions.
"This might be the toughest 4A district in the state," Albrecht said. "They say it's hard to beat a good team three times, but it's not impossible. We're going to hopefully rise to the challenge."