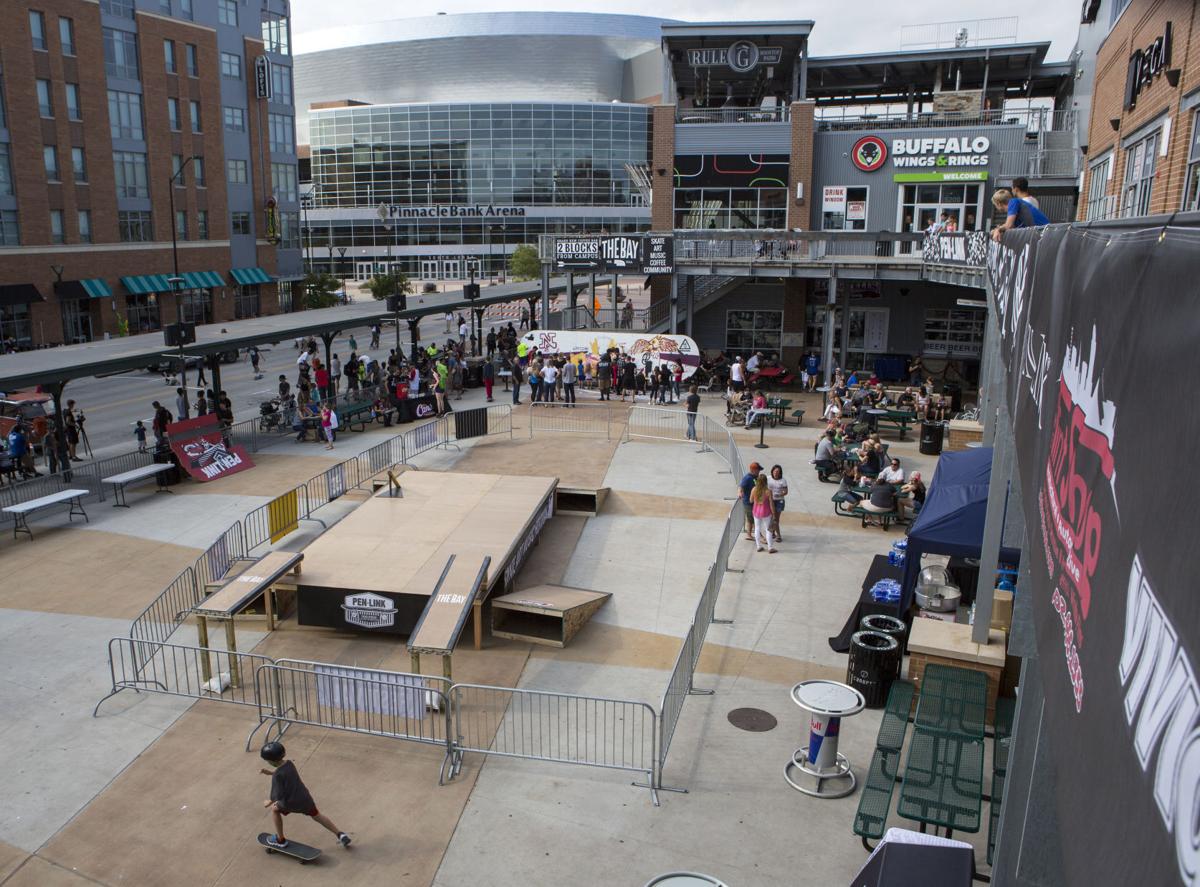 A small-town skateboarder turned motivational speaker is the latest choice to try to revitalize The Railyard.
And no, it's not going to be easy, Mike Smith said Friday.
"It's no secret it's been difficult down there. They came to us hoping we have different ideas."
Smith launched his career by starting The Bay, an indoor skate park, art space and outreach center. He's since traveled the country, delivering his message — here's how to leave your legacy — to thousands of high school students, and has reached millions more though his video series.
Now a new company with his experienced production staff from Mike Smith Live will manage the outdoor venue just south of the Pinnacle Bank Arena.
HeyMike will be the third company in about five years to manage the space, which opened in fall 2013 in the newly developed West Haymarket. The venue can fill up for special occasions — Husker football gamedays, and when the arena hosts concerts or basketball games — but has struggled on other days.
The Railyard's owners, WRK Real Estate and Chief Industries, hired Spectra, a subsidiary of Comcast, to manage the area in 2017. Two years later, it hired Lincoln-based digital-marketing company Hurrdat.
But several original tenants of The Railyard have left, citing high rental rates, and some sued over the spending of their lease payments on maintenance and events.
HeyMike will focus on programming, Smith said. Not property management.
"We're there to manage the entertainment district. That's our job — to create experiences and set the culture. We have nothing to do with people's rent checks."
Still, he wants his company to help the remaining businesses — and to attract others — by drawing more people and more spending money to The Railyard.
"It just doesn't have to be Friday or Saturday nights when people are going there. We want to make it a place that is activated during the other days. It's all about revenue."
His strategy? He doesn't want to create new crowds in The Railyard; he wants to recruit established groups to head to the Haymarket.
"What we need to do is find the communities in Lincoln that already exist and have them come to The Railyard and have a great experience."
For its first event, HeyMike is hosting a makers market from noon to 3 p.m. Sunday, with more than 20 artists, makers and craftspeople selling their products. But Smith is also thinking about all of the other niche groups in Lincoln. Nonprofits. Sports groups. Dungeons and Dragons fans. Yoga.
He wasn't ready to set a goal for the number of events HeyMike will try to host. "I'd say it's more about how many different types of communities can we interact with, versus how many different events can we throw. We're looking for consistency. We want people to know it's open during the weekdays."
Smith graduated from high school in Chase County and started The Bay as a skate park in Gateway Mall in 2010 after serving as a youth outreach worker for Cedars. But it grew from there, and now his 20,000-square-foot building on Y Street also serves as a performance venue, a digital art lab, an emergency food pantry.
And starting in 2022, The Bay and Rabble Mill — the nonprofit that runs it — will collaborate with Lincoln Public Schools to host Bay High, a focus program devoted to content creation and digital media for 100 high school students.
He started talking with The Railyard's owners in December, though the uncertainty surrounding the pandemic made it difficult to draft specific plans or expectations.
But they liked his general approach to reinvigorating the space, he said. "Taking the community route is what Chief Industries and WRK wanted to do this round," he said.
Will Scott of WRK couldn't immediately be reached for comment, but he cited Smith's team — and its record of creating community impact in Lincoln, and around the country — in a news release.
Photos: The Bay indoor skate park