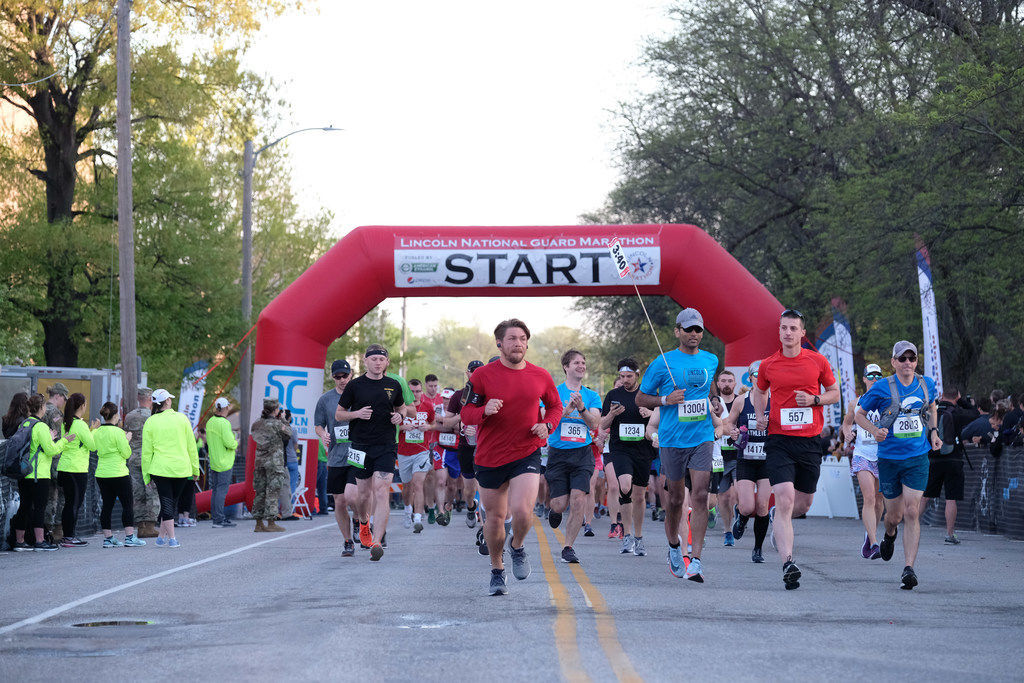 The starting line has been moved. The finish line has, too.
But the distances, of course, will remain the same, and race officials are crossing their fingers that the 44th Lincoln Marathon will offer the same excitement, energy and spirit as its predecessors.
COVID-19 led to the cancellation of marathons throughout the country last year, including Lincoln's, which takes place in early May each year. Marathons are starting to slowly come back or are being moved to later in the year.
In fact, Sunday's Lincoln Marathon, which has about 5,000 entries, could set an early getting-back-to-normal milestone.
"We have a real shot at having the largest post-COVID race in the country, which is pretty cool," said Lincoln Track Club President Ryan Regnier, who also is serving as Lincoln Marathon race director this year.
The recent Glass City Marathon in Toledo, Ohio, was allowing up to 8,000 runners, but around 3,000 recorded results.
Due to COVID-19 protocols, this year's event in the Capital City was capped at 6,000, and the event will be much smaller than recent Lincoln Marathons that attracted 12,000 runners, with many of those spots being grabbed early in the registration process. Nearly 1,000 will run the full marathon and around 3,800 will take on the half-marathon course.
A low-key registration start — and the fact that organizers didn't know in December or January if there would be a race in 2021 — led to a "cautious" approach to opening the race. Runners also may be a little leery about returning to competitive running during the pandemic.
"They're just uncertain because of COVID and whether or not it's going to be safe," said Regnier, who noted some participants will do the event virtually. "I think that's the biggest factor behind (lower interest)."
This year's Lincoln Marathon will start at 14th and Vine streets. To accommodate nearly 5,000 runners at the start line, and to keep them 4 to 6 feet apart, they'll be placed into six to eight waves stretching back to a parking lot off of Avery Avenue on the UNL campus.
"We're going to slowly move those waves to the start line and once they hit the starting line, they'll be able to run, but we're going to ask them to maintain that social distance while they're in their wave," Regnier said.
With Memorial Stadium not available as in years past, the runners will finish at nearby Ed Weir Stadium (Last year's race also was going to finish at Ed Weir).
Spectators will not be allowed inside Ed Weir to watch the finish. Other changes due to COVID include no award ceremony and no pasta-thon event the day before the race.
That may be the biggest challenge, Regnier said, maintaining the spirit and integrity of the race with the limitations in place. But race organizers remain optimistic about pulling off an event that draws rave reviews from runners from across the country each year.
"I want people to walk away still saying, 'This is a first-class event and I'm definitely going to come back and do it again next year,'" Regnier said. "If we don't have those other things, a lot of those things that people associate with the Lincoln Marathon, are they still going to feel like it was one of the premier events in this region?"
There remains a lot of excitement for an event that has a big impact on the community. The 2019 Lincoln Marathon raised around $100,000 for local charities, and money also goes to Lincoln Parks and Recreation for trail upkeep.
That, Regnier says, is why it's important to get the Lincoln Marathon back on its feet.
"We feel like we do a lot for the community and we want to be able to continue that," he said. "I really do think the running community wants this. They're hungry to get out and compete.
"If we can kind of set ourselves apart and put on a good event, then we're doing a service for the running community."
Sunday's race will begin at 7 a.m.