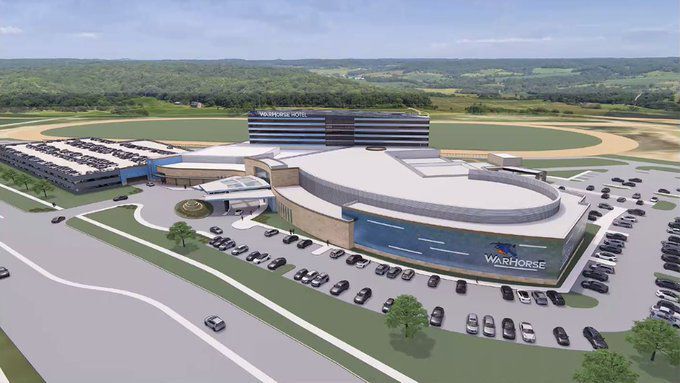 The developers planning Lincoln's (and likely the state's) first horse track casino are in a "hurry up and wait" mode.
Lynne McNally, executive vice president of the Nebraska Horsemen's Benevolent and Protective Association, and Lance Morgan, president and chief executive officer of Ho-Chunk Inc., said Wednesday that some things need to fall into place before they can start physical work on the planned WarHorse Casino in Lincoln.
First, they need a process in place to get a gaming license, something that's working its way through the Legislature via LB561.
Once that process is complete, the plan is to open a temporary facility in Lincoln at the current Lincoln Race Course near U.S. 77 and West Denton Road.
"We'll kind of be building around it," McNally said.
Morgan said he hopes construction activities can start in a few months, and the construction process is likely to take 18 to 24 months. That would put the likely opening of the full casino no earlier than late 2022 and possibly into 2023.
"We're going to build it as fast as we can," Morgan said.
The estimated cost of the project, which will include more than 1,200 gaming stations, a 196-room hotel, event space, five or six restaurants and other amenities such as a spa, has already grown to $220 million and may continue to grow because of increased construction costs.
Along with the casino and hotel, the Horsemen's Benevolent and Protective Association plans to expand its racing season to 100 days, running from early May into early fall.
McNally said she expects the expanded race schedule to begin soon after the full casino opens.
A feature of the hotel, which Morgan said is likely to be independent and not part of a chain, will be balconies for some of the rooms that will overlook the race course and allow guests to watch races, a feature McNally said is not available at any other horse track in the U.S.
McNally and Morgan touted the amount of money that will flow to the local and state economies from just the Lincoln casino. They estimated it will provide nearly $20 million in direct property tax relief to the state and more than $3.5 million in annual tax revenue to both the city of Lincoln and Lancaster County.
The annual gaming revenue for just the Lincoln casino is projected at more than $140 million, and that is not counting revenue from the hotel, restaurants and other components. The casino is expected to employ more than 680 people permanently, which does not include the estimated 230 construction jobs it will create.
The two said the Lincoln casino will be the first WarHorse Casino to open, ahead of ones planned in Omaha and South Sioux City, and they believe it will open before any other casino in the state. So far, Fonner Park in Grand Island is the only other horse track in the state, besides WarHorse, to unveil casino plans.