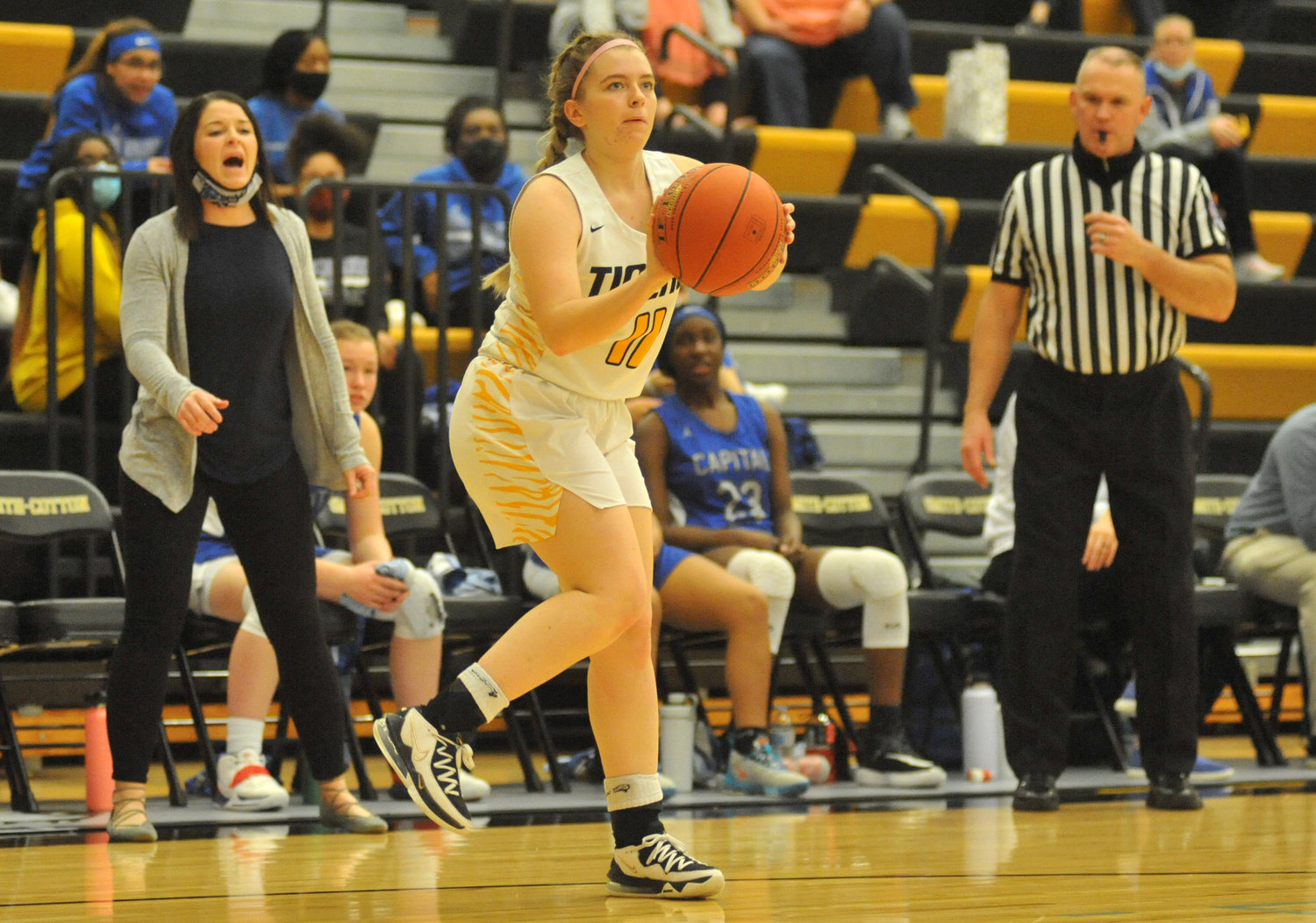 By Alex Agueros aagueros@sedaliademocrat.com
Smith-Cotton girls basketball finished its inaugural conference slate winless after a loss Tuesday hosting Capital City.
Lady Tigers head coach Jessie Arnold and the team have less than a week to reverse the outcome when it really matters.
"We have so many trick plays," Arnold joked. "It's like Boise State in football, we have all the trick plays."
Smith-Cotton junior Bailey Brown scored 14 points, senior Caroline Matz added 10 and the Lady Tigers lost 57-43 in their final Central Missouri Activities Conference contest of the season.
The Lady Tigers (0-17, 0-6 CMAC) are paired with Capital City in the first round of the Class 6 District 9 Tournament. Tip-off in Jefferson City is scheduled for 6 p.m. Monday, March 1, at Capital City High School.
Arnold said the Lady Tigers' defense lost focus during game-changing runs.
"We tried a couple different defenses and just kind of lost our people at times," Arnold said. "We weren't always in the right spot."
Despite producing a season-high in points, Arnold said shot selection can stand to improve before the postseason rematch.
"We can't average 20 shot attempts and win," Arnold said. "So I was pleased to see us able to get the ball up a little bit more tonight. However, we also need to understand what a good shot is. A good shot comes from reversing the ball a couple times, especially against a zone, making that zone shift."
Smith-Cotton conceded a 10-2 run to end the first period and trailed 15-6 after the first eight minutes
Matz followed a 3-pointer from S-C sophomore Rilee Jackson with a mid-range make to pull within two possessions, 25-19, with about two minutes remaining before halftime.
Capital City sophomore Rylea Sanning scored under the basket in the final seconds of the second quarter. The Cavaliers entered halftime with a 29-20 lead.
Cavaliers sophomore Natalie Allison drained a 3-pointer with 14 seconds left in the third period to increase the standing to 40-26. S-C managed six points in the third quarter.
Capital City (3-21, 1-5) broke the Lady Tigers' press after a fourth-quarter timeout, and sophomore Kyla James extended the lead to 44-28 with about six minutes to play.
Brooklynn Greene, sophomore, paced Capital City with 13 points. Cavaliers freshman Kambry Pistel finished with 10 points.
Rock Bridge extended S-C's conference winless streak Monday with an 87-13 final in Columbia. Brown led the team with eight points.
Smith-Cotton finishes the regular season Thursday at Northeast High School in Kansas City.
Alex Agueros can be reached at sports@sedaliademocrat.com or on Twitter @abagueros2.