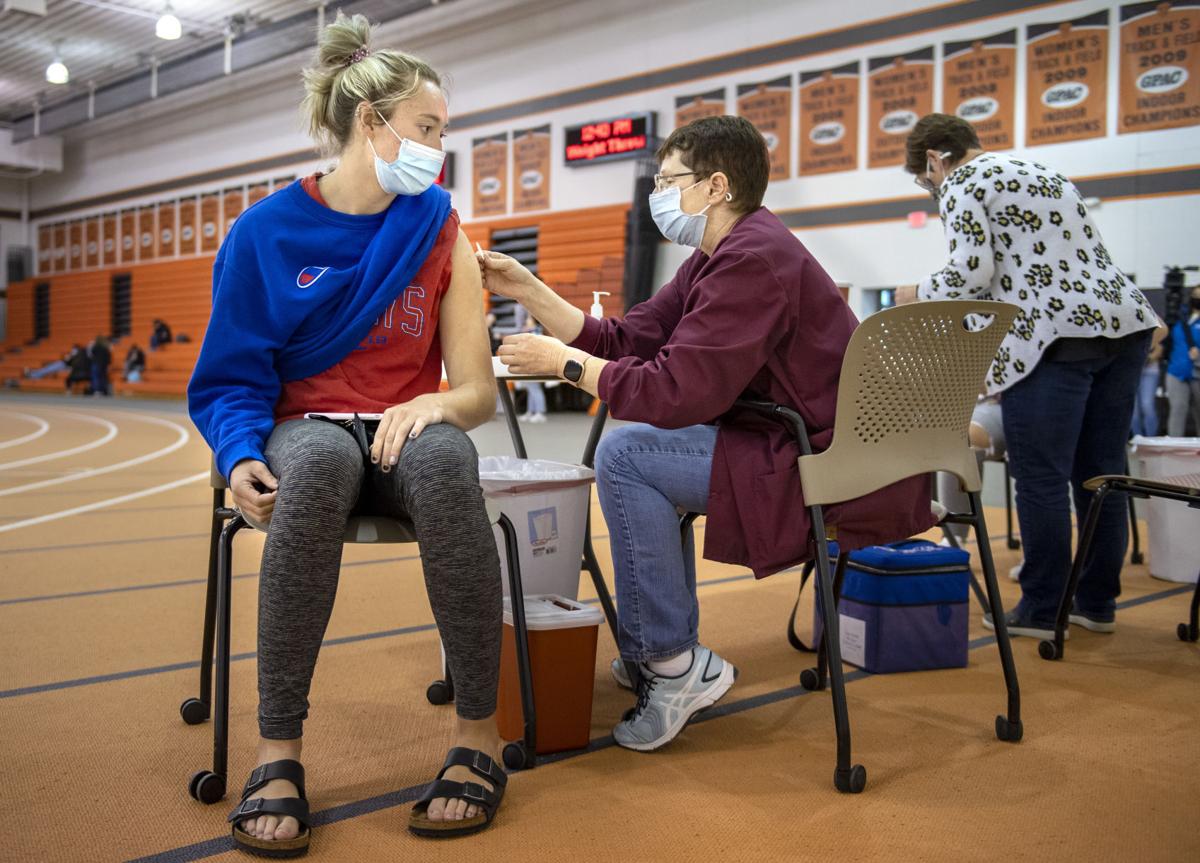 Want concerts and club shows to return sooner rather than later?
That is the underlying message Lincoln-Lancaster County Health Director Pat Lopez sent Tuesday, when she set a 75% vaccination rate as the target for moving Lincoln's COVID-19 risk dial into the green category and ending the directed health measure restrictions on venue capacity.
Dropping those restrictions, now at 75% of capacity, will have two closely related impacts on shows coming to Lincoln.
First, it will allow shows, whether in clubs, at Pinewood Bowl or Pinnacle Bank Arena, to have enough capacity to break even or turn a profit from ticket sales. Reduced capacity, even at 75%, makes that difficult.
Second, and perhaps more important, the elimination of the restrictions will allow shows to be booked knowing they can take place at full capacity. That, bookers said this week, is critical to being able to put together a lineup of touring shows.
For now, Tuesday's relaxing of restrictions that accompanied a lowering of the COVID-19 risk dial into the low-yellow category is a step in the right direction. The 6-foot social distancing requirement disappeared, allowing venues to actually function at 75% capacity.
And shows are returning to most if not all of Lincoln's live-music venues, which, thankfully, appear to have survived the pandemic.
Those venues could get a financial shot in the arm from the Shuttered Venues Operating Grant program, which was supposed to go online April 9. But the website crashed and the program is just starting to take applications.
Duffy's Tavern, which has been closed since November, will reopen Friday, and has its first show, the return of its open-mic comedy night, set for Monday. The O Street staple has a couple more shows set for May, with more to come.
1867 Bar also has announced a May 1 show, with Lincoln's Hardly Swaul Pope and the Olive Garden Hose, indicating that it is resuming its music offerings.
Touring shows returned to the Zoo Bar earlier this month. The Bourbon Theatre has an April 30 show by Not Quite Brothers and a calendar with listings into 2022.
The Royal Grove, which has offered shows throughout much of the pandemic, has a pair of shows this weekend — ATLiens on Friday and comedian Robert Kelly on Saturday — and nine other shows booked for May.
Pinewood Bowl will begin its season in late June, a month later than usual, with three shows in three nights — Chicago on June 23, Styx and Collective Soul on June 24 and Cole Swindell on June 25.
After a monthlong pause for the annual Pinewood Bowl musical, the Pinewood season will resume with at least five shows in August and September.
That will lead into the indoor concert season, where Pinnacle Bank Arena now has three country shows scheduled in September and October.
If the restrictions are dropped, those concerts will likely go on as scheduled. At 75%, it wouldn't be a shock to see those shows postponed.
Lancaster County now has 44% of its residents 16 and older fully vaccinated and 65% partially vaccinated.
With vaccinations now being offered at high schools, mass-vaccination clinics and pharmacies in the federal vaccination program, those numbers should continue to rise.
Now that you're vaccinated, here's what you can and can't do
What you can do
CDC guidance contains activity recommendations for fully vaccinated people in private settings and includes:
Visiting with other fully vaccinated people indoors without wearing masks.
Visiting with unvaccinated people from one other household indoors without wearing masks or staying 6 feet apart if everyone in the other household is at low risk for severe disease.
Refrain from quarantine and testing if no symptoms of COVID-19 are experienced after contact with someone who has COVID-19.
The CDC has also updated its guidance to say fully vaccinated people can travel within the U.S. without getting tested for the coronavirus or going into quarantine afterward. Read more about that here:
Precautions in public
The CDC says that anyone who is fully vaccinated should continue to take these precautions when in public, when visiting with unvaccinated people from multiple other households, and when around unvaccinated people who are at high risk of getting severely ill from COVID-19:
Stay at least 6 feet apart from people you do not live with.
Avoid medium and large in-person gatherings.
Get tested if experiencing COVID-19 symptoms.
Follow guidance issued by individual employers.
Follow CDC and health department travel requirements and recommendations.
10 things to know about vaccine side effects
Here's a list of 10 things you should know about potential COVID-19 vaccine side effects, according to the Centers for Disease Control and Prevention and Harvard Medical School:
The Pfizer-BioNTech COVID-19 Vaccine and Moderna COVID-19 Vaccine both require two shots in order to get the most protection. You should get the second shot even if you have side effects after the first shot, unless a vaccination provider or your doctor tells you not to get it.
Side effects from the second injection may be more intense than the ones you experienced after your first shot.
The most commonly reported symptoms are pain, redness and swelling at the site of the injection. Other common symptoms reported include tiredness, headache, muscle pain, chills, fever and nausea.
You may take acetaminophen, aspirin or antihistamines for any pain and discomfort you may experience after getting vaccinated — as long as you have no medical conditions that prevent you from taking them normally.
It is not recommended that you take pain relievers before being vaccinated in an effort to prevent side effects. They may interfere with the vaccine's effectiveness.
If you have pain at the vaccine's location, keep the arm active and use a clean, cool, wet washcloth over the site.
For a fever, drink plenty of fluids and dress lightly to remain as cool as possible.
The symptoms should improve within two or three days.
Call the doctor if redness and/or tenderness at the injection site worsen after 24 hours.
Call your doctor if any other symptoms seem to be worsening or not improving after two to three days
Common questions
Can I get COVID-19 after being vaccinated?
Like other vaccines, such as the flu shot, the COVID-19 vaccines work by teaching the immune system how to recognize and fight the virus that causes COVID-19. It typically takes two weeks after vaccination for the body to build immunity against the virus, according to the Centers for Disease Control and Prevention.
Because of this, it is possible for a person to get COVID-19 before or just after vaccination, and then get sick because the body hasn't had enough time to develop protection.
Dr. Michael Lindberg, chief medical officer at Monadnock Community Hospital in New Hampshire, said that while possible, it's "very uncommon" for someone to become infected with COVID-19 after vaccination.
Should I still get tested after getting vaccinated?
If you've been vaccinated and are showing symptoms of COVID-19, then yes, you should get tested.
If you have been vaccinated and don't have symptoms, however, you don't need to get tested even if you suspect you've been exposed to the virus, per guidance from the Centers for Disease Control and Prevention.
When will we hit herd immunity?
Scientists estimate that potentially 75% to 85% of the population needs to be immune to reach herd immunity for COVID-19. Some estimates are higher, at around 90%. As of March 29, 15.8% of the U.S. population had been fully vaccinated, 28.6% had gotten at least one dose.
How long will we have to wear face masks?
Dr. Anthony Fauci, director of the National Institute of Allergy and Infectious Diseases, said in February that even with increasing vaccinations, it's "possible" Americans could still be wearing face masks and coverings in 2022.
Also contributing to this report: The News & Observer (N.C.), The Keene Sentinel (N.H.), Dayton Daily News (Ohio) and The Staten Island Advance (N.Y.)
When are you fully vaccinated?
CDC updates its COVID-19 travel guidance
You are fully vaccinated 2 weeks after receiving the Johnson and Johnson vaccine, or 2 weeks after receiving the second dose from Pfizer or Moderna.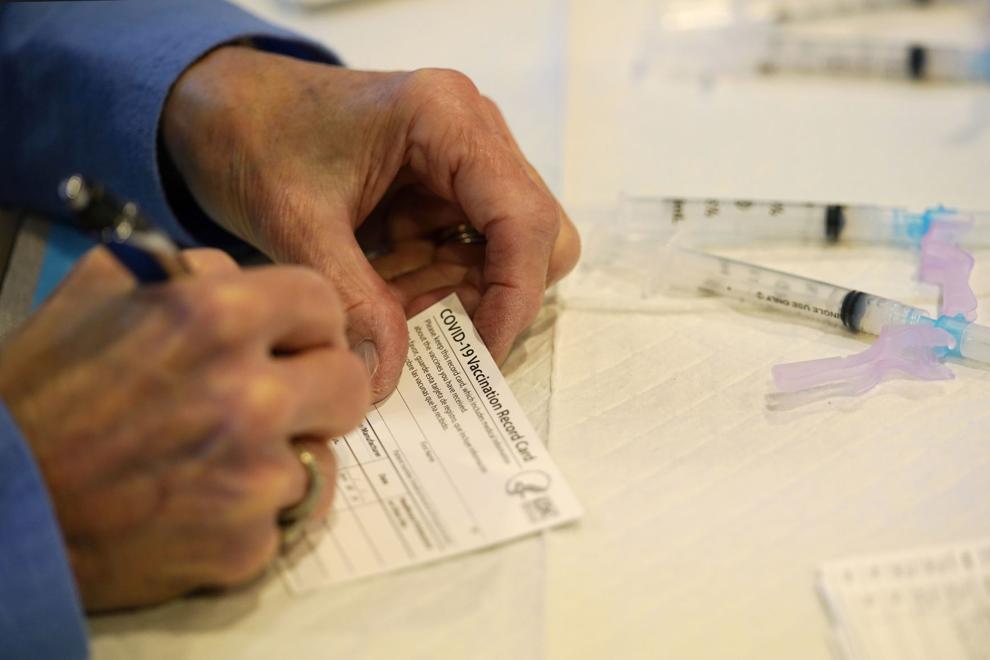 Reach the writer at 402-473-7244 or kwolgamott@journalstar.com. On Twitter @KentWolgamott