From left, Keygan, Blake, Cole, Casen and Zacaious. Helping out makes the boys feel good.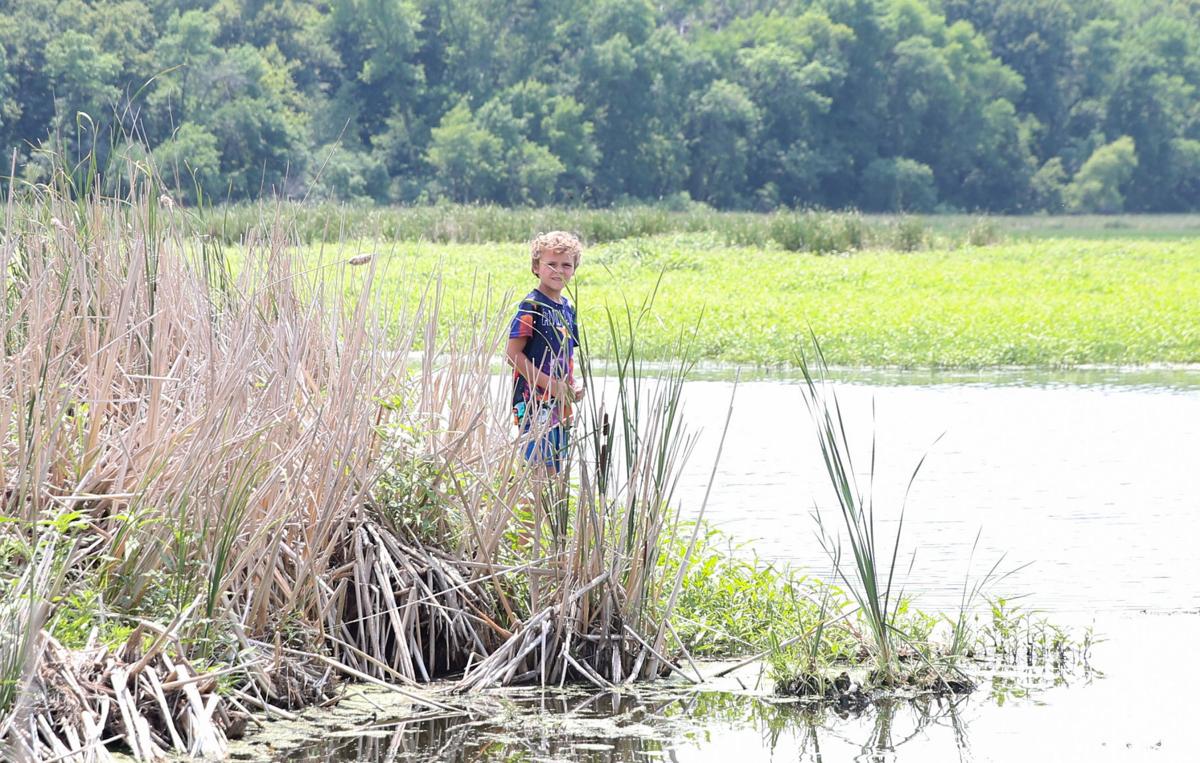 Casen Wenzel, 8, stands in the reeds at Ventura Marsh, where he's previously found turtles and an abandoned wood duckling.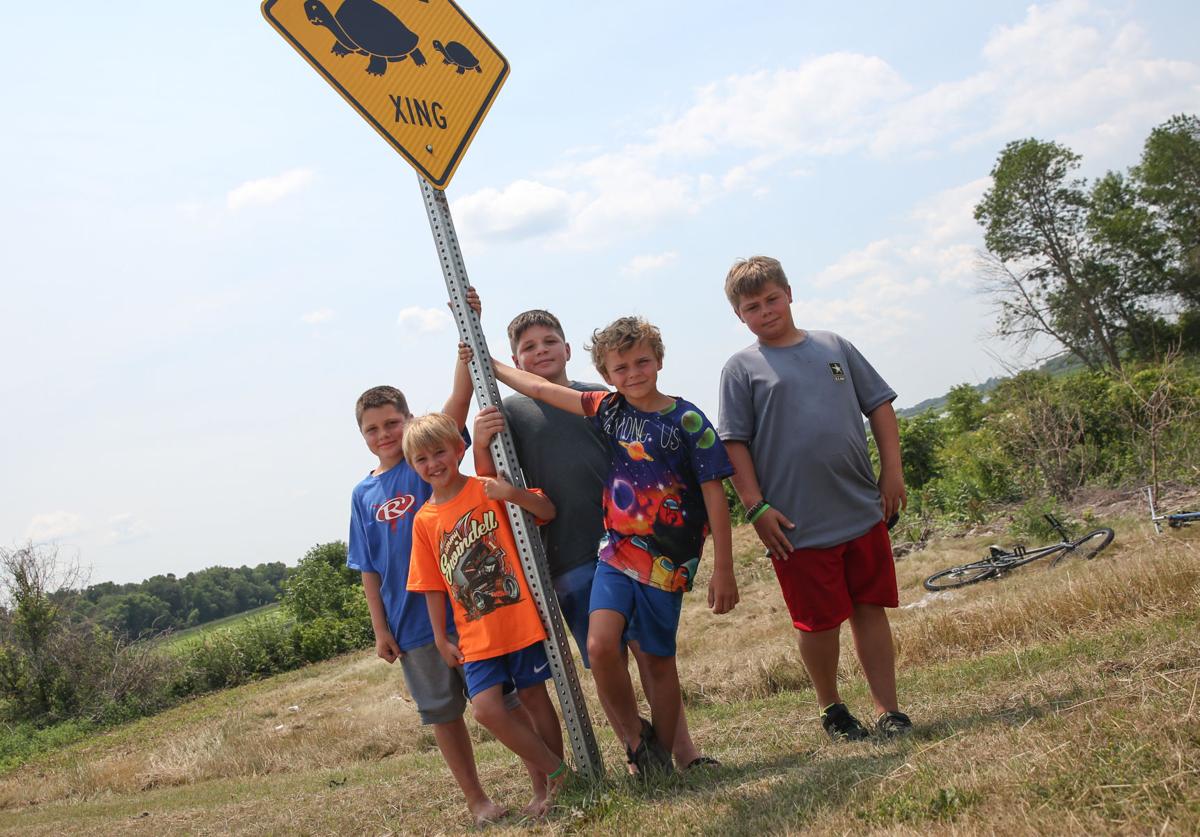 From left, Blake Meyer, Keygan Hoover, Cole Meyer, Casen Wenzel and Zacaious Moe stand at the "turtle crossing" sign near Ventura Marsh, where they've helped dozens of turtles safely cross the road that separates the marsh and Clear Lake.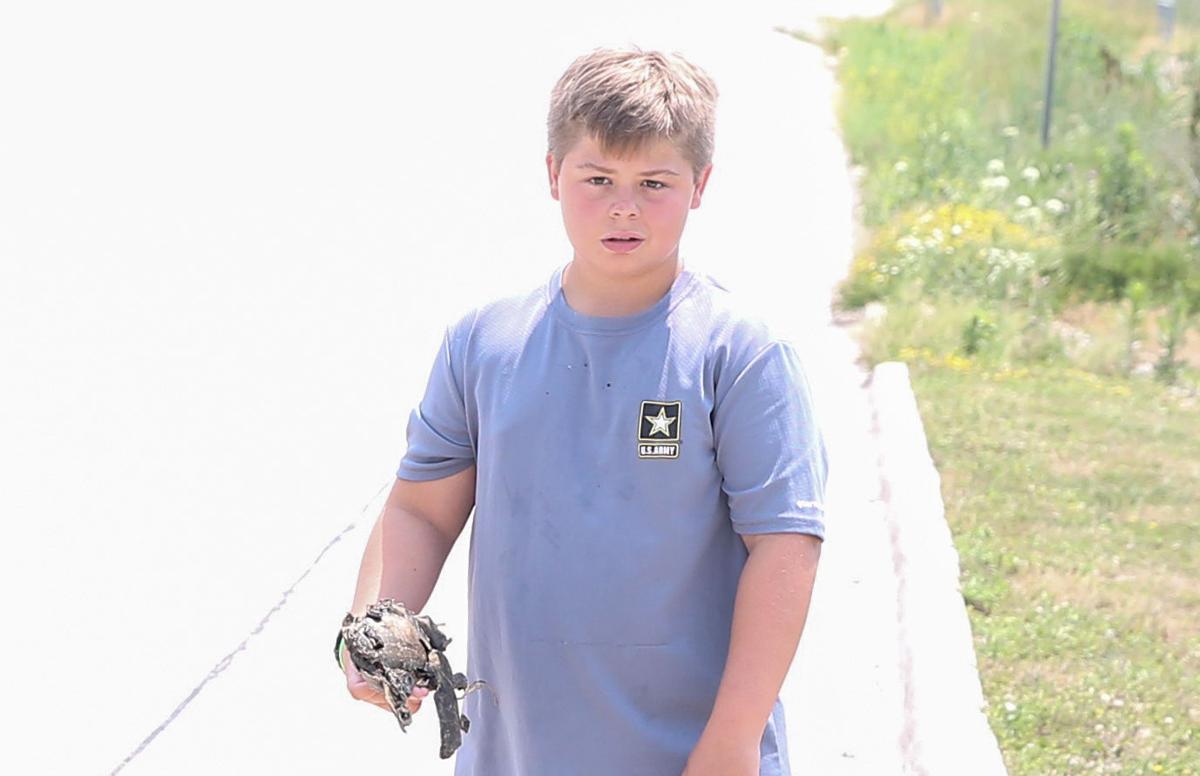 Zacaious Moe, 10, holds the shell of a turtle that had been hit by a car near Ventura Marsh.

JARED MCNETT
Mason City Globe Gazette

VENTURA, Iowa — They like turtles.
Keygan Hoover, Blake Meyer, Cole Meyer, Zacaious Moe and Casen Wenzel like turtles so much that they recently spent a day of their free time — in the summer, no less — helping a whole bale of turtles trek safely across a busy road in Ventura.
"One time, I saw a pile of flattened turtles and two baby turtles. Their parents must've died, so that motivated me to save other turtles," Zacaious said.
"I felt sad that all of them were getting run over," Keygan said.
The five boys were recently out at the turtle crossing, between Clear Lake and the Ventura Marsh, helping pluck turtles from danger for several hours. In that time, Blake Meyer said he and his friends must have saved at least 20 to 30 turtles that day and close to 200 from all the other times they've been out there.
"Mostly babies," he said.
"I think their parents all died," Zacaious said.
According to Ventura City Administrator Else Taylor, the turtle crossing sign and a geese crossing sign have been up for several years now for a simple but sobering reason.
"We have had issues with geese and turtles getting run over in large amounts, particularly where we have water on both sides of the road," she said. "During certain times of the year it is very prevalent. I walk my dog by some of these places and there are turtle pancakes."
###[ad_2]
Originally Appeared Here