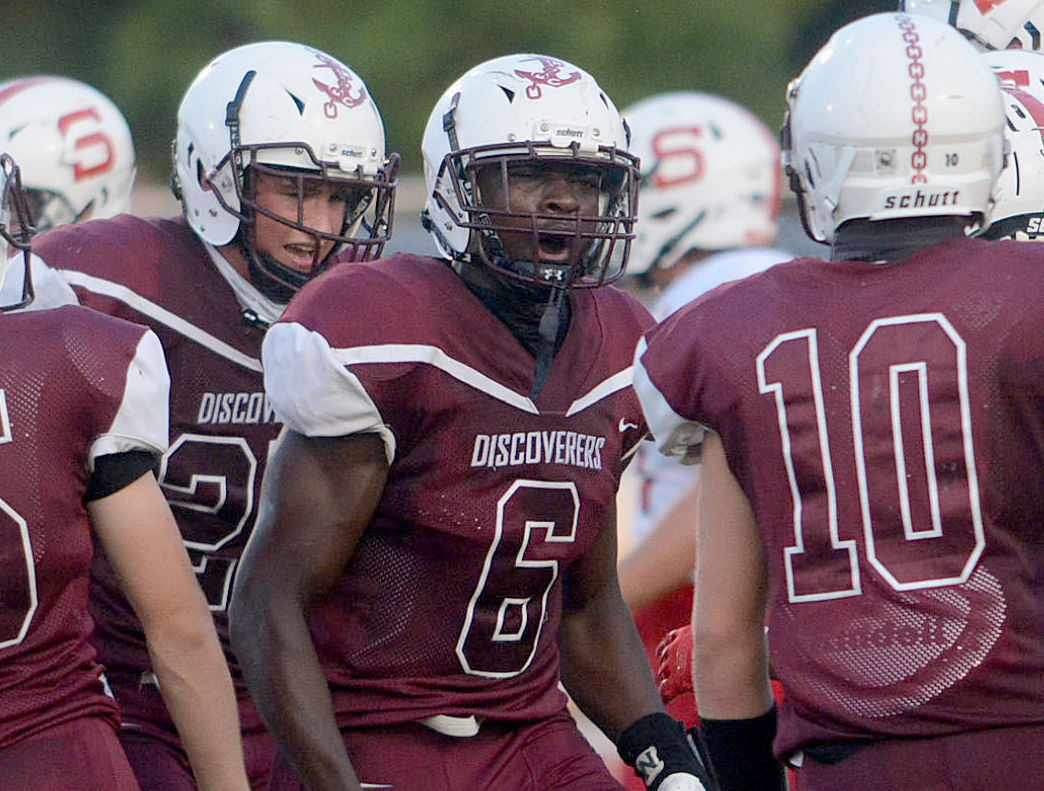 Nebraska's third visit weekend of June kicks into high gear on Friday with a barbecue event, the second Friday Night Lights camp of the month, a lineman camp on Saturday and more private workouts for players.
First, the official visitors.
LB Ernest Hausmann (Columbus)
Hausmann (6-foot-3, 210 pounds) is one of the four players already verbally committed to Nebraska for the 2022 class.
The charter member of the Huskers' class has been on campus at least once already this June — he came down for the first Friday Night Lights camp when NU had eight official visitors on campus — and now will get his turn to get the full official visit treatment.
LB Jake Appleget (Lincoln Southeast)
The Lincoln Southeast first-team Super-State selection picked up an offer from Nebraska on June 1 — and then Minnesota one day later — and has been a frequent visitor to Memorial Stadium this month. After the unofficial visit and workout that resulted in his offer, Appleget was back on Sunday, catching touchdowns and interceptions for LSE during NU's 7-on-7 tournament.
Appleget (6-4, 210) could play either linebacker or tight end in college, but he told the Journal Star earlier this month that he thought Nebraska would likely try him first at outside linebacker if he ended up committing.
This is Appleget's first official visit. Will it be his last?
DB James Monds III (Fort Pierce, Florida)
Monds has been a longtime target of the Husker staff and has family connections to Lincoln. His uncle, Wonder Monds, was an All-America defensive back for Nebraska in the 1970s before being drafted in the fourth round by the Pittsburgh Steelers.
James Monds (6-foot, 190 pounds) is himself a coveted recruit in the 2022 cycle, garnering interest from around the Big Ten. He took an official visit to Indiana last weekend and has one on the books for Wisconsin next weekend, according to his 247Sports profile. Monds also has offers from Michigan State, Miami and many others. Those five schools plus Mississippi State make up the top six list that Monds released earlier this year.
"I talk to Coach (Frost) and (secondary coach Travis Fisher) a lot, we have a great relationship and I really like them," Monds said earlier this spring. "I feel like they can push my game to the next level."
DB Nathan Vail (Kennesaw, Georgia)
Vail is a safety at Harrison High in northern Georgia and is a player Nebraska first extended a scholarship offer to back in January.
Vail is listed at 6-2 and 195 pounds, and is considered a three-star prospect by both Rivals and 247Sports. The Huskers have recruited several players out of Georgia in recent years and have Georgia defensive backs already on the roster in safety Myles Farmer and cornerbacks Quinton Newsome and Malik Williams.
Vail took an official visit to Georgia Tech last weekend and said that he's also planning on taking one to Duke the last weekend of June.
Unofficial visitors
Between the private workouts, recruiting barbecue event and two camps, Nebraska is going to have a big number of unofficial visitors through campus this weekend. A couple of quick highlights:
Class of 2024 quarterback Dylan Raiola (Burleson, Texas) is probably the most intriguing. He's going to throw at the Friday Night Lights camp and already has offers from Georgia and Washington State. He is the son of former Husker great and longtime NFL center Dominic Raiola.
Class of 2023 lineman Peyton Lange (Minneapolis) is taking part in the camp on Saturday. He is listed at 6-9 and north of 400 pounds. The massive prospect from Minnehaha Academy has been on a swing through the Big Ten this month.
Class of 2023 tight end and Nebraska verbal commit Benjamin Brahmer (Pierce) is expected to be back on campus for the second FNL camp and recruiting barbecue, one of many area players who will likely be in town for part of the weekend.
Class of 2022 prospects Jahsiah Galvan (West Liberty, Iowa) and Carson Hegerle (West Fargo, North Dakota) are a couple of long, big-frame athletes who are working out for Nebraska on Friday. Each has received significant attention from the staff and each will have a chance to move up NU's board with a quality workout. Galvan (6-2, 285) has reported an offer from Nebraska and Hegerle (6-3, 180) has not.
Among other 2022 players on campus, one interesting name is Adrian Brown Jr., who plays his high school ball at Bishop Sycamore in Cincinnati but is originally from Pahokee, Florida.
Meet Nebraska football's 2021 recruiting class