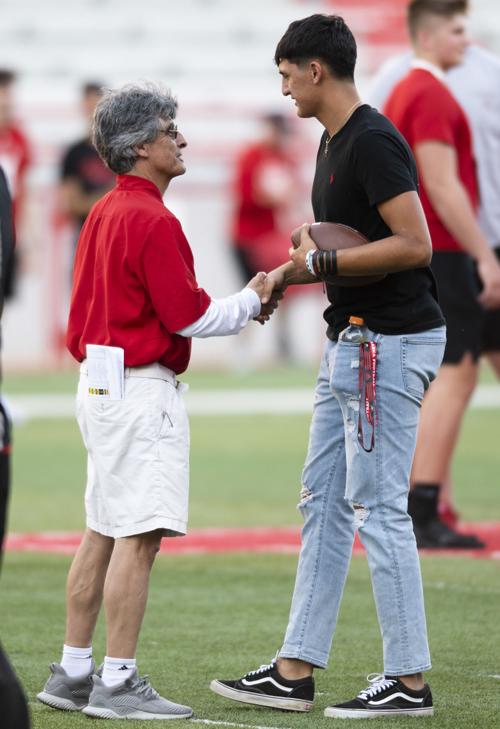 Nebraska has its quarterback for the Class of 2022.
Richard Torres, the strong-armed, 6-foot-6 signal-caller from San Antonio, Texas, put to rest the recruiting derby at the sport's most visible position that lasted longer than normal for Nebraska in large part because of the NCAA's year-plus dead period when he announced his verbal commitment Monday afternoon.
Torres, who took his official visit to NU on the weekend of June 4, ended up claiming the spot over others like MJ Morris, whom the Husker staff seemingly moved away from late in the process, and A.J. Bianco, the Hawaiian quarterback with an official visit slated for June 18.
Torres put together good numbers for Southside High in an area of Texas that isn't always as intensely recruited as others, but flew under the radar as the dead period lingered through the 2020 calendar and well into 2021. That all changed in early March when Nebraska became the first Power Conference school to offer him a scholarship.
In the next weeks, he earned offers from Washington State, Utah, Kansas State and others. Once June arrived, he took official visits to Lincoln and to Kansas State before finalizing his decision.
Southside High coach Ricky Lock told the Journal Star this spring that Torres, who threw for more than 1,100 yards and 18 touchdowns and also rushed for 276 yards as a junior, "can make every throw under the sun."
Not only that, but the tall, lanky quarterback is still growing.
"That's the thing that's unique about him," Lock said. "A year from now, he'll probably weigh 230, 240. He's going to be a big man before it's over with."
Nebraska didn't waste any time with Torres once June hit. He was among the first batch of official visitors, then quarterbacks coach Mario Verduzco got on a plane to Dallas and watched Torres workout at a camp at SMU on Sunday afternoon.
NU under head coach Scott Frost has not taken more than one quarterback in any recruiting class and doesn't appear likely to change that practice this year, even though the Huskers only have three scholarship quarterbacks on the roster and junior Adrian Martinez is entering his fourth collegiate season.
Check back for updates to this story
Photos: Sights from last week's Friday Night Lights camp at Memorial Stadium