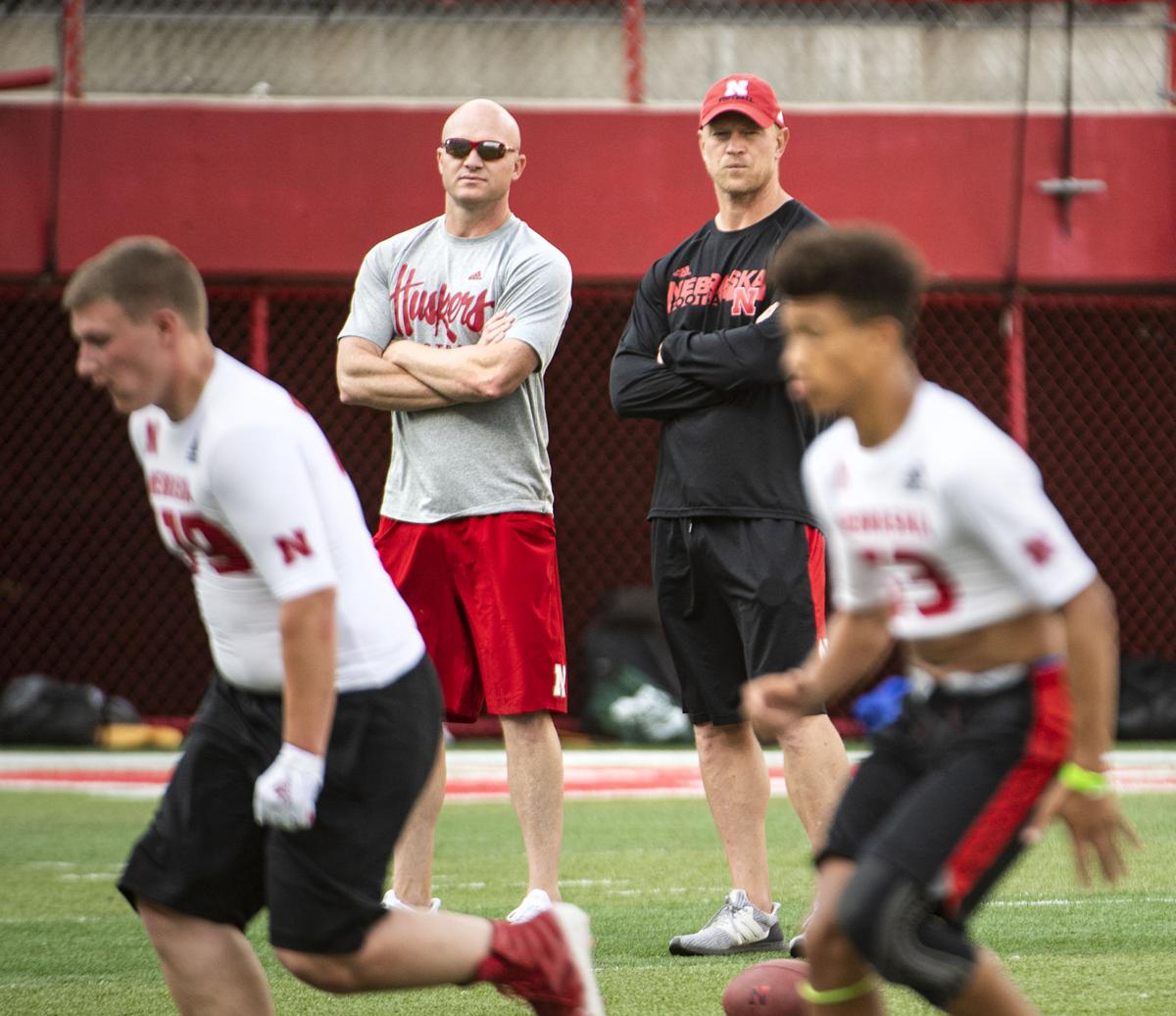 Welcome back to the Recruiting Ticker.
The quarterback dominoes are about to start falling for Nebraska in the 2022 class. MJ Morris, who visited Lincoln for the Red-White Spring Game, said via Twitter he's going to announce his college commitment Thursday. His finalists are Nebraska, Georgia Tech and North Carolina State.
That sets up an interesting few days for the Huskers. Morris, who plays at Pace Academy in Atlanta, has not actually met face-to-face with the Nebraska coaching staff because the dead period was still in place when he visited NU.
Morris has been linked more in recent weeks to NC State than Nebraska over the past couple of weeks.
Meanwhile, Nebraska is set to host Richard Torres (San Antonio, Texas) this weekend on an official visit, making him the first 2022 signal-caller to make it to campus at a time when the coaching staff can actually host players.
Torres (6-foot-6, 210) is an intriguing talent with a big arm, and his offer from NU earlier this year set his recruitment into motion.
Torres is also set to visit TCU next week and has an official visit on the books to Kansas State the week of June 11.
NU could also try to get Honolulu, Hawaii, quarterback A.J. Bianco on campus this month, while Alabaster, Alabama, quarterback Connor Harrell has talked about getting to Lincoln, but not until the fall.
That leaves Torres seemingly in the catbird seat at the moment. What will happen once the dominoes start falling?
Huskers open some camps to public: NU announced Wednesday afternoon that four of its camps this month will be open to the public.
Both Friday Night Lights camps — June 4 and June 18 — its 7-on-7 camp (June 13) and Adidas "Pipeline" linemen camp (June 19) are all open for the public to attend at Memorial Stadium and are free.
Both FNL camps are set to run from about 6-8 p.m. The Pipeline camp is 11 a.m. to 2 p.m. on Saturday, June 19 and the 7-on-7 camp is an all-day-type affair, beginning at 9:30 a.m.
According to a school news release, seating for all camps will be limited to the West Stadium sections 21-31, but the West Stadium concourse will not be accessible.
Official visitor update: Nebraska's set of official visitors looks relatively steady at eight for this coming weekend, though those lists are always best labeled "tentative" until the guys actually show up on campus.
That group, which features Torres and seven others, can be found below. One relatively recent confirmation for a later weekend is defensive back Nathan Vail (Kennesaw, Georgia), who is taking his official to Nebraska the weekend of June 18.
Vail, listed at 6-2 and 190 pounds, told the Journal Star that he was at Boston College on Tuesday for an unofficial visit and that he's also planning officials to Georgia Tech and Duke.
He first announced an offer from Nebraska back on Jan. 26.
NU, of course, has several Georgia players on its roster, including safety Myles Farmer and incoming freshman cornerback Malik Williams in the secondary alone.
Scheduled Class of 2022 official visitors
| Official Visitor Name | Position | Hometown (School) | Expected Visit Date |
| --- | --- | --- | --- |
| Chase Androff | TE | Lakeville, Minn. (South) | 6/4/21 |
| Ashton Craig | OL | Lawrenceburg, Ind. | 6/4/21 |
| Nico Davillier | DL | Maumelle, Ark. | 6/4/21 |
| Valen Erickson | OL | Chicago (St. Rita) | 6/4/21 |
| Jalen Marshall | DL | Overland Park, Kan. (St. Thomas Aquinas) | 6/4/21 |
| Landon Samson | WR | Southake, Texas (Carroll) | 6/4/21 |
| Richard Torres | QB | San Antonio (Southside) | 6/4/21 |
| Justin Williams | RB | Dallas, Ga. (East Paulding) | 6/4/21 |
| Tyler Martin | LB | Acton, Mass (BB&N School) | 6/11/21 |
| Grant Page | WR | Boulder, Colo. (Fairview) | 6/11/21 |
| Markeith Williams | DB | Orlando, Fla. (Evans) | 6/11/21 |
| Ernest Hausmann | LB | Columbus | 6/18/21 |
| James Monds III | DB | Fort Pierce, Fla. | 6/18/21 |
| JaCorey Thomas | ATH | Orlando, Fla. (Boone) | 6/18/21 |
| Nathan Vail | DB | Kennesaw, Ga. (Harrison) | 6/18/21 |
| Jake Maikkula | OL | Littleton, Colo. (Valor Christian) | 6/21/21 |
| Gabe Burkle | TE | Cedar Rapids, Iowa (Prairie) | 6/22/21 |
| Mumu Bin-Wahad | DB | Loganville, Ga. (Grayson) | 6/25/21 |
| Nick Campbell | DL | Minneola, Fla. (Lake Minneola) | 6/25/21 |
Meet Nebraska football's 2021 recruiting class