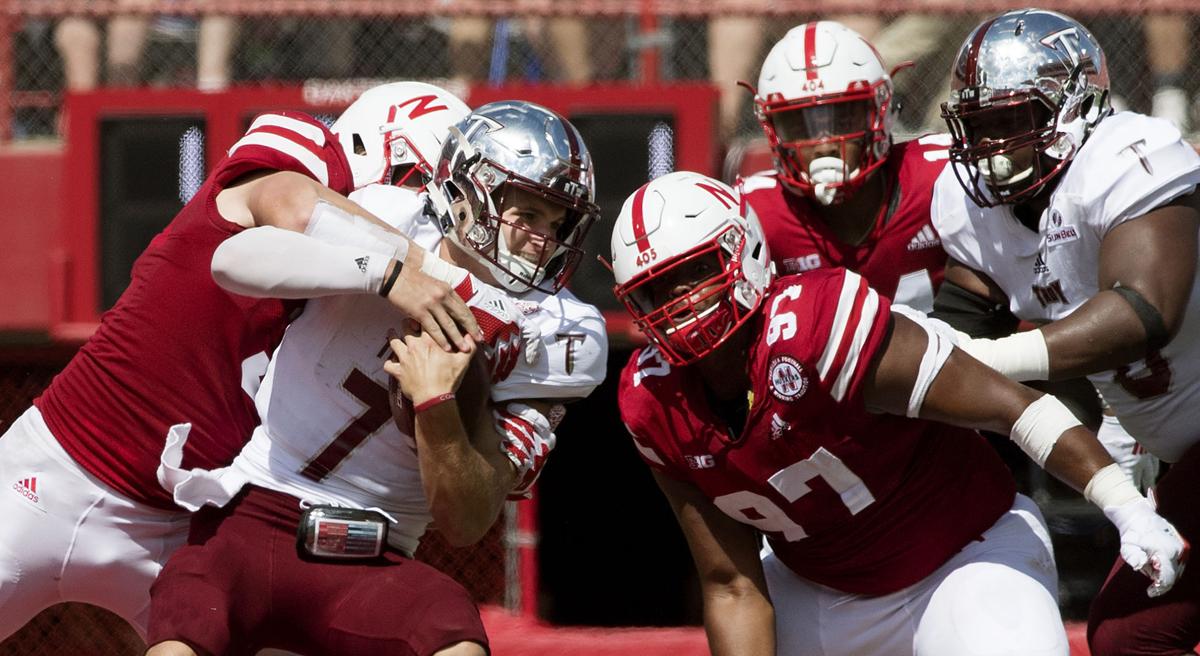 The Nebraska defensive line in 2020 quickly became one of the program's pleasant surprises.
Tony Tuioti's group, faced with replacing a starting trio which all played at some point as rookies in the NFL, showed promise and by the end of the season had a nice, essentially five-man rotation working with Ben Stille, Ty Robinson, Casey Rogers, Damion Daniels and Jordon Riley.
All of those players are back for 2021 — Stille as a sixth-year senior and the rest with multiple years of eligibility remaining still — and the expectations, in Tuioti's mind, are high.
While there are several younger candidates who hope to force their way into the rotation — think Nash Hutmacher, Marquis Black and Mosai Newsom — there's also a veteran returning from injury who seemed to cruise along maybe a bit under the radar even before he was limited to two games in 2020.
Don't forget about Deontre Thomas.
The 6-foot-3, 295-pound fifth-year player from Mustang, Oklahoma, is a long way removed from his true freshman season in 2017 when he was thrown into the fire as an undersized, underpowered nose tackle in the final year of Mike Riley's tenure.
He played in four games but redshirted in 2018 in part because he suffered an injury that put his arm in a cast, then played in every game in 2019 and finished with 19 tackles.
In 2020, he played in Nebraska's opener against Ohio State, but was hurt and missed NU's loss at Northwestern. He returned to the lineup but was hurt again, this time by what appeared to be a late hit by a Penn State offensive lineman.
"I had a good fall camp at the (beginning) of the season, before the first game against Ohio State," Thomas said last week. "I hurt my ankle and I was out for a couple weeks. I got healthy, I came back for Penn State, I was ready to go. Got out there, kind of got hurt again, and once I got hurt again I was out for the rest of that season, and it was over with after that."
Indeed, Thomas didn't appear in a game the rest of the way. Nebraska had the depth to play well without him, but it was difficult for the veteran to watch from the sideline.
"It was really frustrating, because I wanted to be out there with my brothers and out there playing ball and just being out there together," he said. "So it was frustrating (that) I had to sit out the whole year, because I needed that year. I could take that year and have a good year.
"It was all just really frustrating that I couldn't be out there to play and take advantage of that free year."
It won't be easy to earn regular repetitions in the rotation up front. Even with Stille out for the spring as he rehabilitates from a surgical procedure earlier this year, defensive linemen such as Robinson and Rogers have talked about how stiff the competition's been just for practice repetitions.
Thomas, though, has experience and versatility working in his favor. He said he's played mostly defensive end but seen a few reps here and there on the interior, too.
No matter where he's lined up, Thomas said he's enjoying this spring more than any other in his time at Nebraska.
"For me personally, it's going really good," he said. "But I want to bring up the whole team. This has been the best spring I've been a part of since I've been here. You can just tell; you can not only tell, but you can feel that everybody is bought in and just competing with each other. So this has been the best spring I've had since I've been here."
Photos: What a Husker football practice (with fans!) looks like