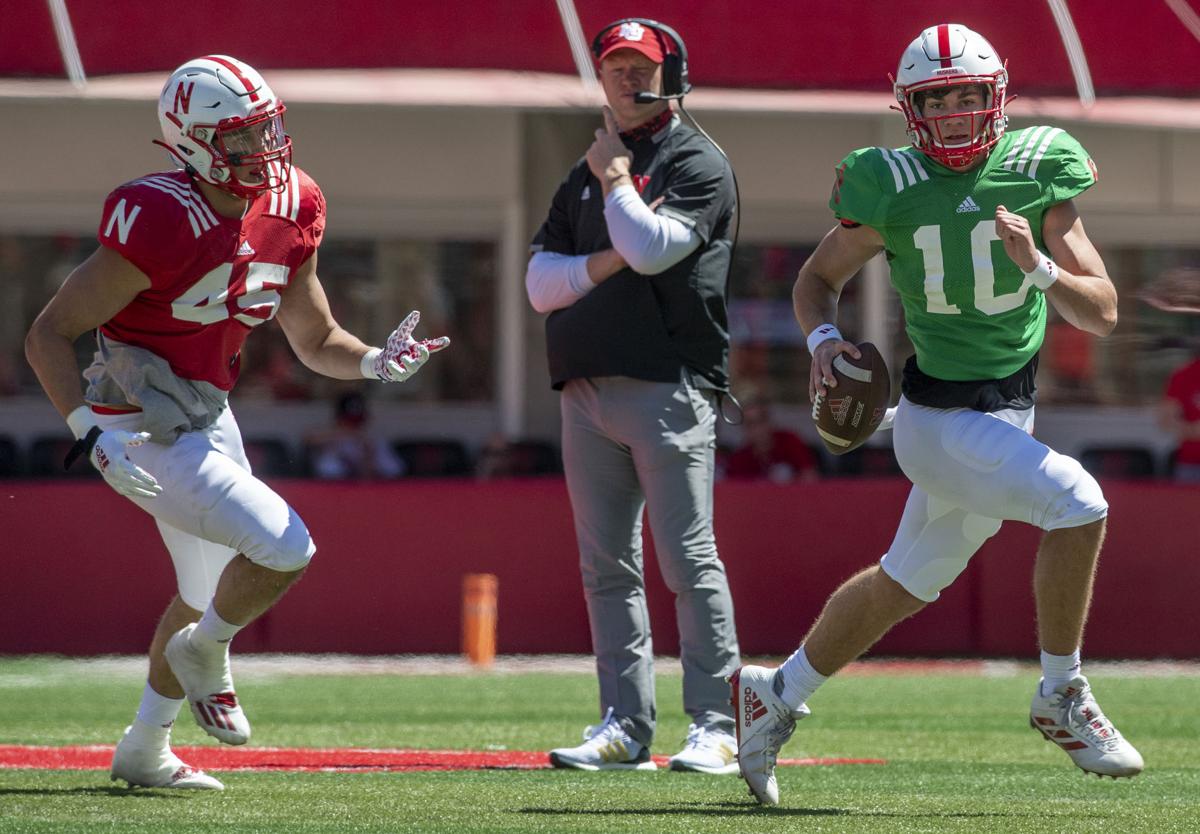 Drama? In a Red-White Spring Game?
Even with fans seated in socially distant pods at Memorial Stadium on Saturday and nothing but blue sky above, there's not really room for actual, heart-pounding football drama on the first day of May.
But drama of the spring varietal? Saturday had a dose of it at the end when freshman quarterback Heinrich Haarberg threw a touchdown pass to Wyatt Liewer as time expired, propelling the White Team to a 21-20 victory, which had mostly second and third stringers but mixed in some players from the Red Team as the afternoon went on.
Maybe that was a fitting way to say goodbye to the spring and hello to the summer. Five weeks ago, one of head coach Scott Frost's biggest questions — and one that remains unanswered still to some degree — is what Nebraska has at quarterback behind junior Adrian Martinez.
Haarberg and 2020 freshman Logan Smothers each got a ton of reps Saturday and, like coaches have said consistently this spring, both had good drives and bad ones.
Haarberg finished 9-of-23 for 121 yards and was credited with 8 rushing yards (a bad snap cost him 19 on one play) and an interception. Smothers finished 8-of-14 overall for 76 yards and threw a 23-yard touchdown pass to Brody Belt with 6 minutes, 26 seconds to go in the game to cap off his best possession of the afternoon and give the Red, at the time, a 20-14 lead. He added 17 rushing yards on a day that's particularly hard to evaluate quarterbackwise on the ground because they were not subject to live tackling.
Haarberg, though, responded to Smothers' scoring drive with an 80-yard drive and capped off the day with the heroics. First he hit Liewer for 40 yards with 7 seconds remaining, then found him again for a 25-yard touchdown with no time remaining.
"This morning when I woke up I wasn't expecting that, that's for sure. It was surreal," he said. "Just thinking back two years ago I was part of that (spring game crowd), I was part of the fans, and now being able to entertain them was a dream come true."
That's an interesting part of spring ball. It's a highlight moment for a promising young player, and yet it is also just another day at the office this spring for the program in general.
Frost said the first half was, well, "joke's the wrong word, but it was too easy for them," for Erik Chinander's veteran defense, which held the young White Team offense to 19 yards and a pair of first downs over the opening 30 minutes. "Going out and not having any live tackling and playing a half with a sped-up clock, I don't think those guys felt like they got very much work today."
While they did, though, Cornhusker fans lounged in the sun, cheered loudly and reveled in being back at Memorial Stadium.
Yeah, this was a good day. And really, how could it not be when 36,406 gathered on Stadium Drive and watched football — only one half of tackle and not much run for the older players in the second half — on an afternoon in the mid-80s?
If you're looking for major takeaways, a spring scrimmage is probably the wrong place to excavate.
Mostly, this was just one more day of evaluation before the players head home for a couple of weeks once finals wrap up.
"You guys have to write stories about what happened today, I understand that," Frost said. "What happened all spring is more important to us."
However, NU fans most certainly enjoyed watching graduate transfer wide receiver Samori Toure haul in a 27-yard dart from Martinez. They likely appreciated the size and athleticism put on display by junior receiver Omar Manning.
Remembering Nebraska's offensive limitations over the past two years in particular, fans might not have been thrilled that NU's top offensive unit put together three straight productive drives to open the proceedings, only to see two stall out in the red zone and end in Connor Culp field goals. A pair of penalties from the top group that maimed drives probably conjured up unpleasant memories from 2020's 3-5 campaign.
Frost watched the action from behind the offensive units while offensive coordinator Matt Lubick and Chinander called plays from the coaches' box high above the west sideline.
In the second half when the tackling started, the running backs' workload picked up conspicuously.
The freshman pair of Sevion Morrison and Jaquez Yant went to work for the White Team. Yant, a 6-foot-2, 245-pound walk-on from Tallahassee, Florida, rolled in for a 21-yard touchdown at the end of White's first drive of the second half to help put an exclamation mark on a spring in which he's entrenched himself in the conversation for carries this fall. Later in the third quarter, freshman walk-on running back Isaiah Harris from Millard South ripped off a 29-yard scoring run.
"The big goal was to stay healthy and the second goal was to see some guys perform," Frost said afterward. "This isn't as much pressure as a regular game, but see them perform with some people watching and maybe a little bit more excitement around."
That's what the day was about for the coach at the end of a long, physical five weeks that featured at one point a 43-man injury report, Frost said.
It also, as it turns out, produced a memorable moment for a young quarterback from Kearney — one Haarberg hopes is just the first of many in his Husker career.
Mostly, though, Saturday was a celebration of a long, uninterrupted — almost normal, if you will — stretch of work for the program and of the fans' return to Memorial Stadium for the first time since November 2019 outside of one open scrimmage two weeks ago.
Let's do it again in September.
Photos: All of the sights from the return of the Red-White Spring Game at Memorial Stadium