Like most business owners, Pat Leach was worried about how the pandemic might affect his business when it first began spreading in the U.S. a year ago.
But it didn't take long before it was clear to the owner of Leach Camper Sales of Lincoln that his industry was uniquely positioned to be successful as more people turned to the outdoors to avoid the coronavirus and the restrictions that came with it.
"We were afraid of what was going to happen for about six to eight weeks, but then all the sudden May was bigger than we've ever had for a May," Leach said. "And then June was bigger yet, and July was bigger yet. And then in August, we ran out of inventory."
In the end, it was the best year the company has had in its 56-year history, Leach said.
But that success didn't come without its challenges.
By late summer, Leach's inventory was down to about 20-25% of what he normally tries to keep in stock. And with other camper and RV dealers experiencing the same thing, getting new units became a much slower process.
"The manufacturers were building them as fast as they could, but they had COVID problems also," Leach said. "So they were shutting down, or they had shortages of parts. They'd run out of toilets, or they'd run out of refrigerators or air conditioners or whatever it was. … I'm just now getting things that were ordered in July and August."
One of the things that helped Leach get at least some units more quickly was his long-standing relationship with various manufacturers, including Keystone, Grand Design and Winnebago. He was able to call in a few favors from people he's known for years.
"I've been a Keystone dealer since there's been a Keystone. … I've probably been a Winnebago dealer for 35-40 years," he said. "So when you run out, you start calling the people you know."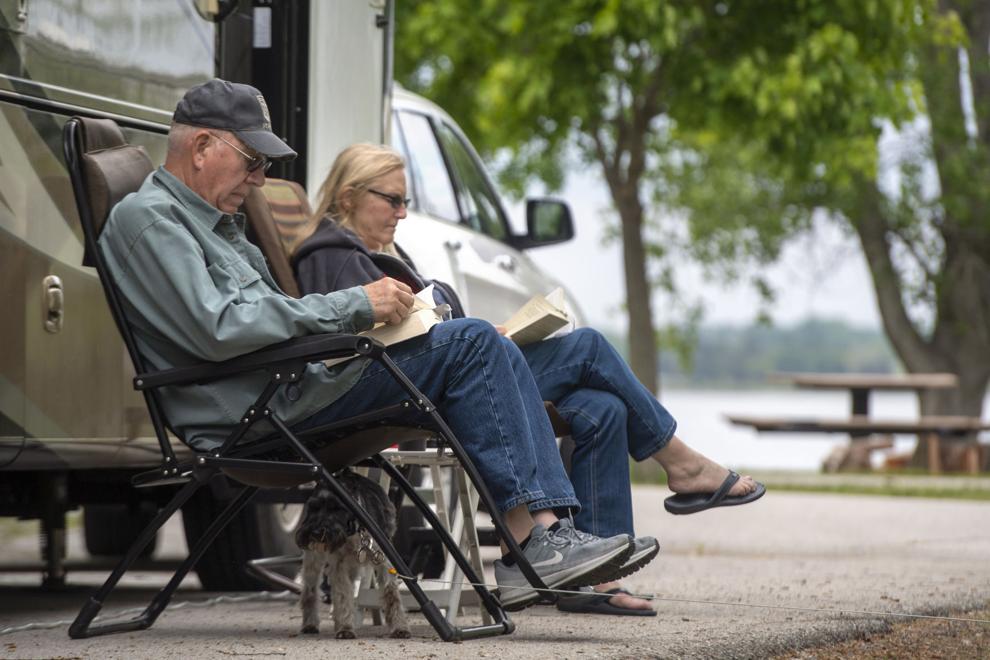 Leach said he also had a hard time keeping enough pre-owned campers in stock. Many of the people who bought from Leach in 2020 were returning customers who were looking to trade in their old campers and upgrade to something better.
In many instances, Leach would sell the used camper the same day it came in, he said.
"Everybody ran out of used or pre-owned inventory, so when you got one in, it sold right away."
Leach says the industry has shown no signs of slowing down in 2021, and his business is hoping to have another strong year. He said the various coronavirus stimulus packages passed by Congress have helped as well because some people have accumulated extra money to put toward a down payment.
The success of 2020 also has translated into a need for more staff. Leach said he recently added a couple of service technicians and would hire a few more if he could find them.
"The problem is finding somebody who's qualified to work on (the campers)," Leach said. "We're willing to hire and train, but you have to find somebody who's willing to work with their hands, and there's a shortage of people like that nationwide."
One unknown going forward for the business is the arrival of Camping World, which is planning to open a Lincoln location later this year on the south side of Interstate 80 just east of the 56th Street exit.
But Leach already has dealt with the arrival of a larger dealer once before — Camping World opened a store in 2008 near the original Leach Camper Sales location in Council Bluffs, Iowa.
That Leach store, which is now independently owned and operated by Leach's brother, Edd, hasn't seen a decline in sales since the Camping World store opened.
"We are who we are," Pat Leach said. "A corporate store like that, they run a lot different than locally owned stores. … People who have bought stuff from me, they're now bringing their grandkids in because they know we're going to put them in something good and we stand behind what we sell.
"And if you're good, competition is good for you."