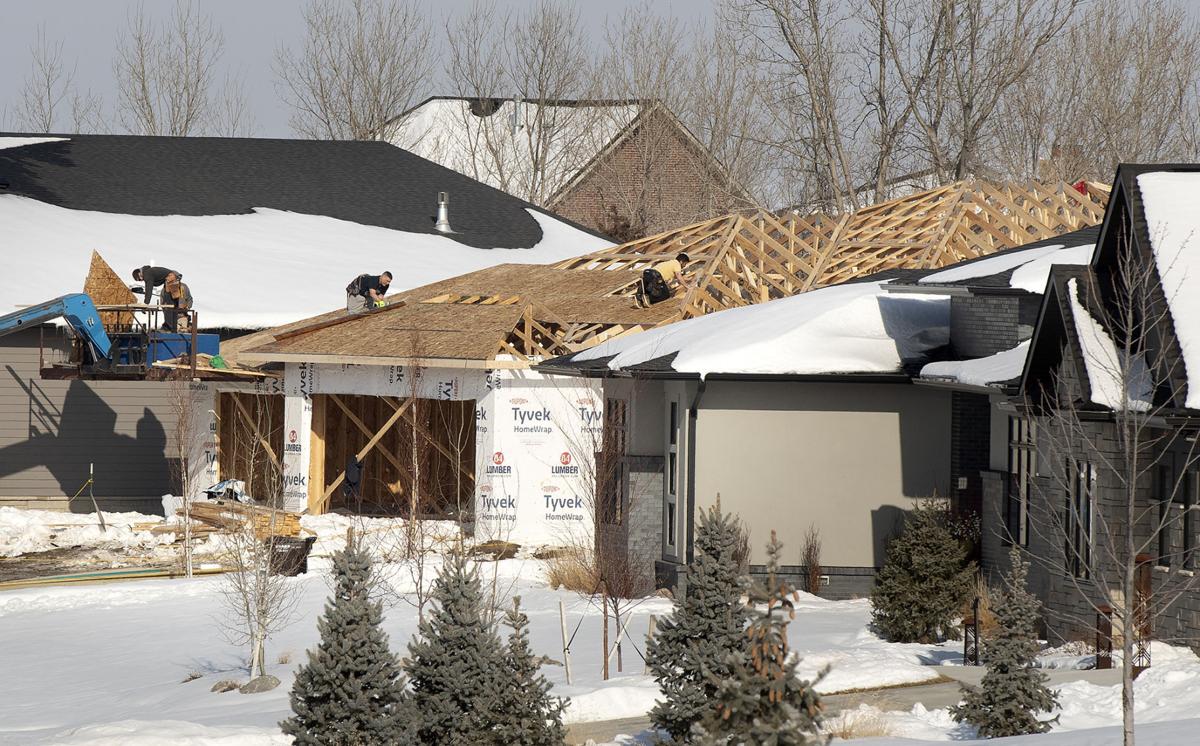 People were sidelined by the COVID-19 pandemic in March and April last year, staring at the walls in their homes and apartments, cooking more than ever and testing their kitchens, wishing they had more space and a good home office and a better outdoor gathering area.
As a result, some of them got ideas. Ideas turned into plans. Plans became one big new home construction boom in Lincoln.
By the end of May, with economic improvement in some sectors, the new housing market was moving, fueled in part by the pandemic. And by the end of the year, the city saw a big jump in single-family building permits — 927, up from 675 in 2019 and 621 in 2018.
The townhome market boomed, too.
New home construction is happening in all quadrants of the city, including areas east of 84th and Leighton and 84th and Adams, Air Park and Fallbrook and areas to the north and west. In southwest Lincoln, developments are springing up near Pioneers Park and the Lincoln Race Course, where a new $200 million casino will go up. Growth is also increasing around 70th and Yankee Hill, and 70th and Saltillo, with interest by those seeking new homes near new schools and the South Beltway.
Low interest rates contributed to the "let's do it" attitude of those buyers, in spite of rising prices for lots and lumber that defined the year.
"Lots are still very, very expensive. Lumber's very, very expensive," said Matt Kinning, president of the Home Builders Association of Lincoln, and with Kinning Design Build and KDB Investment Building. "There's plenty of things going on in the building industry that are expensive, so even to us professionals that 927 number (of permits) seems a little shocking."
The highest priced lots are in east Lincoln, in the $200,000 range south of Firethorn and the $100,000 range north of A Street. Prices moderate in south and southwest Lincoln, Kinning said. The most affordable lots are in northwest and northeast Lincoln.
The price of townhouse lots in south and west Lincoln are reaching $42,000 to $60,000, "which is just crazy for a townhouse lot," he said.
Fire Ridge, a large development in the area of 98th and Van Dorn streets, was recently approved by the Lincoln-Lancaster County Planning Commission. Developers are proposing 182 single-family homes and 328 townhomes and duplex housing on 137 acres.
Rick Onnen, engineering project manager for E & A Consulting Group, said what drives any particular development is infrastructure, and what made this piece of land appealing was a recently completed trunk sewer that serves Wandering Creek, a subdivision going up to the west of Fire Ridge. And the county and city are working on getting 98th Street paved.
The next big need is to get water service extended to the area, Onnen said.
The first phase of the Fire Ridge development, about 70 lots, could be ready to begin by the end of this year or beginning of 2022, he said.
Big projects like Fire Ridge, officials said, are a response to demand.
The city needs more new construction activity to satisfy Lincoln consumers, said Kyle Fischer, executive vice president of the Realtors Association of Lincoln.
Developments are scarce but in demand for so-called workforce neighborhoods, 1,200- to 1,600-square-foot homes, like Tierra Park, Kinning said.
Townhomes, with their more compact footprint, have become Lincoln's most affordable way to build a house right now. Millennials don't want to scoop snow or mow lawns, he said. Same with boomers. The homes offer certain freedoms, which makes people willing to live with the common walls to get those amenities.
As of Feb. 1, there were 225 new homes and 328 existing homes listed in the city's Multiple Listing Service. The existing home inventory is usually triple that of new construction, Kinning said, and that low number is putting intense pressure on the new construction market.
"They simply can't build them fast enough," he said.
In 2012, there were 1,334 single-family residential homes on the market.
"We are at historic low numbers for inventory compared to eight (or) nine years ago. That's how much the market has swung in a decade," Fischer said.
As a result, the average price of existing homes, based on closed sales, was at $237,800 last year. For the month of December it was up to $252,000. In 2019, the average price for an existing home was $219,000 and for a new home $340,000.
The roadblock for developments and what drives the price are infrastructure and availability of property, said Craig Gies of BIC Construction.
"Sanitary sewer and all those things just don't automatically exist everywhere," he said.
From the Realtors Association perspective, Fischer said, the city needs to do all it can to develop more lots, putting in the infrastructure necessary to do that, because lot prices have appreciated at the same rate, or faster, than construction costs.
"Lincoln has taken a very cautious approach to growth. And the city is going to have to do everything in its power to make a conscious effort to grow if we're going to see any relief," Fischer said. "We're going to have to be willing to say, 'Let's get just a little bit bigger if we're going to keep going with what makes Lincoln special.'"
Susan Flentje, with Red City Realty, is the exclusive agent for Tuscany Townhomes sales.
In early February, they sold out of three active townhome developments: Prairie Village at 90th and Adams streets, College View south of Pioneers Boulevard on 52nd Street, and 90th Street and Yankee Hill Road.
The builder is getting ready to start new neighborhoods, three on Lincoln's south side and one northeast, but that process will take about a year and half, Flentje said.
In the past six months, some townhome prices in southeast neighborhoods ranged from $212,000 to $265,000, and on the north side from $197,000 to $206,000. Sizes range from 1,200 to 1,700 square feet.
Builders and Realtors don't see the new housing boom easing much in 2021.
During the pandemic, people have come to understand the value of their homes, Fischer said. This trend won't go away in at least the first six months of 2021 and beyond.
"Unless we make a concerted effort to build more homes, we're going to run out of supply," he said.