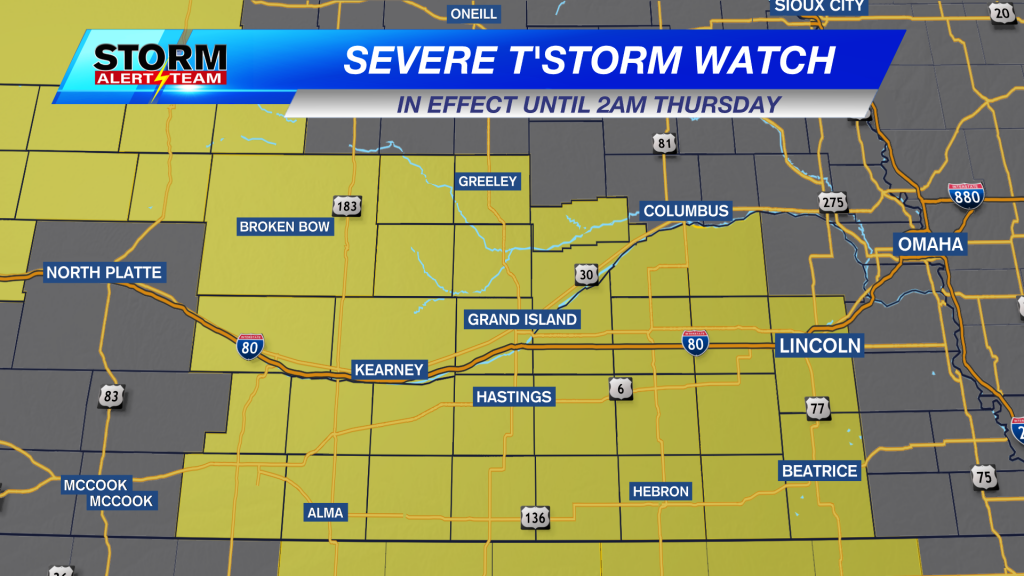 After a day with mostly sunny skies and temperatures in the middle 80s, the pleasant weather in Nebraska comes to an end this evening. As the evening progresses, severe weather will become increasingly possible.
A Severe Thunderstorm Watch has been issued for central and eastern Nebraska. The watch does include Lincoln, Grand Island, Beatrice, Kearney, and Hastings. The primary threat associated with the storms tonight is damaging straight-line winds in excess of 70mph. Large hail and tornadoes are also possible and have already been seen in west and southwest Nebraska.
As the evening progresses, the more isolated storm activity should "congeal" into a larger complex of thunderstorms known as a "Mesoscale Convective System." The line of storms is anticipated to arrive in the Lincoln area in the 11PM to 2AM timeframe.
Some of our in-house models have indicated the possibility of the line of storms being a bit weaker than previously thought. Other models are still holding on strong. Know that the potential exists to see severe weather overnight.
Since these storms will be rolling in tonight, make sure to have a way to receive severe weather alerts before you go to bed. Review your severe weather safety plan, make sure your phone is charged up, and be sure batteries are fresh in your NOAA Weather Radio.
After the storms pass, skies should gradually clear with lows dropping into the low 60s. Tomorrow will be pleasant under partly cloudy skies. Expect breezy and cooler conditions as well with a high around 76. Things should remain dry into the weekend before our next weather maker arrives around Memorial Day.
-Meteorologist Malcolm Byron
FB: /mbyronwx
Twitter: @mbyronwx