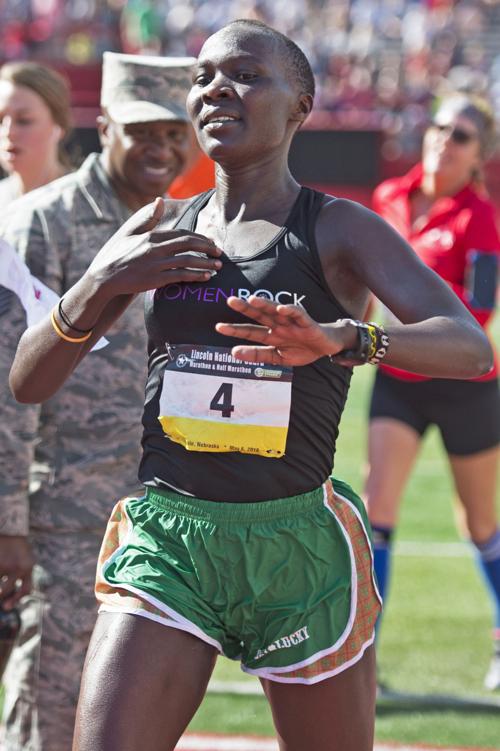 David Melly was looking for a race.
The Boston native hadn't taken part in a competitive half-marathon since the fall of 2019, and he hadn't raced at all since October. Needless to say, it's tough to find races during a pandemic.
Then Melly spotted registration for the Lincoln Marathon. The 28-year-old jumped on it.
"I'm feeling really motivated right now, so the opportunity to spin the wheels a little for the first time in a while is really appreciated," Melly says.
If you spot Melly during Sunday's race, he'll likely be moving at a fast pace. He's an elite runner and his hope is to go under 65 minutes on the 13.1-mile course. If the conditions are good, he could challenge the course record of 1 hour, 4 minutes, 34 seconds.
He won't be the only one.
"I think we've got legitimately 10 men and 10 women that could break our course records this year," race director Ryan Regnier said.
Though there are fewer entries this year — the event was capped at 6,000 participants and nearly 5,000 are expected — this may be one of the more talented fields the Lincoln Marathon has seen in 45 years.
This year's race is expected to attract elite runners from across the country and world.
One publication called Kenya native Iveen Chepkemoi one of the top young road racers in 2020. She's entered in the women's half-marathon. Joan Massah, after winning the 2018 Lincoln Marathon in 2:48.22, is back.
The men's races will have a slew of competitors capable of running in the low 60s in the half and around 2:15 in the full, said Ryan Dostal, who oversees elite runner registration for the Lincoln Marathon.
What's attracting more talented road racers to Lincoln?
They're looking for races, and options are limited because of COVID-19. Melly, who runs for Tracksmith Hare AC, said his home state of Massachusetts isn't allowing road races until later in May.
"It seems like across the board there's just not as many opportunities to race," Dostal said.
Lincoln also is known to put on a great marathon, and the half-marathon course is very appealing to runners.
"I don't have the depth of decades to speak to this, but I would say we probably have twice as many folks reaching out," Dostal said of the elite runners.
That includes Melly, who was tipped about the Lincoln Marathon (which starts at 7 a.m. at 14th and Vine streets) by his coach, who ran the race a couple of years ago.
"I think one of the unique circumstances that runners at my level often find themselves in is it is tough to find races with the appropriate fields, especially with COVID," said Melly, whose career-best time in the half-marathon is 1:05.14. "You really do have to look hard sometimes to find competition, and it was great to see the field (and) have a group of guys to work together and compete against."
For now, Lincoln is one of two races on Melly's schedule, the other being Chicago in October, though he may add another soon depending how things go this weekend.
Many other marathons, including Boston, have been moved to the fall, the hope being that the country will be in a better place with coronavirus cases.
Until then, the Lincoln Marathon will carry the flag for road racers everywhere. Many of them will be in town this weekend, and marathon organizers see a great opportunity for the city's premier running event.
"We haven't had this situation before where we've had all these elites that want to be in," Regnier said. "I really feel like it's important to show these athletes what all Lincoln has to offer because I think for a lot of them, they don't spend a lot of time in the United States, first of all, and then to actually be in Lincoln, Nebraska, is even more rare.
"I think it's a tremendous opportunity to show the running community what Lincoln is all about."