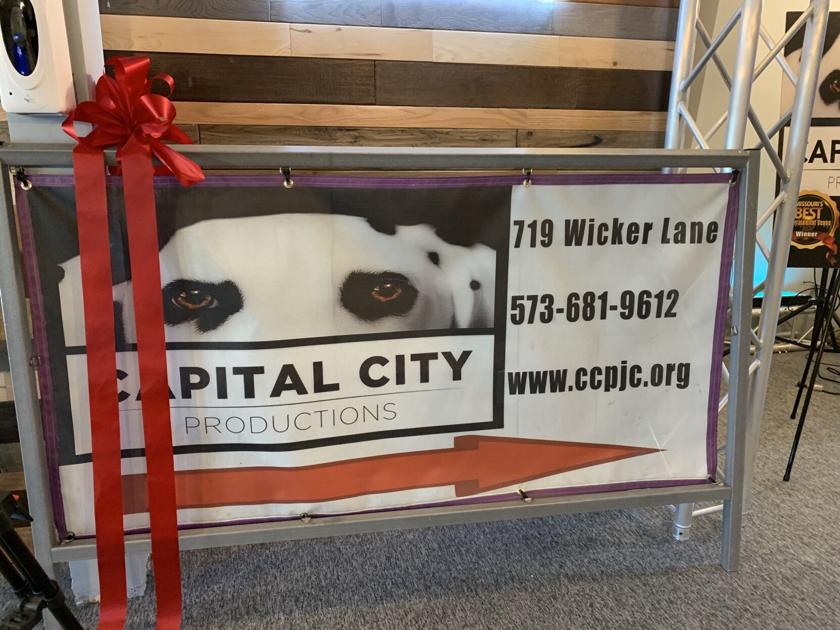 JEFFERSON CITY – Capital City Productions held a ribbon cutting ceremony for the joint celebration of the grand opening of their new theater and the 30th anniversary of the company.
The theater company celebrated the dual occasion Thursday morning surrounded by sponsors, board members, volunteer actors, directors, and the founder and leader of the company, Rob Crouse.
"We have come a long way in thirty years," Crouse said. "When I look back on where we started thirty years ago with no money and no space of our own, and where we are today, I just have to pinch myself."
Happy Thursday! I'm in Jefferson City this morning for the 30th anniversary of Capitol City Productions and a ribbon cutting ceremony to commemorate the group's new location. @KOMUnews pic.twitter.com/GaHEYQdKZR

— Kathleen Gomez (@KathleenG_TV) February 18, 2021
The new theater, located on Wicker Lane, opened in January 2020. Formerly a batting cage, the company was awarded the large space through generous donations and community support.
Even though the space was opened this time last year, COVID-19 has kept the group from celebrating a grand opening, until today. pic.twitter.com/wMV2KGWoYo

— Kathleen Gomez (@KathleenG_TV) February 18, 2021
While the theater season was off to a strong start in their new space this time last year, the pandemic interrupted the big plans that the company had to commemorate their new space.
"We had so many plans to celebrate our new theater," Crouse said. "CCP is a family of technicians and actors and directors and volunteers so it was a tough blow for all of us to take time away from our home away from home."
Capital City Productions is a dinner theater, and because of this unique aspect, they have been able to put on performances since May.
"Most theater spaces are rows where you are close to others in every direction. We are lucky that we're able to offer a unique entertainment package while still being socially distant and safe as can be," Crouse added.
The group performs year round, and were able to put on their first show in the space last May. But founder Rob Crouse wanted to celebrate the new theater in addition to CCP's 30th anniversary.

— Kathleen Gomez (@KathleenG_TV) February 18, 2021
Crouse said it was important for him to keep the theater operational but wanted to make it as safe as possible. He said CCP invested in new technologies such as touchless thermometers mounted on Pilars at the entrance of the theater that every one must go through in order to be admitted.
"Yes the tables are 6 feet apart, but we wanted to take other health protocols as well," Crouse said. "The new space has a hospital quality air filtration system, we have mounted thermometers in the lobby, and we do a complete disinfecting of the whole space every day."
Jefferson City Mayor Carrie Tergin said she was happy to be a part of the process of keeping a theater open during a year full of cancellations.
"It was worth the wait," she said. "Taking those safety precautions was just as important then as it is now. I know it's still taking time, and we're not there yet but this shows that this company will continue to be growing as we come out of the pandemic."
Capital City Productions Theater will host the first show of the final weekend of "The Yearling" Thursday night.
For information about Capital City Productions, renting the space for events, or ticket information, visit ccpjc.org