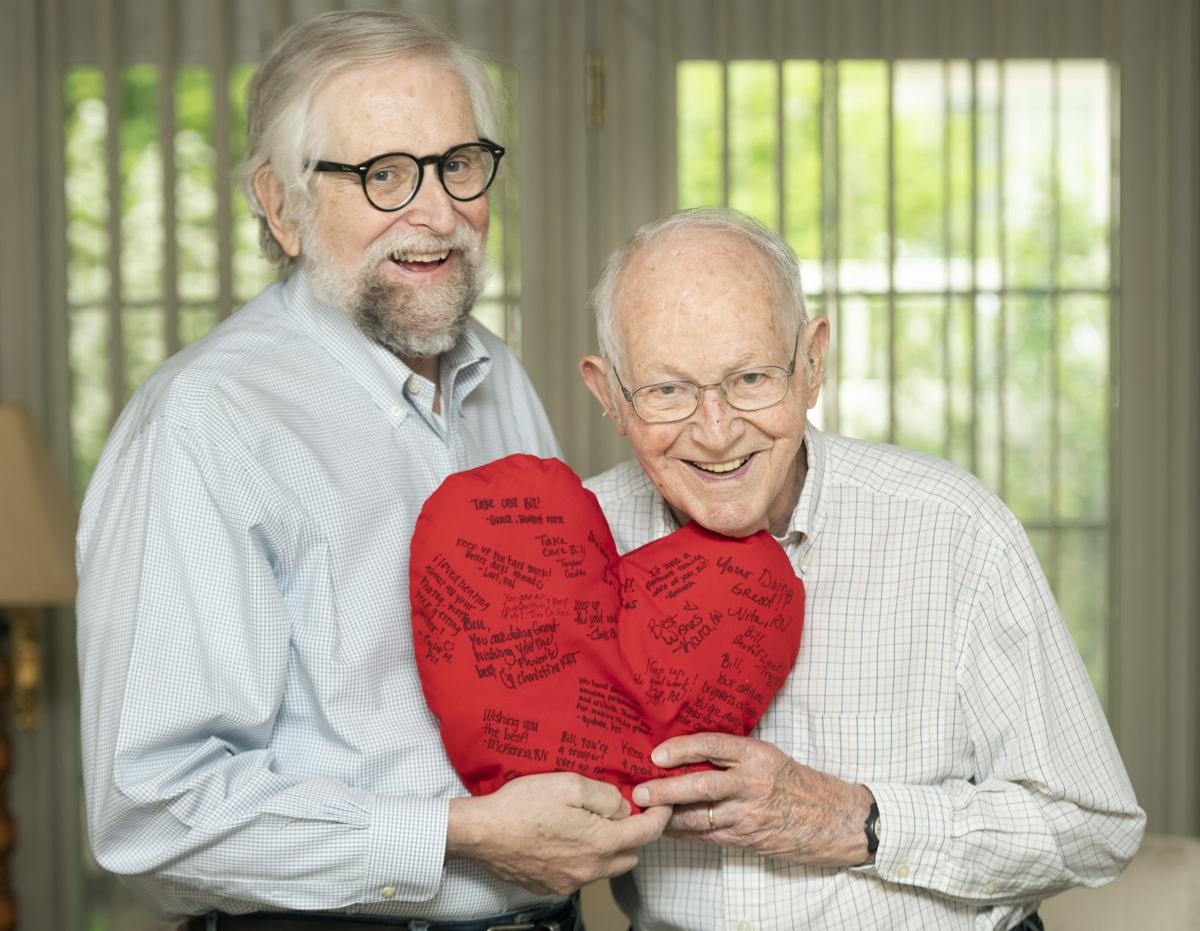 When Bill Ganzel woke up in the recovery room at Bryan East on April 22, after doctors had sawed open his sternum and repaired his troubled heart and stitched him back up again, he was in some pain.
"Like I had a sword running through my chest," he said.
And as soon as he had his wits about him, one of the first things the 71-year-old did was call his dad.
The son had a question: Do you still have your pillow?
Dwight Ganzel did have that red pillow, shaped like a Valentine's Day heart, stitched in black up the center. He'd tucked it away after he recovered from his own open heart surgery at Bryan 23 years ago.
"Now it's his," the 97-year-old retired minister said Wednesday morning, sitting at his kitchen table with Bill, the pillow between them.
Dwight had a heart attack when he was just a few years older than his son is now. Bill was there at the emergency room that weekend in 1998, watching through the curtain as they took the paddles to his dad's chest and scheduled open heart surgery for Monday morning.
"I remember going to see him, and he was clutching this pillow."
Heart pillows have been sewn and stitched and stuffed by hundreds of Bryan volunteers since the 1980s.
Approximately 18,000 in all, handed out to patients recovering from open heart surgery, said Ellen Beans, director of volunteer and customer care at Bryan Health.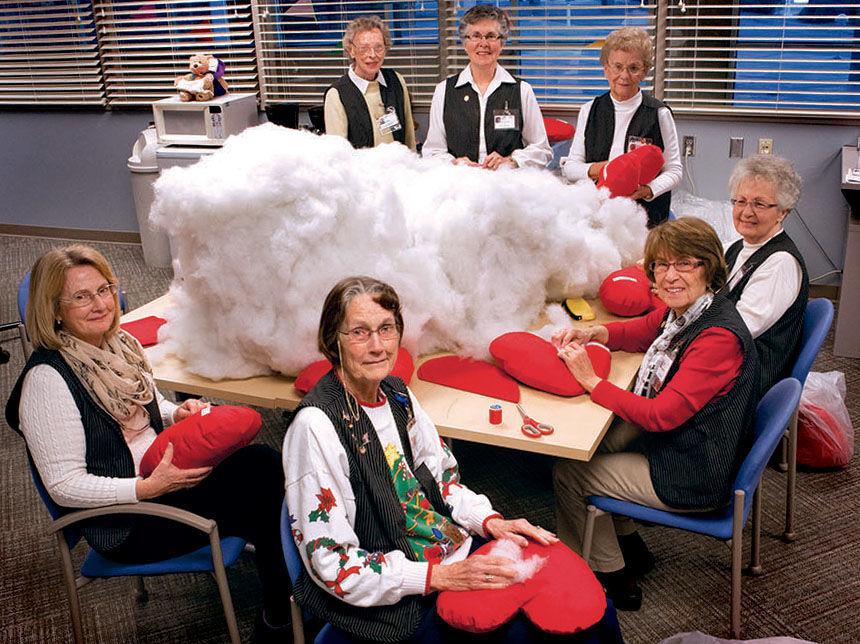 The pillow project began at the request of the hospital's cardiac department.
"They came to us and said they had a need and explained how helpful it was to have a pillow to hold against the chest during the healing process."
The heart pillow project took off.
They held fundraisers and stocked up on bolts of red fabric and thread. Red for the seams. Black to create a stitch, like the seam of a football, down the middle. A stitch like the zipper scar from the surgery.
Heart patients were urged to squeeze the pillow tight to cushion the pain when they coughed — something they were encouraged to do to keep their lungs clear after surgery.
They were instructed to clutch the pillow to their chest to keep from using their arms — and straining their chest — when they rose from sitting or lying down.
"It's also an emotional bond with the patients," Beans said. "It became one of those incredibly important aspects of what the patient went through with open heart surgery."
You can buy heart pillows online now. And over the years, it's been suggested that it would be easier to go that route, Beans said.
"We always held steady with the handmade because it's more personable."
The tag on the Ganzels' old pillow dates it: "Made Especially for you by Bryan Memorial Hospital Volunteer Services."
There's a second paper tag, held on with yarn: The Mended Heart, machine washable. "A new 'Hold' on Life!'"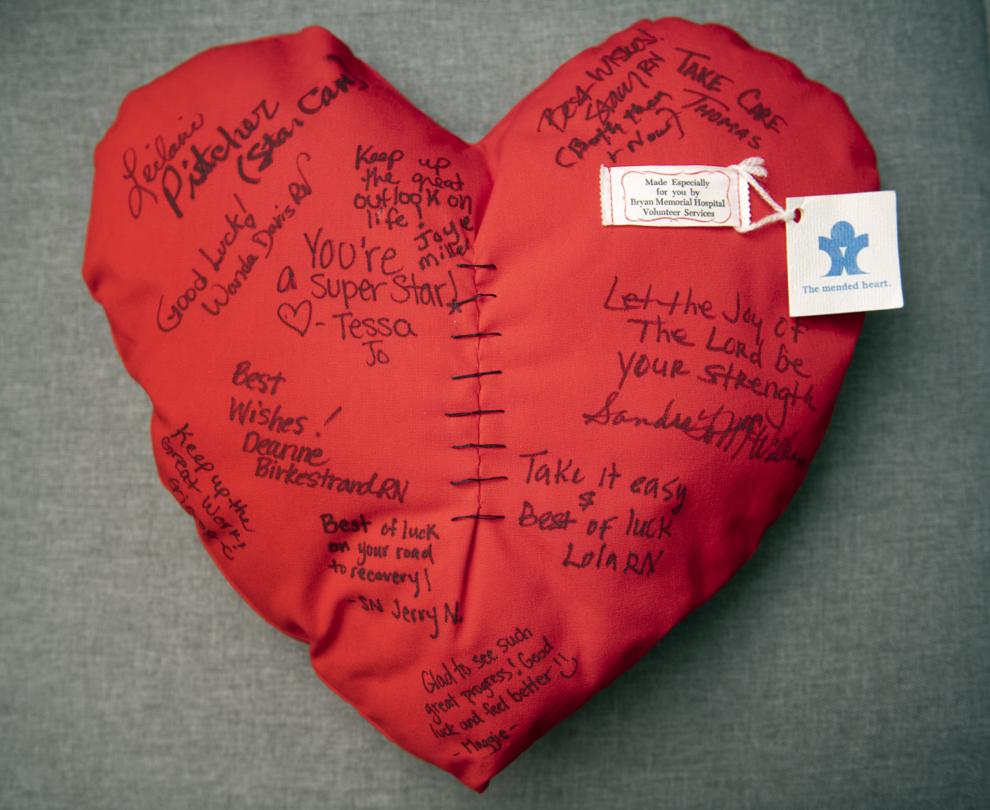 Since 2013, the pillows have updated stitching: "Made for you by Bryan volunteers in memory of Dr. Herb and Virginia Reese."
Herb Reese was a pioneering heart surgeon at Bryan who helped perfect the hospital's first coronary bypass surgeries and led its first heart transplant in 1986.
Virginia — Ginny — was a community volunteer and mother of eight.
After they died, Herb in 2010 and Ginny three years later, memorial funds went to the Bryan Foundation to keep the pillow program going.
Jane Austin sees their names each time she sews a heart pillow. The retired physical therapist started volunteering when she was still working, taking home fabric already cut into shape by other volunteers and stitching the seams, leaving a hole to be filled by a third group of helpers who gathered once a month at the hospital.
Now Austin is part of a reimagined pandemic effort — curbside pickup of fabric, thread and stuffing returned a few weeks later, transformed into 20 heart pillows.
The volunteer department has given them a new name, too: Caring Crafters.
As a physical therapist, she sees the pillows as another dimension of patient care.
"I think this gives them a sense of control or management, something they can do for their physical and mental health on their own."
Early in the pandemic with volunteers sidelined, Beans and her staff did their best.
"We were doing the heart pillows here in the office. Stuffing and sewing in between everything else."
She wasn't sure why a pillow didn't land in Bill Ganzel's room last month. The supply may have run dry.
"I feel bad about that," she said. "If he still wants one, we will make him one."
After its work was done, the red pillow was stowed away.
After Dwight recovered, they put it in a big trunk that came over from Sweden with his wife Margaret's grandmother, he said Wednesday.
It was easy to find when Bill called.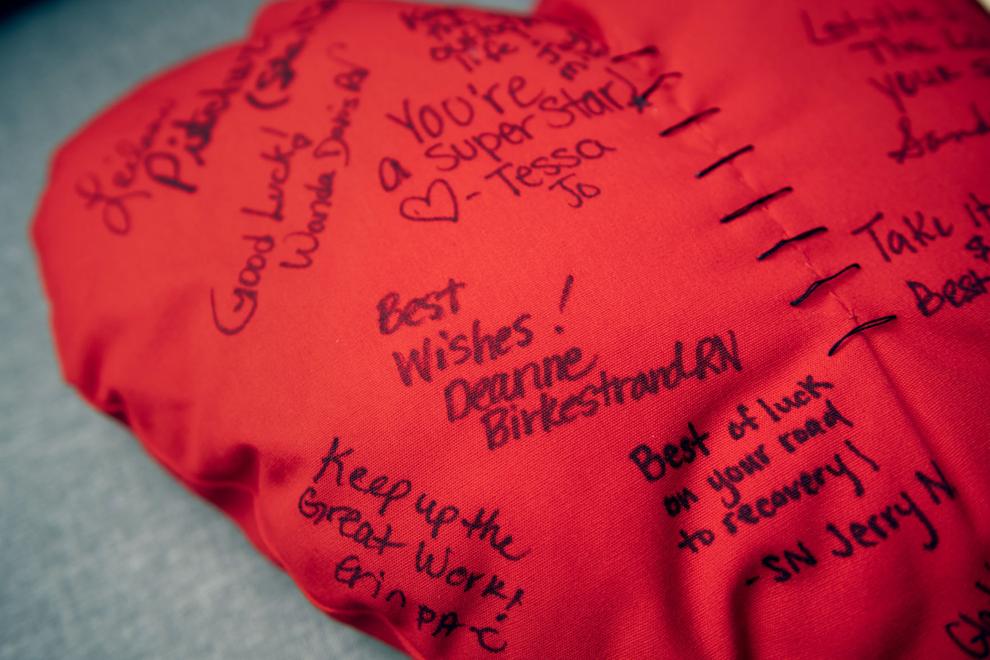 Still bright red with autographs in black Sharpie from the hospital staff who tended him after his triple bypass.
Stacy, the registered nurse who tended to Dwight, took care of Bill, too, and both sides of the pillow are filled with well wishes now, three weeks after doctors' replaced Bill's ascending aorta and a leaky valve.
"I tell them the story of the pillow as a naked attempt at getting sympathy and better care," he says.
The son — a photographer and author — is mending.
He's walking a bit farther each day.
"I have my moments," he said. "But they tell me I'm doing great."
He holds the pillow close when he coughs. He remembers watching his dad do the same.
"I don't remember feeling very much pain," Dwight says. "But our daughter in Iowa says, 'Oh, yes you did. When you coughed you could see it in your face.'"
Like his father before him — and 18,000 others — Bill squeezes a red pillow when he coughs.
And for now, he spends his nights in the rented recliner his sisters ordered and friends wrestled into the living room.
He keeps that pillow close.
"I find myself just sleeping with it," he says. "That little bit of pressure is amazingly comforting."
The cost of COVID: Remembering lives lost in Southeast Nebraska
They were teachers and farmers and factory workers and homemakers. They played the piano, fixed old cars, danced to the Beach Boys, cuddled their grandchildren.
They loved to ice fish, gab with friends, read, run marathons, bowl, wander antique stores.
They were our co-workers and neighbors and friends. Our parents. Our spouses.
They all have one thing in common. They died from COVID-19, a virus that arrived in Nebraska in March 2020, claiming its first life in Lancaster County a month later.
These stories represent a fraction of the lives lost in Southeast Nebraska, but they are our way of paying respect to each and every one.
We'd like to share the stories of others from Southeast Nebraska who have lost their lives to COVID-19. If you would like to have your loved one added to our online tribute, please email your contact information to: citydesk@journalstar.com