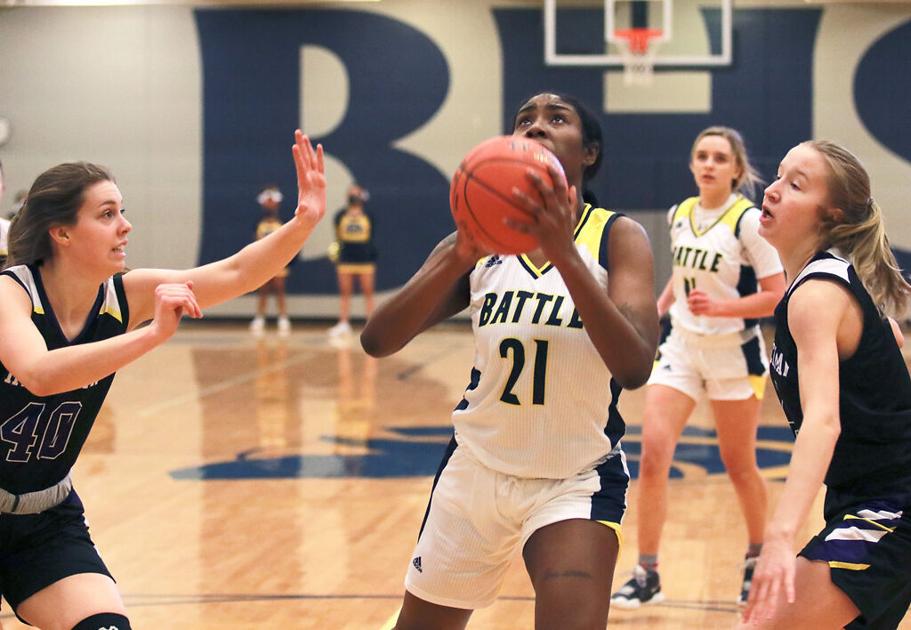 Friday night's showdown between Hickman and Battle girls basketball was a tale of two halves, complete with momentum swings and a shot at a comeback, but the Spartans prevailed 55-51.
The homestanding Spartans began the game with an 11-0 run, fueled by 3-pointers from Eliyah McCarthy and Kaelyn Johnson. Active hands and tenacious defense helped the Spartans keep the Kewpies' offense from getting into a rhythm and going on a run of its own. McCarthy was a constant threat from 3 and ended up with 10 points.
"(Eliyah) McCarthy and Nautica Washington have been huge for us this year," Battle coach Mike Fernandez said . "If they aren't all-district, there's something wrong."
Spartans center Ke'shai Hayes was the spark off Battle's bench who helped extend their lead. With 13 points in the first half, she imposed her will in the paint, snatching offensive boards and battling through contact to convert three and-1 opportunities.
Battle held Hickman to single digits in the first half and led 31-9 going into the third quarter, but the game was far from over.
Hickman coach Morgan Scott urged her team to play hard in the second half, and the Kewpies responded in kind. The Kewpies offense showed up in the third, putting up 19 points after only scoring nine in the entire first half. In the fourth quarter, Hickman fought back to within 16 points of Battle.
Sophia Elfrink stood out in the fourth as she forced turnovers and drove down the lane to make tough baskets. She crashed the boards to get second-chance points that Hickman needed for its comeback bid.. A Spartans turnover followed by a 3-pointer from Kewpies sophomore guard Mia Kluck brought Hickman within six.
The Spartans needed to get their offense back on track. With 3:40 remaining, Battle subbed Hayes back into the game. With Hayes , the Spartans were able to stop the bleeding and stay ahead of Hickman.
With a minute left , Ella Rogers hit from deep to pull Hickman within three. That would be as close as Hickman got, as the Spartans were able to overcome Hickman's late surge . The leading scorers were Rogers for Hickman and Hayes for Battle, each with 21 points.
Hickman's next game is Thursday on the road against Jefferson City. Battle will face Centralia at home Tuesday.