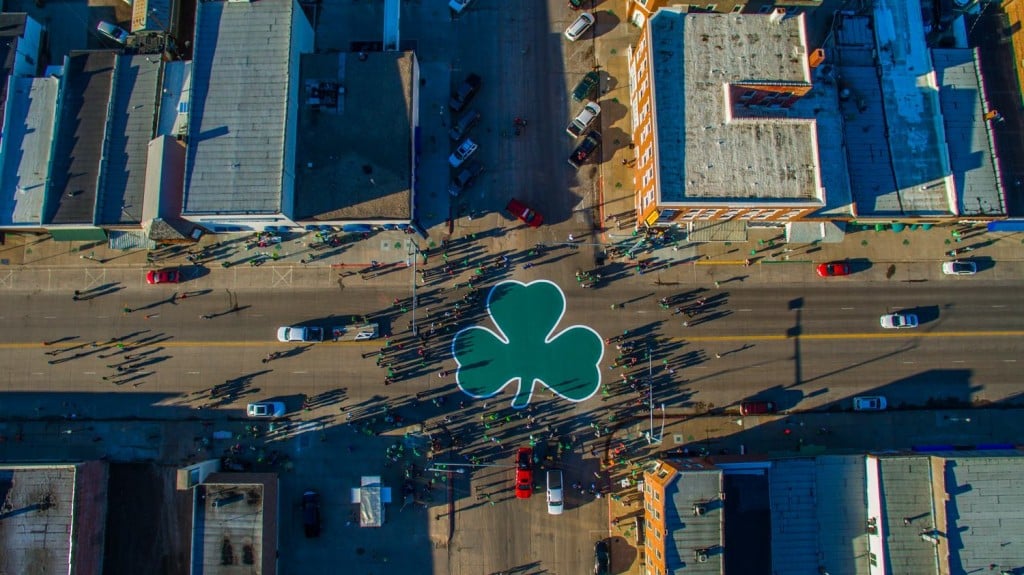 O'NEILL, Neb. (KLKN) — O'Neill, proclaimed the 'Irish Capital of Nebraska' in 1969, kicks off its annual St. Patrick's Celebration today.
This year's celebration is making up for 2020's cancellation due to COVID-19 with bigger and safer events.
On St. Patrick's Day, the city of O'Neill doubles in size as tourists from across the nation join in on the fun. A big draw is the world's largest shamrock, located at the center of the town, a permanent fixture since the early '90s.
The five-day-long celebration is seen as a tribute to O'Neill's roots, a city founded by an Irish native.
For more information on the 2021 St. Patrick's Celebration, visit oneillchhamber.com/2021-st-patricks-celebration.
Check out a full list of events below:
Wednesday, March 17th

5:00 pm – Irish Chug Run Registration at Holt County Grill (event begins at 6:00 pm)
5:30 pm – Irish Walk of Fame Induction Ceremony at the corner of 4th and Douglas (If raining/snowing, the ceremony will be moved indoors at Chesterfield West.)
7:00 pm – Pulled Pork Free Will Donation Feed at Chesterfields
8:00 pm to Midnight – Ben Grinnet at Chesterfields

Thursday, March 18th

Karaoke at the Good Timin' Bar

Friday, March 19th

4:30 pm – Greening of the pond at the Gil Poese Recreation Area in Carney Park courtesy of the O'Neill Firefighters and O'Neill's Fenian Army
5:00 to 7:00 pm – Fish Fry at the Knights of Columbus Hall
6:00 pm – Painting of the World's Largest Shamrock
6:00 pm – The O'Neill Assembly of God Youth will have a snack stand near the shamrock during the painting
6:30 pm – Dodgeball Tournament at the Christ Connection Center ('38 Building)
7:00 pm – Painting or the Green Horse at Emme's Shop (49186 Oliver Road, O'Neill, NE)
8:00 pm to 1:00 am – Mason Michaels and Backroad Spirit at Chesterfields
Karaoke at the Good Timin' Bar
The party trolley will be running Friday & Saturday nights!

Call for a ride: 402.340.9909

Saturday, March 20th

​8:00 am to 9:30 am – Shamrock Fun Run Late registration at St. Mary's High School at 4th and Adams Streets
10:00 am – Shamrock Fun Run Start, sponsored by the O'Neill Rotary Club
11:00 am – Bank First Popcorn stand at the corner of 4th and Douglas Streets
11:30 am – Omaha Pipes and Drums Performance on the World's Largest Shamrock
11:30 am – O'Neill Irish Dancers Alumni will perform on the shamrock following the Omaha Pipes and Drums Performance
12:30 pm – Introduction of the Parade Grand Marshal and the Irish King and Queen
1:00 pm – Grand Parade in Downtown O'Neill (Parade Entry Form)
2:00 pm to 4:00 pm – Kid's Carnival sponsored by the CLASS Group at the Christ Connection Center ('38 Building)
2:00 pm to 4:00 pm – Kids Carnival sponsored by the CLASS group at the Christ Connection Center ('38 building)
2:00 pm to 5:30 pm – Craft Beer & Irish Whiskey Tasting at Holt County Grill (age 21+)
2:30 pm – St. Patrick's Day Cornhole Tournament Registration at the Knights of Columbus Hall

Call: +1-402-860-3124 to register

3:00 pm – St. Patrick's Day Cornhole Tournament
8:00 pm to 1:00 am – Mason Michaels and Backroad Spirit at Chesterfields
The party trolley will be running Friday & Saturday nights!

Call for a ride: 402.340.9909

Sunday, March 21st

9:00 am to 1:00 pm – "Recovery Sunday" at Handlebend Tap (215 E. Douglas)