Linda Thomas (bottom right), deputy director of personnel for the city of St. Louis, testified on Wednesday, June 2, 2021, about the departments budget to the Board of Aldermen Ways and Means committee. Also seen on this screengrab are committee chairwoman Aldermen Marlene Davis (top right) and Aldermen Heather Navarro (bottom left). 
A Post-Dispatch analysis of city pension and payroll records identified nearly 20 people who show up both in 2020 pension data from the Employees Retirement System of St. Louis and in payroll data this year, indicating continued employment in addition to retirement benefits.
Additionally, in the St. Louis Fire Department, where employees have their own pension system, the newspaper was able to verify six employees drawing a pension from the Firemen's Retirement System, the old pension system governed by state statute.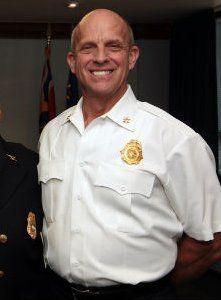 Steven Kotraba, the chief of the St. Louis Fire Department's EMS division, in a photo from the city's website.
One of them, former Deputy Fire Chief Steven Kotraba, retired in 2018 and began drawing a pension worth $69,780 a year. By 2019, he was hired back as an "executive assistant II," a position in which he now earns $103,000. Kotraba, who served a stint as acting chief a little more than a decade ago amid a contentious dispute over then Mayor Francis Slay's demotion of Fire Chief Sherman George, did not respond to an email requesting comment.
The Post-Dispatch has requested pension records from the Police Retirement System of St. Louis but they were not yet available.
'Double-dipping,' but legal
The common practice of retiring to draw a pension and coming back to work at the same employer is sometimes derided as double-dipping in public pension systems around the country. But it's widely allowed, often subject to limits on work hours or earnings. Both St. Louis County and Missouri allow retired employees to return to work and continue drawing a pension as long as their hours are less than half time.
###[ad_2]
Originally Appeared Here