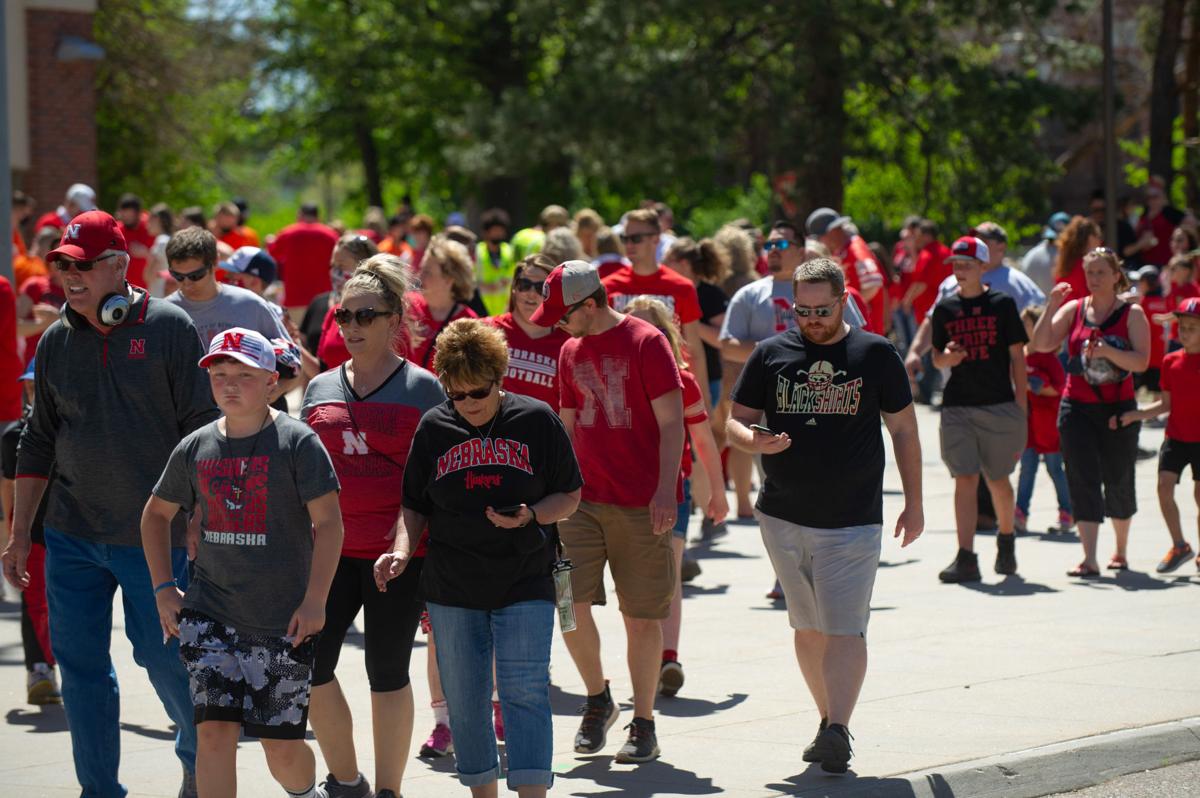 Outside Memorial Stadium just before 1 p.m. Saturday, surrounded by thousands of Husker fans, the Birdwell family sat on a bench and ate lunch.
The family moved from South Dakota about four years ago, but had still never made it to a Husker football game before. Young Lily Birdwell was excited. Her father, Randy Birdwell, said he hoped the inside of the stadium would look like a giant punch bowl. And based off the swelling crowd, it looked like he'd get his wish.
Sure, there were fewer fans than normal, but the pandemic did not affect the gameday atmosphere one bit.
With kickoff approaching, fans rushed through the gates — many giddy with Husker pride. Paul Rea, a 58-year-old from Ralston who said he was the biggest Husker fan, did not have much luck selling a single ticket for the game. But he smiled wide, glad to be in the midst of the Sea of Red.
"It's been over a year since we've been able to have an atmosphere anywhere near this," he said. "It's good to see all the people in red. It's great to see the excitement of the fans coming in, and it'll be nice to see the Huskers in action live."
The sun beat down on Husker fans, and a gust of wind would occasionally provide some relief from the heat. Several fans wore shorts and T-shirts to deal with the 85-degree temperature, but not everyone wore a face mask.
Nebraskans have had a chance to be vaccinated, and many Husker fans, such as University of Nebraska-Lincoln freshmen Alexis Lowary and Morgan Strahl, said they received their shots and felt safe.
"Freshman year, it's been mask on, wash your hands, 6 feet apart … and now everyone's coming together for the first time," Strahl said.
On the corner of 10th and Q streets, a parade of people in red marched to the stadium in a scene that was missing in 2020. To Matthew Malone, the Spring Game always has a different energy than a traditional gameday. But the 2021 Red-White scrimmage felt familiar in many ways.
"It's just great to see the fans out here and some sense of normalcy," he said.
In the Haymarket, business was booming, at least in post-pandemic terms. Fans roamed the area, peeking inside boutiques and watching the game at local bars.
The Railyard was packed — so busy that one customer said he struggled to buy a drink, just like on any other Husker gameday. Security guards in bright-yellow shirts checked IDs, and for the most part, customers seemed to be behaving.
After more than 14 months of quarantine, shutdowns and COVID-19 outbreaks, the return of large crowds and the chance to cheer on the Big Red were something to celebrate.
"Everybody's in a great mood; everybody's having a good time," one guard said.
Photos: All of the sights from the return of the Red-White Spring Game at Memorial Stadium