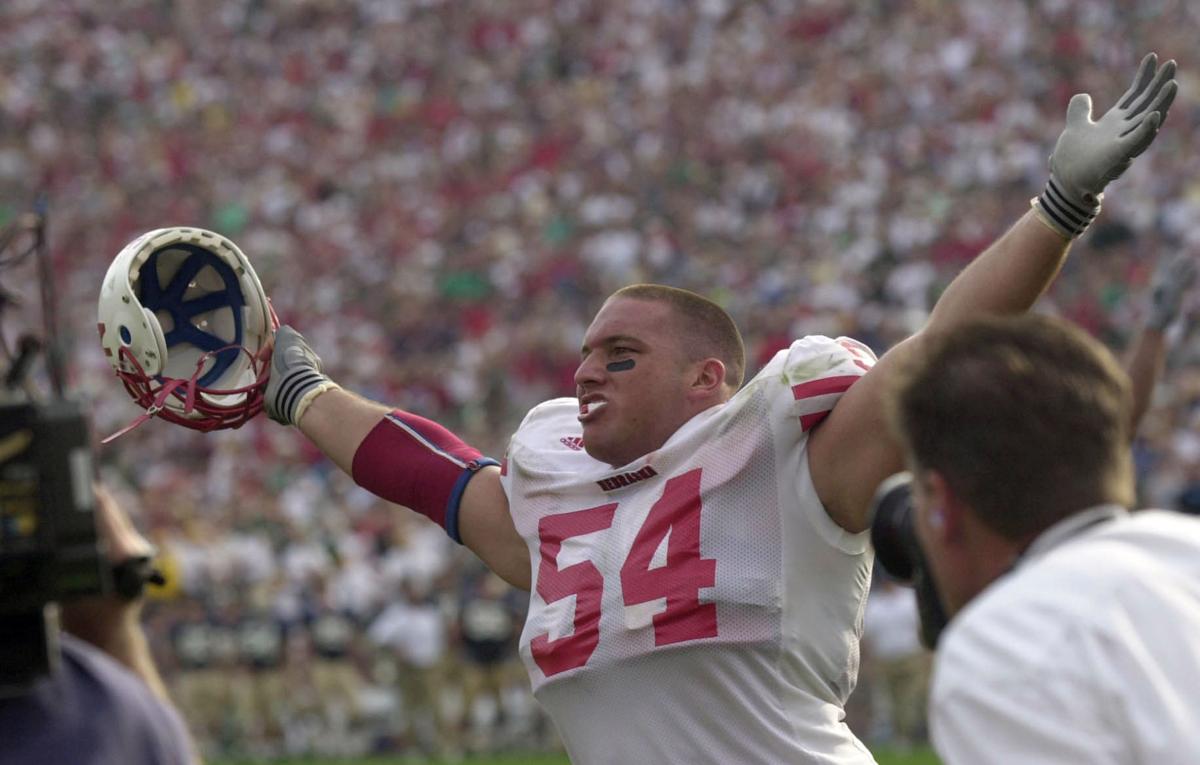 Dominic Raiola and his family are spending most of the summer on the road.
During a recent phone conversation with a reporter, the former Nebraska great and 14-year NFL veteran was in the Atlanta area, which had become sort of a temporary center point as his son, Dylan, played in a baseball showcase there. They'll be back later in June, too, for more baseball from Dylan and younger brother Dayton.
Baseball isn't the only reason the Raiolas are on the road, though.
It just so happens that Dylan Raiola is rapidly becoming a sought-after quarterback in the 2024 class.
The soon-to-be high school sophomore from Burleson, Texas, has thrown this month already for Alabama, Clemson, Georgia, Texas and Mississippi.
Not all of those places have offered yet, but the Raiolas have heard a common refrain from Steve Sarkisian at Texas, Brandon Streeter at Clemson and more: "We're going to recruit you."
Dylan's going to make visits still this month to Notre Dame, Oklahoma, TCU and perhaps a second stop to see the Longhorns again.
Oh, and he's visiting dad's alma mater, too.
Dylan Raiola will almost certainly be one of the most-watched players at Nebraska's Friday Night Lights camp after the family attends Nebraska's recruiting barbecue earlier in the day.
"We were just going to do the barbecue, but he said, 'Why can't I just throw?'" Dominic Raiola told the Journal Star recently.
Every time Dylan's thrown this summer, he's impressed.
Georgia quickly offered him a scholarship, which had to mean a lot, not only because the Bulldogs are a perennial College Football Playoff contender, but because Raiola spent much of his childhood around the Lions and quarterback Matthew Stafford, a UGA alum.
The 6-foot-3, 210-pounder also already has a Washington State offer. It's been quite a journey already for mom and dad.
"For my wife and me, it's been a fun ride to experience the other side of it," Dominic said. "It's a totally new ballgame for us. It's just fun to see the fruits of his labor. We were thinking, 'Shoot, he needs to play.' He played last year, but the starter, who's going to Florida, he didn't get to play much varsity last year. But he played at a high level in varsity baseball. He was the district defensive MVP. The dude is good at baseball and he got to compete at a really high level."
The starter was Jalen Kitna, son of former NFL quarterback and now-Burleson head coach Jon Kitna. It'll be Raiola's show going forward. Already, though, colleges are catching on.
"When he goes to camps, he's got a big arm and he's got big-time athleticism," Dominic said. "So it's fun to see the fruits of his labor and it's fun to see other people see it."
The goal for the summer is to get Dylan to schools he's interested in so that, in Dominic's words, "at least he can see it, feel it and be coached by those guys," rather than drawing out the recruitment as long as possible.
"We don't want to turn this into, 'How many offers can we get?'" Dominic said.
Dylan has three years of high school remaining, but quarterback recruiting starts early. Nebraska, for example, has offers out to CJ Carr (Saline, Michigan) and Bellevue West's Daniel Kaelin already.
"We always said, if you're a good kid and you're a good person and you work hard and you're obedient at home and you love the Lord, the rest of it is going to take care of itself," Dominic said. "If you do all those things, you're going to work hard, you're going to be a good teammate, you're going to be a good person. Coaches are going to want to coach you. You're blessed with a lot of talent. You're blessed to be 6-3 and 210. And you work hard. And you listen to coaches. And you want to do it exactly how they want you to do it. To me, that's 80-90% of the battle. The other 10 is performing.
"With all those things, you should be able to perform. It's been fun to see all those things come together."
Now, Dylan appears well on his way to having his choice among the who's who of college football.
"Really, we're making this about him. He's one of our kids and we've made it about them during their time," he said. "My daughter (Taylor) plays volleyball at TCU and during her recruiting, we gave that respect. Now it's his time. When our younger one goes through it, it'll be his time.
"It's cool to spend this part of our life following him and kind of taking him where he wants to go."
Dominic won't be applying any pressure, but he readily admitted it will be a cool moment to be back at Memorial Stadium this week. He even wondered if Dylan might feel a few butterflies, considering Dominic's name and No. 54 reside up there above North Stadium among the program's most decorated luminaries.
"I said, 'Are you nervous about going to Nebraska?'" Dominic recalled. "He goes, 'Nope. I'm going to look up at dad's name and then sling it around the yard and compete.' It's fun to hear him say that because there's no pressure of anything like that. It's fun for me to share that with my kids.
"This is their journey, and for him to want to go to Nebraska and compete there, I have a sense of pride about that."
Photos: Our favorite staff images from the 2020 Nebraska football season