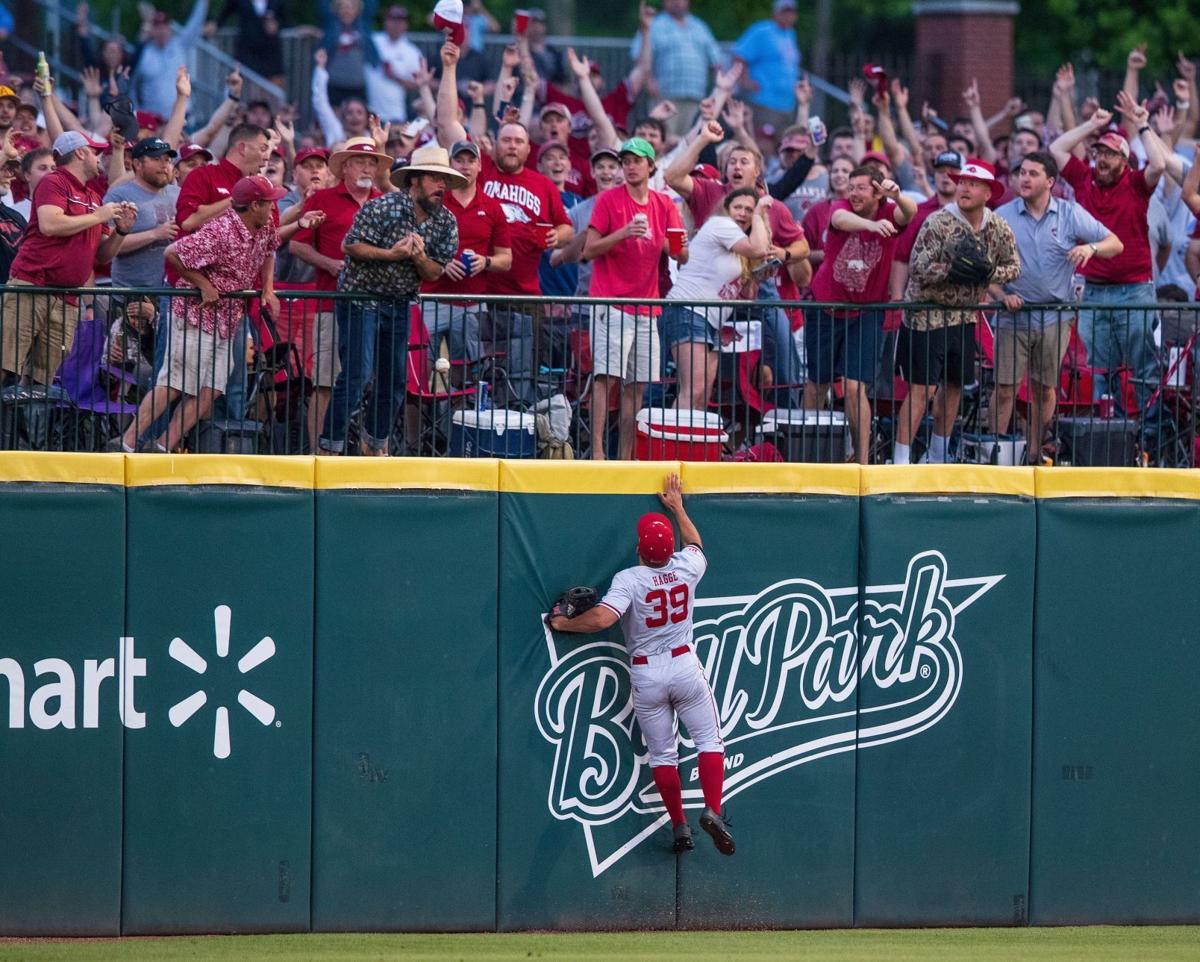 FAYETTEVILLE, Ark. — Nebraska didn't have to be perfect to beat Arkansas on Saturday night, but perfect wouldn't have hurt.
Instead, the Huskers lived on the edge while still lurking in the sixth inning against the nation's top-ranked team.
Then the imperfections the Huskers couldn't afford piled up — not in the form of hard-hit balls and home runs from one of the nation's best power-hitting teams, but in walks and errors that made the 5-1 final score feel farther away from a Nebraska upset than it actually was.
"We had the fewest walks in the Big Ten Conference this year. We've been a strike-throwing team all year long. So pretty uncharacteristic there for sure," NU coach Will Bolt said. "There were a couple plays in there defensively as well where we didn't make the plays, but I know those plays weren't the difference. I know for sure the difference in the game was the 10 walks."
Now Nebraska (32-13) will take on New Jersey Institute of Technology at 2 p.m. Sunday in an elimination game. The winner of that game will have to beat Arkansas twice, including once Sunday night, to advance to the super regional round.
Considering the Razorbacks (48-10) are now on an eight-game winning streak in NCAA regional play, and haven't lost two games in a regional since 2017, it will be a tall task for whoever comes out of that afternoon game.
But the immediate mission for NU will be to find a way to bounce back after a disappointing night in front of 11,084 fans at Baum Stadium. Nebraska pitching tied its season high by issuing 10 walks, and the normally reliable Husker defense committed two errors that led to two unearned runs.
Two batters into the game, Jaxon Hallmark laced a pitch from Arkansas starter Patrick Wicklander deep into the night sky.
The Nebraska second baseman raised his right hand in the air as he started down the first base line, prepared to celebrate a first-inning home run that would have given the Huskers a 1-0 lead on No. 1 overall national seed.
Instead, the ball curled foul, one of three loud foul balls for NU that fell harmlessly in the first three innings.
"The first two times through the order, 18 guys to the plate, I had six or seven balls marked down as squared up," Bolt said. "The difference was, we had some extended counts and weren't able to finish those at-bats off. Tip your cap to their starter: he's got good stuff and he was very competitive, he made pitches when he needed to.
"And we didn't necessarily string together good at-bats in a row. We did have some good individual swings. Just missed a couple home runs foul. Just stringing multiple good at-bats in a row, I felt that could have been the difference there."
Meanwhile, Arkansas' Matt Goodheart deposited Chance Hroch's fourth pitch of the game in Baum Stadium's famed Hog Pen in the bottom of the first inning. Two walks and two singles pushed the Razorbacks' lead to 3-0 in the second.
Then things settled down. Arkansas threatened, but couldn't score. Nebraska hit the ball hard, but at defenders or into foul ground.
The dam finally broke, as much as it can in a four-run game, when Nebraska issued four walks, had a passed ball and committed a throwing error as Arkansas scored twice without recording a hit.
With All-American Kevin Kopps on the mound, the Razorbacks had all the breathing room they needed. After Wicklander gave up one run on two hits over five innings, Arkansas' otherworldly reliever was decidedly average — and still allowed just three hits while striking out six with no walks. Kopps dropped his ERA to 0.74 on the season while picking up his 11th save to go with 11 wins.
Luke Roskam had one of those hits off Kopps, driving in Nebraska's only run on a sixth-inning single to make it a 3-1 game as Joe Acker scored from second. Acker, who got to second on a groundout, and Cam Chick, who doubled in the seventh inning, were the only two NU baserunners to get past first base.
"Getting it to 3-1 there was a big momentum swing for us. Then we come out the next inning and give up two, and they get the momentum right back," Roskam said. "That probably killed us in the long run, but we've just got to get back to work after that, playing defense, throwing strikes and keep trying to be aggressive."
Photos: Nebraska and Arkansas meet in under-the-lights showdown at NCAA Regional